Why is gray wicker such a winner for patios? Since it's a neutral hue, gray coordinates with every color, including vibrant orange and red tones as well as light pastels and earthy, rustic shades. By combining this versatile color with popular wicker furniture designs, you get a chic patio layout that complements future furniture, palette or accent changes without missing a beat.
While many people associate gray wicker with modern and contemporary looks, this color and material is so adaptable you can use it with any style and combine it with other outdoor elements like wood, wrought iron or aluminum. In other words, you can use wicker and gray patio furniture in just about any deck, porch or balcony layout.
Neutral gray wicker coordinates with any color, including cool blue hues.
Gray Wicker Seating Layouts
If creating a comfy family hangout in your backyard is your goal, you'll have plenty of options to choose from with gray wicker sofas, loveseats, sectionals and chairs. And, if you want to save both time and money, gray wicker furniture sets are an easy way to get a coordinated look with a single purchase.
However, if choosing separate furnishings to create a curated layout is your goal, gray wicker chairs and sofas are a smart choice for the foundation of your design. Consider the following gray wicker ideas to set up an outdoor getaway for your balcony or backyard:
Use an aqua blue cushion with your gray wicker chaise to create a soothing poolside oasis.
Redefine Outdoor Dining with Gray Wicker
Whether you prefer silver wicker tables and chairs or slate or charcoal furniture paired with this unique textured material, gray and wicker are a lovely combination for casual as well as upscale outdoor dining. Both modern and classic wicker patio dining sets with a neutral gray color scheme offer comfortable seating and ample table surfaces for meals with family and friends.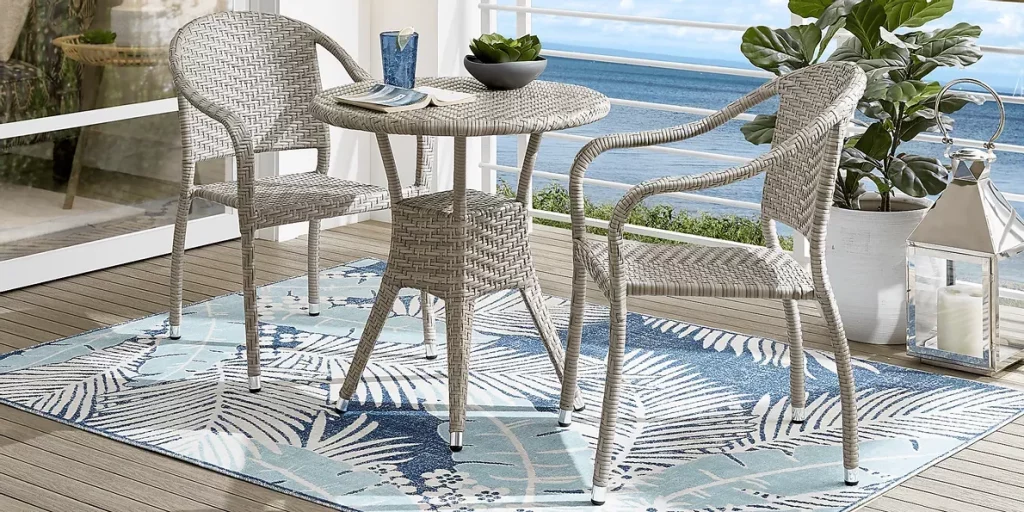 A gray wicker bistro set can help you make the most of a compact balcony.
To mix and match colors and materials, consider gray patio dining chairs made from metal or wood surrounding a rectangular, square or round wicker table. If you're decorating a balcony or smaller patio, a gray bistro set or a wicker bar set offers a comfy yet compact dining space.
Can You Mix Dark and Light Gray Wicker Furniture and Decor?
Combining light and dark gray wicker in your layout allows you to create depth and dimension in your design. You can mix warmer grays like taupe with cooler silver hues or go for striking contrast with deep charcoal accents paired with pale cloud-gray furniture finishes.
Wicker featuring multiple shades of gray combined with solid silver cushions adds dimension to this design.
Do Wood and Wicker Go Together?
Wood, wicker and gray finishes complement each other and deliver an earthy look that works well for rustic and boho patio layouts. Dark wood dining tables and gray wicker seats are perfect for elegant outdoor dinner parties, while teak coffee tables and light gray seating give patios an open, airy look.
Can You Mix Wicker Colors?
In addition to gray, wicker comes in various colors, and many are also neutral hues, making it easy to mix and match pieces for a unique deck layout. To give your furniture a cohesive look and feel, make sure each piece has a similar wicker weave. Use decor like patio rugs, planters and umbrellas to echo the colors within your furniture and bring your theme together.
Pay attention to the weave of your wicker furniture when mixing pieces in different hues.
By choosing gray and wicker for your patio set, you're setting the stage for a lovely layout that you can easily build on in the future with accents and decor in different hues. Whether you're creating a cozy space for relaxation or a dining area for parties, gray wicker furniture makes designing the perfect outdoor setting a breeze.