Storage Ideas for Your Kid's Bedroom
From toys and games to seasonal clothes and shoes, clutter accumulates quickly in a child's bedroom. Practical storage options can sometimes be challenging, especially in places where space is at a premium. However, by selecting dual-purpose boys and girls furniture and maximizing your layout, you can make the most of your child's space.
1. Use Vertical Storage
Vertical storage can help give kids the space they need for all of their toys and games. Try furniture such as slim bookcases that provide additional storage with a narrow footprint. You can also place a few stackable bins or cubbies in the corner of their bedroom as a space-saving storage solution.
2. Install Wall-Mounted Shelves
Another way to take your storage vertical, wall-mounted shelves provide a safe, space-saving way for your child to keep their room looking neat and tidy. You can keep several items up here, from games and stuffed animals to favorite toys or valuables. Before placing anything on their shelves, it's important to ensure that any shelving unit you install can hold the necessary weight securely.
Attaching small spice rack shelves to the wall to hold items like picture books and action figures prevents clutter on tables and bookcases. Meanwhile, corner shelves turn unused corners into a functional space for your child to organize collectibles and other small items.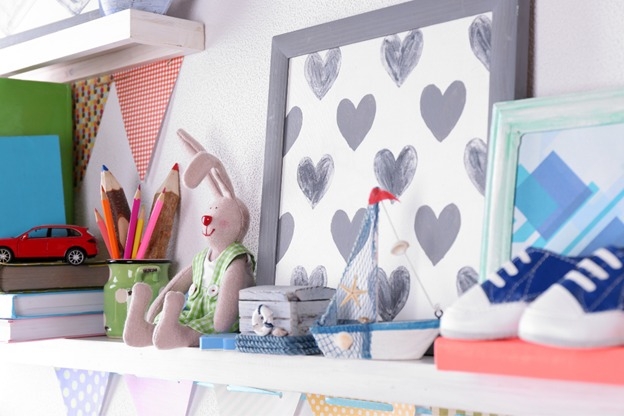 3. Consider a Pegboard
Pegboards are a smart storage option for your child's bedroom walls. You can customize them easily with accessories such as pegs or hooks to suit your storage needs. Pegboards let you install small shelves for toys and art supplies or hang buckets or bins to hold blocks or crayons. You can also teach good habits by using a few well-placed pegs to encourage kids to hang up their coats and jackets.
4. Implement Multipurpose Furniture
Furniture that serves multiple functions is key when you have a small bedroom. Beds with trundle drawers or a built-in bookcase give kids an extra place to keep clothes, toys and games tucked away. Storage ottomans can act as additional seating or hideaway for various odds and ends in your kid's room.
5. Raise the Bed
A simple way to create extra storage in your child's bedroom is to raise the bed. There are several ways to lift a twin or full frame, but bed risers are simple and affordable. By placing the legs of your kid's bed on top of these risers, you'll get a few more inches of space between the bed and the floor, so you can tuck storage boxes full of off-season clothes, bedding or sports gear underneath.
In shared rooms, you can also opt for a set of bunk beds. Stacked beds leave more room for play areas and activities as well as other bedroom furniture. In teen rooms, twin over twin bunk beds are a good solution for teenagers with siblings or those who enjoy having friends stay over.
6. Hang Clothing
A smart alternative to folding your children's clothing and putting it in a big, bulky dresser is to hang garments instead. By placing kids' clothes in the closet, you could forgo a dresser or chest of drawers and save valuable floor space. Meanwhile, pegboards with hooks can also hold hanging clothes, giving you even more options if closet space is at a premium.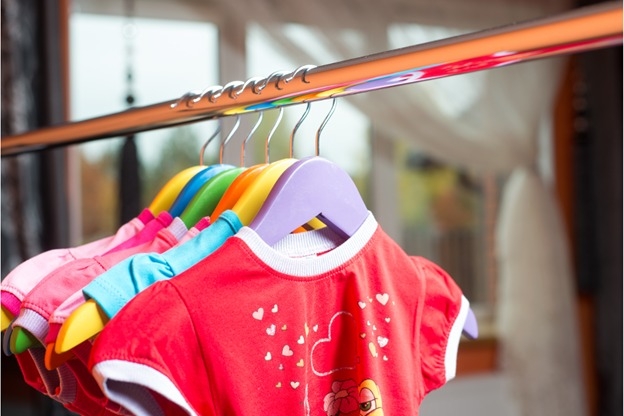 7. Utilize Extra Space in Closets
Taking advantage of unused closet space is a smart storage hack. Put storage bins at the bottom of your closet to create a place for shoes, toys and clothing. You could also consider adding shelves to the space between the clothes and floor so your child can easily reach whatever they need.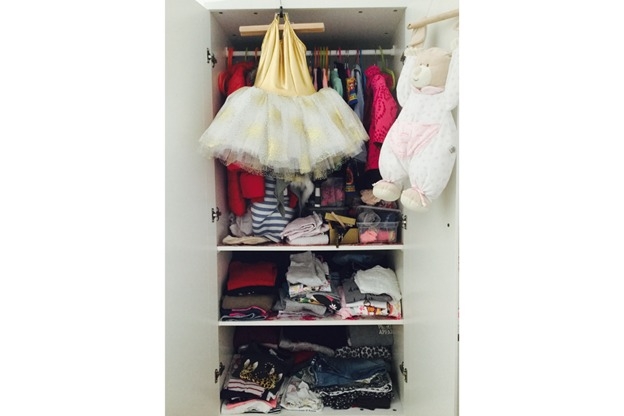 8. Keep Some Items in Family Storage Areas
One way to prevent your children's belongings from overtaking a small bedroom is by putting them in other areas of the home. Baskets and storage bins in the living room or den are a great place to corral toys once the kids finish playing. Sports equipment like soccer balls and cleats can find a home on shelving or an outdoor table in the garage, too.
In This Guide: