Reclining Furniture Guide
When it comes to providing maximum comfort for your space, a cozy reclining seat offers the perfect spot to kick back after a long day. Available in various shapes and sizes, these chairs and sofas make it easy to accommodate multiple people when you want to unwind with family and friends or enjoy a quiet evening of solo relaxation.
Since there are so many styles of reclining furniture to choose from, finding the seats that work best for your layout can be tricky. Luckily, this guide includes helpful tips on how to measure your setup, compare various recliner types and select a reclining chair, couch or loveseat to suit your comfort needs and interior design.
Evaluate Your Space
To choose the best reclining furniture for your home, you must first understand how much floor space you have available. Measure the length, width and height of your layout, plus the distance between each of your other furnishings to determine what type of reclining seat you have room for.
While taking your measurements, keep in mind that you'll need to leave extra room to accommodate your recliner's extension features. Planning to leave at least a foot of space in front of and behind your reclining seat is the best way to avoid bumping into the walls and other furniture when you kick back into a fully-reclined position.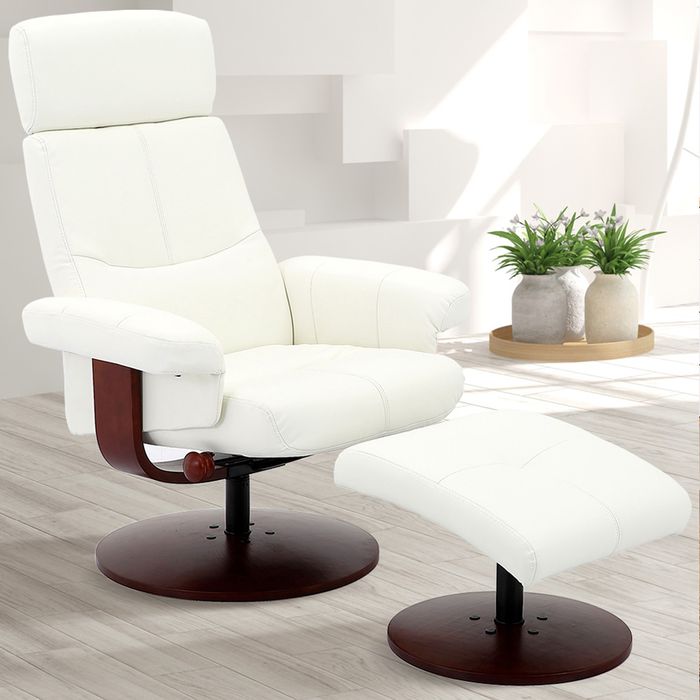 Recliner Sizes and Types
Once you know the dimensions of your room, you can select the best recliner size to suit your space and your body type. A small recliner might be a smart choice if you want to save a little extra floor space in a studio apartment or tiny living room. On the other hand, you may need a larger, overstuffed seat to accommodate bigger, taller guests.
Depending on how many people you need to seat, a certain type of recliner may be a better choice for your household: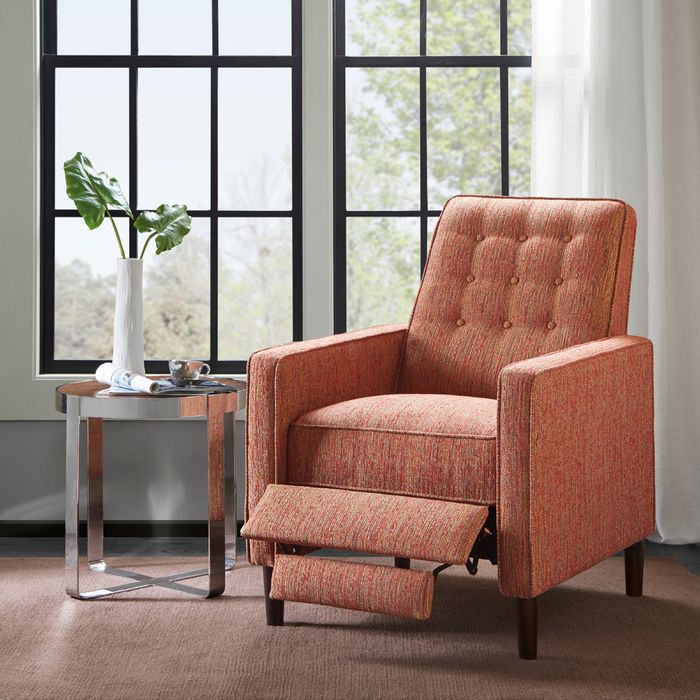 Reclining Style
Reclining seats typically offer one of three different movement systems to choose from. A pushback recliner requires you to lean back to engage the reclining features, while manual recliners have a lever that you pull when you want to prop your feet up. Along with enhancing the chic and simple vibe of your space, these recliner styles are often the most affordable options for your budget.
Motorized power recliners let you kick back with the press of a button, making them an excellent choice for lovers of updated, high-tech decor. If you need a recliner for someone with mobility issues, these may be the best reclining chairs for your universal design. Some power recliners can be pricey, so do some research and shop around before choosing to bring one home.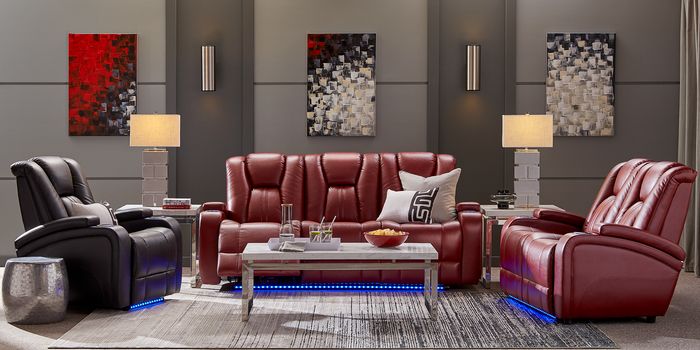 Reclining Furniture Features by Room
Along with making the necessary size, type and style considerations, you may also want to browse recliners with certain comfort features. Whether they serve a specific purpose or simply give the space an extra cozy boost, practical reclining furniture with unique accents and attachments can take your design to the next level.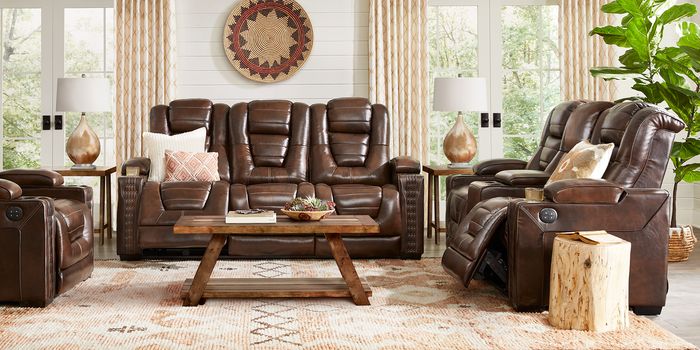 Living Room
Reclining sectionals make a gorgeous centerpiece for your living room, especially if you pair it with a coordinating accent chair or decorative ottoman to round out the seating arrangement. Along with the built-in footrests, some of these seats come with adjustable headrests that prop you up so you can chat with friends and family while you recline.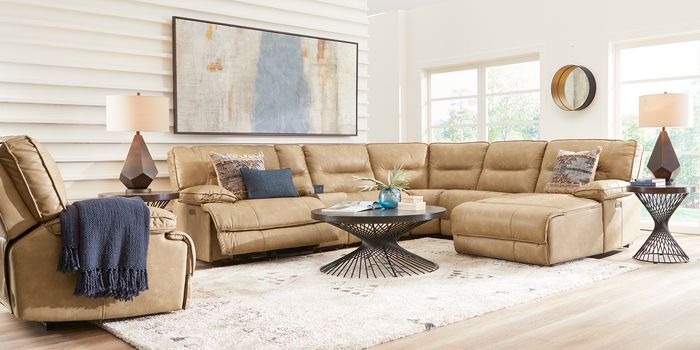 Game or Media Room
If you're looking for plush game room or home theater seating, consider individual reclining chairs or a roomy reclining sofa with unique built-in features. Usually, the best recliners for media rooms have cupholders and center consoles for holding drinks and snacks. Some reclining couches may also come with colorful LED light strips along the bottom to enhance the atmosphere in your movie room.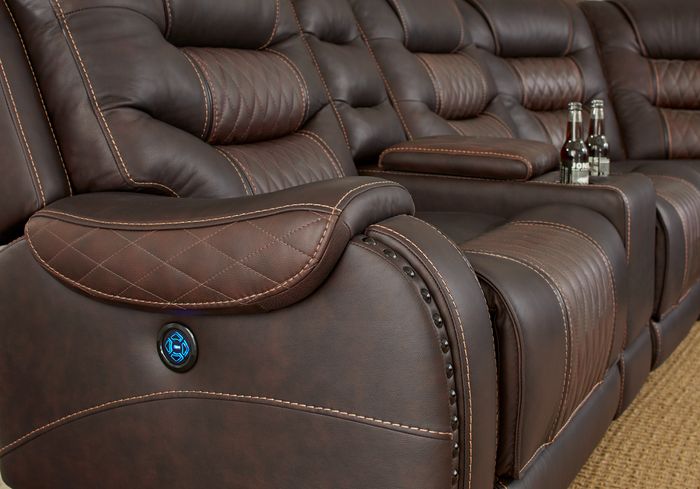 Basement or Den
Placing a reclining living room set in a den or finished basement is a smart way to create a secondary seating area for house parties and game day gatherings. Choose recliners with heated seats to keep guests warm and cozy in a drafty bonus room. Or, select a model with built-in USB charging ports so visitors can power up their electronics as they relax.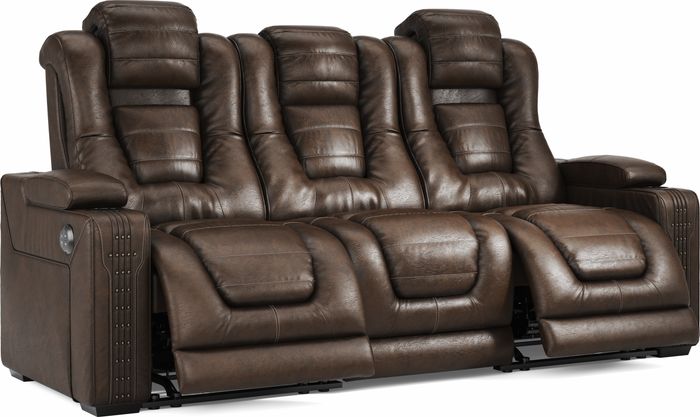 Studio or Open Layout
Sleek manual recliners are a common choice for those looking to save space in a limited layout. Even so, certain recliner types can give your simple apartment setup a cozy boost. A reclining arm chair with a glider or rocker base offers soothing motion as you kick back with a good book. Meanwhile, a swivel recliner makes it easy to adjust your position during chats with visitors.
When it comes to finding the best reclining furniture for your home, knowing the size of your space and the type of seating you're looking for can make the whole process a bit easier. Use these tips as you shop Rooms to Go's selection of reclining chairs, loveseats and sofas and you're sure to find a chic and comfy seating solution for your design.
In This Guide:
How to Choose Reclining Furniture