Mix and Match Your Patio Furniture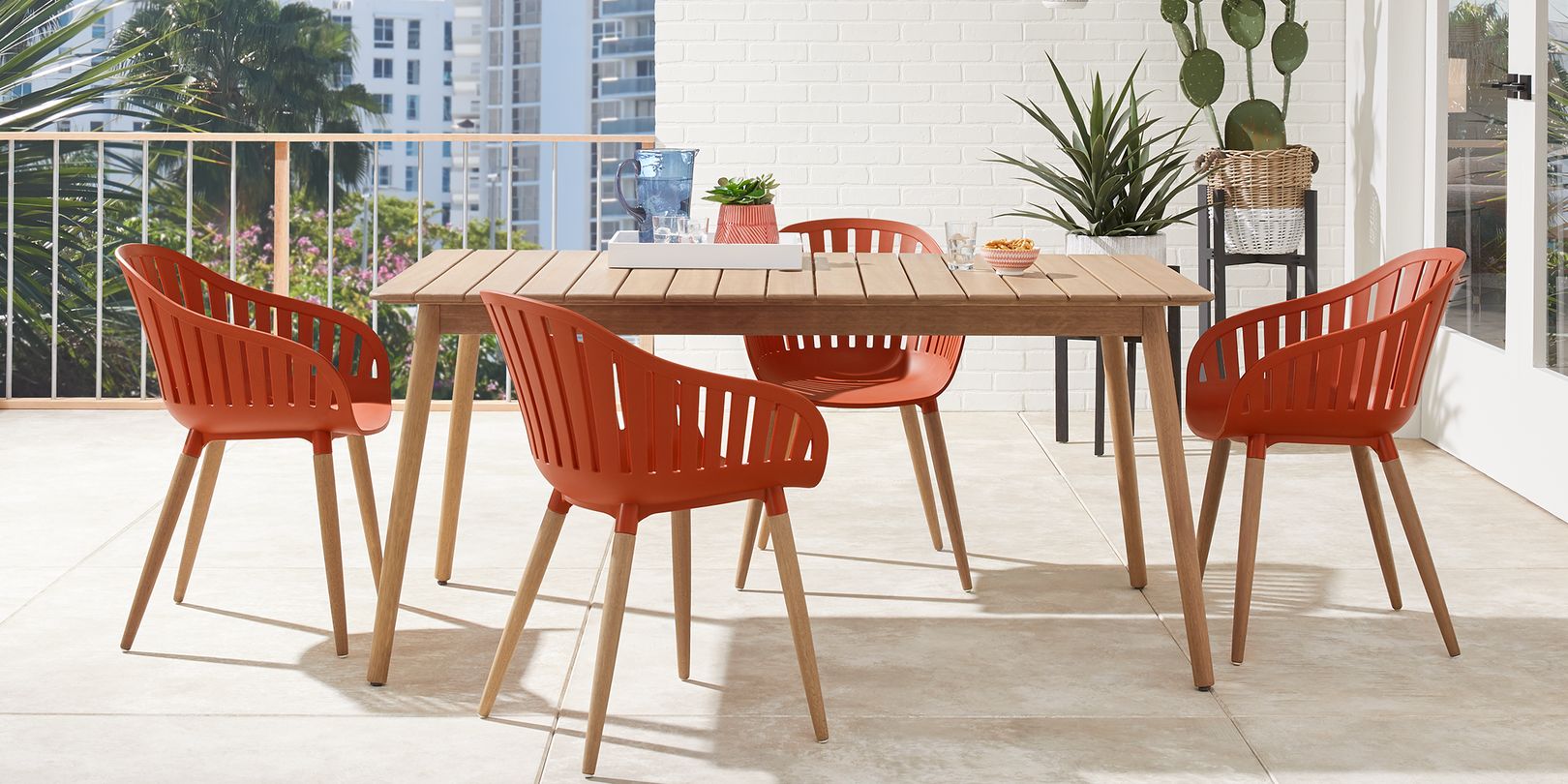 Whether you're updating your seating or swapping out a small dining table for a larger one, people mix and match patio furniture for many reasons. The key is to coordinate your pieces to create a balanced look that's as tasteful as it is unique. You can achieve layered perfection through the strategic use of mixed materials, colors and complementary styles within your patio layout.
Picking pieces and arranging them successfully is all about pairing the right materials in a well-coordinated space. Learn how to mix and match patio furniture for an expertly stylized look by:
A wicker sectional pairs beautifully with a wood-framed firepit.
Mixed Materials
When decorating a deck or porch, people use different patio furniture materials to help them capture the aesthetic they like most. For example, you might associate wicker with cozy traditional decor while metal pieces appear modern and sleek. You can create a whole new look that better expresses your individual style when blending these materials together.
Feel free to mix and match as many finishes as you want by combining plastic seats with teak side tables or wicker club chairs with a metal cocktail table. Adding a new furniture material or finish to your layout adds texture and dimension, but select your pieces carefully and avoid oversaturating your ensemble with one or the other.
For a little more guidance, the list below includes materials that play well together with a balanced approach:
Wicker & Metal: The warm comfort of wicker seating blends nicely with the sleek look and updated feel of a metal table. While wicker and rattan offer fantastic texture, the woven patterns also help you curate a streamlined look to make it feel more customized.
Wood & Wicker: Going for a nature-inspired theme or maybe a boho-chic patio decked out with plants, macrame hangers and a wicker swing chair? In this case, wood is the ideal complement to wicker. Teak chairs and side tables still have an organic look, but their smoother finish provides subtle contrast.
Wood & Metal: Aluminum and metal furniture already has a sleek, sophisticated look. Adding a wood coffee table or choosing furniture with metal frames and wood seats has a more natural appearance. Great for making formal dining spaces feel casual, wood and metal are common mixed materials in rustic decor and industrial balconies.
Plastic & Wood: Going for a retro vibe on your patio? Try adding plastic stools to your wood dining table for a dose of mid-century modern style. Or, if you still prefer using one material, consider the benefits of using poly lumber and add a couple of Adirondack chairs to your lakeside dock or fire pit.
Metal & Concrete: Metal and concrete are two hard finishes with entirely different textures. The sleek, smooth feel of a metal sectional set contrasts with a rough concrete coffee table for a modern trend that suits urban and industrial patio decor.
Aluminum & Plastic: Lightweight aluminum and plastic come in a variety of colors and shapes, allowing you to play with your design and create a fun, carefree look. A plastic folding table with the same crisscross base as a couple of aluminum folding chairs also adds symmetry to your look despite the difference in materials.
Sling Fabric & Cushions: You can also mix upholstery and cushions to make your patio as comfortable as you want. For example, the different textures of sling chairs and patio cushions provide comfort and support. Add a pillow to your sling chair for one-on-one contrast, or designate sling lounges for poolside seating and cushioned furniture for your dining area.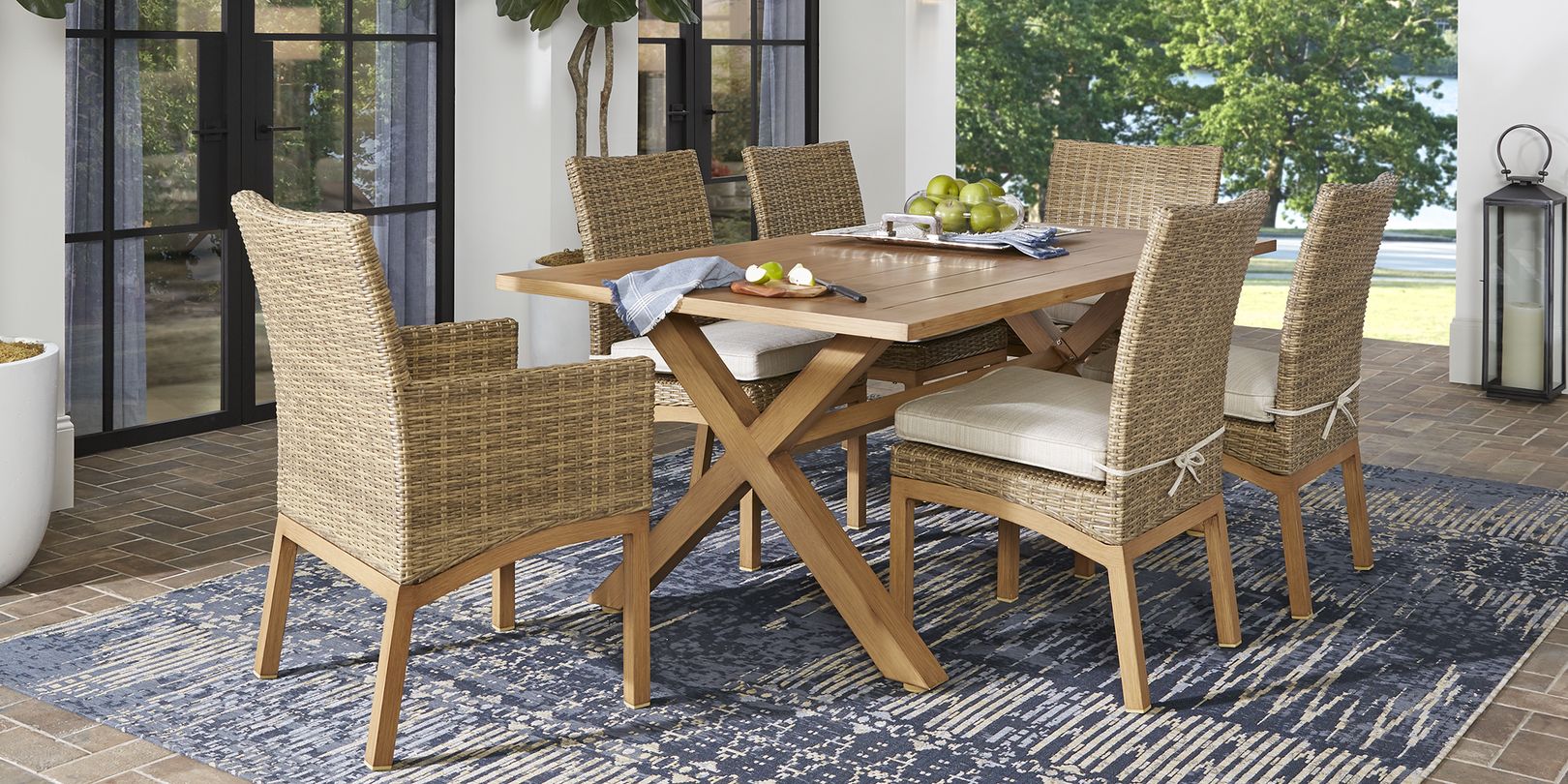 Layer your design using different materials, either as a finished set or by the piece.
Along with mixing materials among your furniture, you can unify your look by incorporating similar textures into your decor. For example, if you have a wicker conversation set, add woven placemats to your dining table. Use wicker or metal wall hangings on your wooden fence to complement your wicker bar cart, metal chairs and wooden bistro table.
Color Coordinating
Using a similar color or color family is enough to tie your look together when using different furniture styles. A white wicker loveseat paired with a white aluminum coffee table is just as charming as a full wicker set. However, the presence of a metal finish feels unique and personalized.
Using different tones of a single color can create a smooth, seamless look and open up the variety of finishes you can work with. A gray wicker chair blends well with white cushions and a nearby black metal bistro set, creating a gradient that's pleasing to the eye. At the same time, a beige daybed mixed with wood side tables and a tan mat has the same harmonious effect.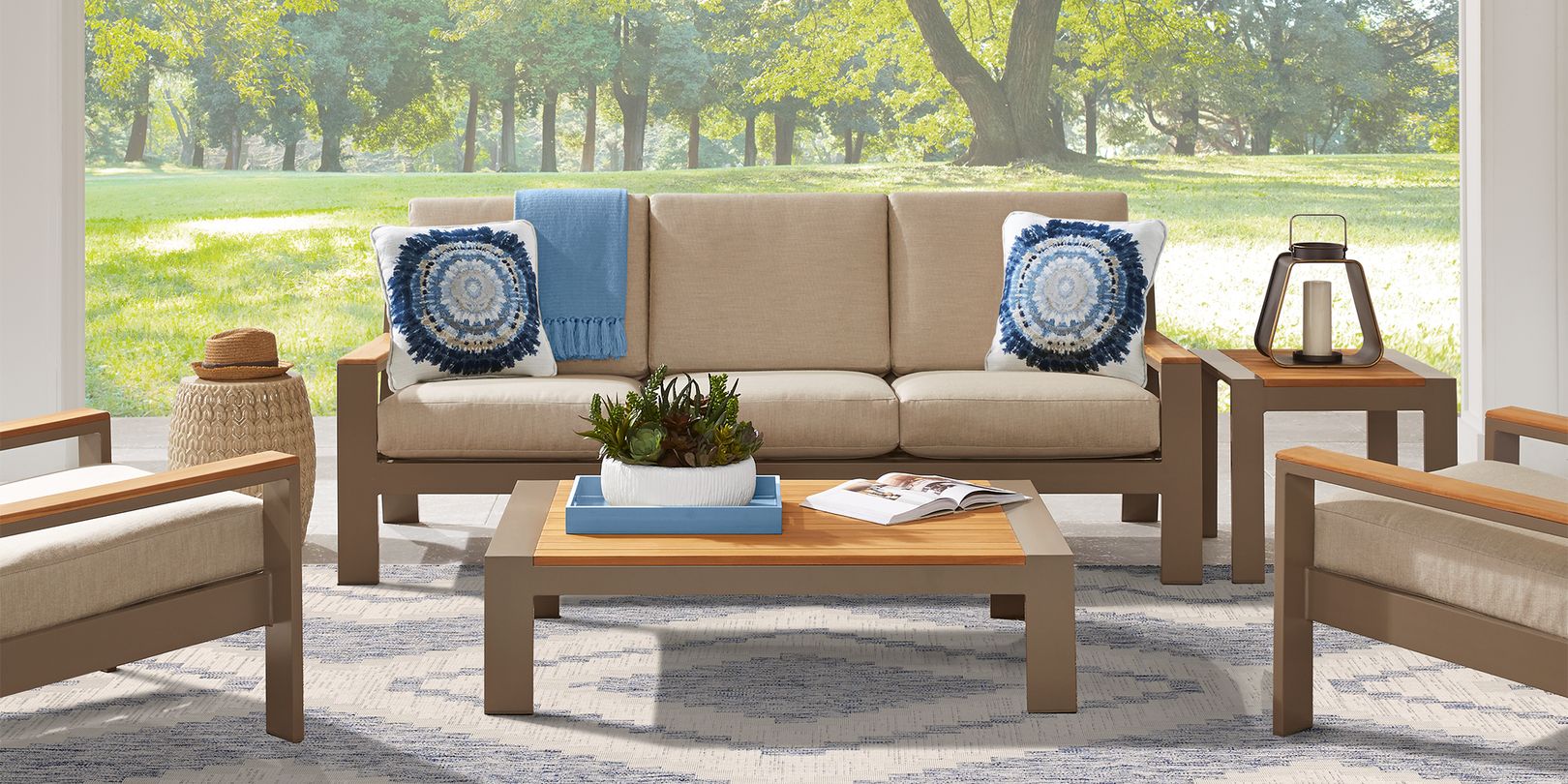 Beige cushions, a taupe frame and wood accents all use warm, brown towns for a unified look.
You can also play with colors using seat cushions and decor. Thick red cushions on your wicker conversation set play well with a brilliant red table runner or flower vase on your metal dining table. If you use a gray coffee table, add hints of gray throughout your outdoor living area, such as gray throw pillows, a couple of outdoor poufs and concrete planters.
Designs That Work Together
While eclectic style alone refers to the curated combination of multiple styles, you can still cater to your modern or traditional tastes and mix a few different designs into your look. The goal is to maintain your overall theme. For example, a rustic rocking chair paired with a shabby chic blue wire-brushed side table still has handmade, tried and true visual appeal.
Similarly, a wrought iron dining table with an ornately decorated top maintains a timeless presence when surrounded by casual wicker dining chairs boasting comfy cushions and rolled arms. While teak predominates many coastal patios, you can easily blend an aluminum white sectional with teak end tables to maintain a breezy beach theme.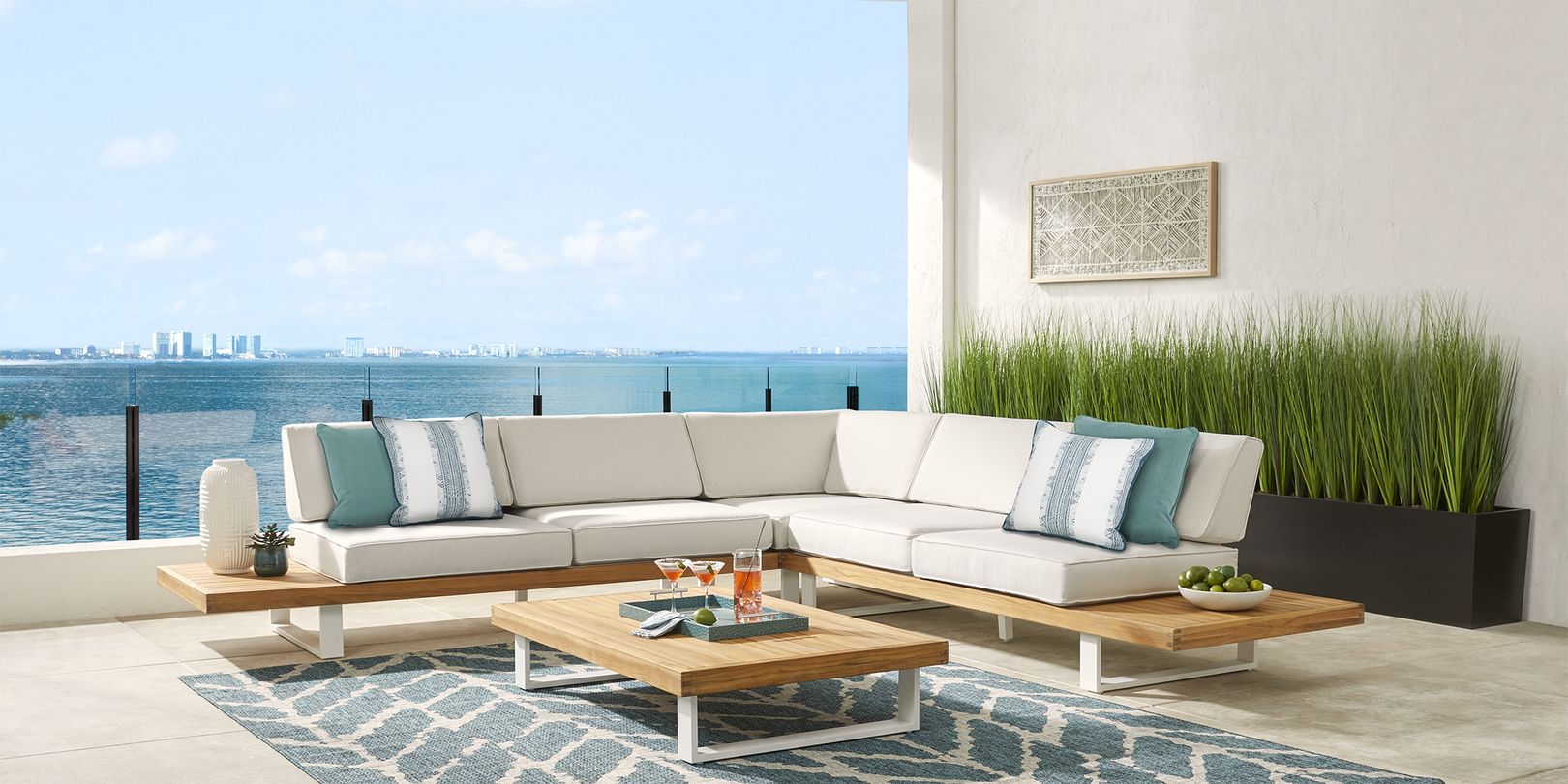 A light and breezy coastal vibe complements the modular design of this modern sectional.
Particular styles work in unison with each other, such as the natural accents in mid-century modern decor and the use of rattan and wood in bohemian themes. Take note of what you like best about your current style, whether it's streamlined silhouettes or comfortable textures. You can use other furniture designs to highlight what you already love about your decor.
Using a Strategic Layout
A trick to learning how to style your patio furniture is simply making the best use of your space with a coordinated patio layout. Once you have your dining space and your lounge separated, you can easily mix and match furnishings or decor throughout your look. Divvy up materials in a way that makes sense to you.
Your wrought iron dining set can have its own separate space with wicker lounge chairs facing your outdoor fireplace a few feet away. Rather than using metal and wicker in the same set, you can create boundaries using furniture placement as a tasteful way to mix styles. This approach is especially helpful when you first begin incorporating different materials into your layout.
Of course, you can still marry these separate spaces using the same-colored cushions, rugs or tabletop decor. Pergolas, screen dividers and area rugs also help section off outdoor areas. A round dining set on top of a round rug that features the same colors as the pillows on your sectional makes spaces feel cohesive while keeping activities and furniture styles separate.
Is it Okay to Mix and Match Patio Furniture?
It's perfectly acceptable to mix and match patio furniture to get the exact look and feel you want for your outdoor space. Using the right balance of materials, colors and styles in your layout makes it easy to upgrade your porch or deck according to your tastes, giving you more freedom in your decorating choices.