Decorating Bedside Tables
Nightstand Decorating Ideas & Tips
What Should I Put on My Nightstand?
Like most accent tables you find in a home, nightstands provide storage and display space for smaller accents, as well as a landing spot for various odds and ends. If you're wondering how to decorate a nightstand, the answer largely depends on the size of the tabletop, the specific purpose you want it to serve in your bedroom and which decor items best showcase your unique sense of style.
Overview
In this post, you'll discover several bedroom nightstand decor ideas, including tips on:
Select the best nightstand decor for your chic and cozy bedroom design.
Measure Your Bedside Tables
Step one in decorating a nightstand is figuring out exactly how much tabletop space you have for decor. Generally speaking, traditional or rustic-style options tend to have taller, wider frames and can therefore hold more items. On the other hand, sleek modern and contemporary nightstands often have simple, low-profile silhouettes that only leave room for the bare essentials.
Precise nightstand dimensions also vary by shape. A square bedside table top might measure 20 inches by 20 inches, while a round, rectangular or triangular option might be anywhere from 15 to 36 inches wide. Grab a tape measure and find the exact dimensions of your bedside tables to determine how many items you can fit onto the surfaces.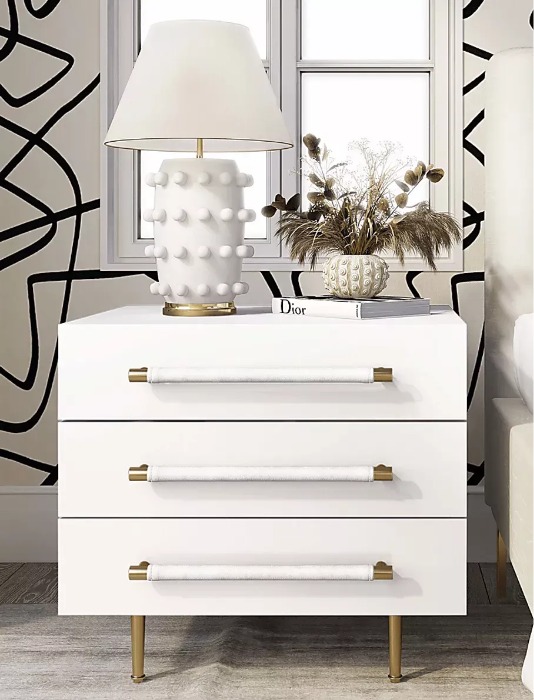 Nightstand Decorating Ideas
Once you know your nightstand measurements, you can start thinking about what items you want to add to the tabletops. In bedrooms for couples, both partners should make a list of nightstand decor ideas that they want to apply to the table on their side of the bed. Even if you've only got one bedside table, use these tips when deciding what you should put on your nightstand.
Begin With Practical Pieces
Many people choose nightstands for their dazzling designs, especially if they're part of a designer label with a celebrity spokesperson like Cindy Crawford. However, a nightstand's primary purpose is to keep bedside essentials within reach for those lying in bed. As such, it's important to start decorating your nightstand with functional pieces that enhance your comfort and make your bedtime routine run more smoothly.
Some essential items in a typical primary bedroom might include:
Lamps: Table lamps or other bedside light fixtures provide task lighting for those who like to read, journal or knit before bed.
Alarm Clocks: Keep your alarm clock close so it's easy to reach over and turn it off each morning.
Eye Glasses: Putting your prescription glasses on your nightstand allows you to put them on before rolling out of bed.
Tissues: Those who have allergies or tend to become congested while they sleep might benefit from having a box of tissues on their bedside tables.
Small Pitcher and Water Glass: Having a glass of water by your bedside is a smart choice if you need to hydrate your dry mouth or soothe an itchy throat in the middle of the night.
Depending on whose bedroom you're decorating, the practical items on the nightstands may differ. A kids' nightstand in a nursery or toddler's room might have infant items like a baby monitor, a bottle warmer and extra pacifiers. Meanwhile, your tween boys and girls might keep a noise machine or music box to help soothe them to sleep.
Notepads and pens, and books are common nightstand essentials in teen girl and boy bedrooms. You might find similar things on a bedside table in a guest room, along with some additional hospitality items like a tabletop humidifier, a list of local stores, restaurants and events or anything else that makes your visitors feel at home.
Choose Additional Decorative Accents
Now that you've selected the must-haves for your bedside tables, you might be wondering, "How do I make my nightstand look nice once all the essentials are in place?" A few well-placed decorative accents can add the perfect stylish touch to your practical nightstand. However, it's important to keep your tabletops clutter-free by taking a minimalist approach to this process.
Ideally, you should place roughly two or three small accents on your nightstand to showcase your personal interests and style. Many people add silk florals, potted plants or vases of real flowers to promote a refreshing feel, while others set up a cool figurine or a prized collectible. Framed photos, unique artwork and tiny jewelry boxes and accessory bowls are common nightstand accents as well.
Nightstand decor can also add an extra pop of color to your bedroom layout. Nightstands often have black, white, gray, brown, light wood or dark wood finishes. Ensure that your accents stand out by topping these dark or neutral-colored bedside tables with vibrant blue, yellow, red, green or pink pieces.
Use your nightstand drawer to stow diaries and other private or personal items by your bedside.
Put hobby items like a stack of books, a basket of yarn and knitting needles or a box of various trinkets and keepsakes on the bottom shelf of your nightstand.
Nightstand cubbies are excellent for displaying your kid's favorite stuffed animal or holding extra towels, throw blankets, pillows and toiletries in the guest room.
Use nightstand compartments to show off a few additional accents.
Decorating a nightstand essentially means finding a balance between the items you need at your bedside and a few pieces that help spruce up the space. Think about whose room you're furnishing, and decide what practical and decorative things they might prefer to have on their bedside tables. From there, you can start adding the necessary accents to your nightstand tabletops and compartments.