Guest Bedroom Ideas
Spare Room Furniture & Decor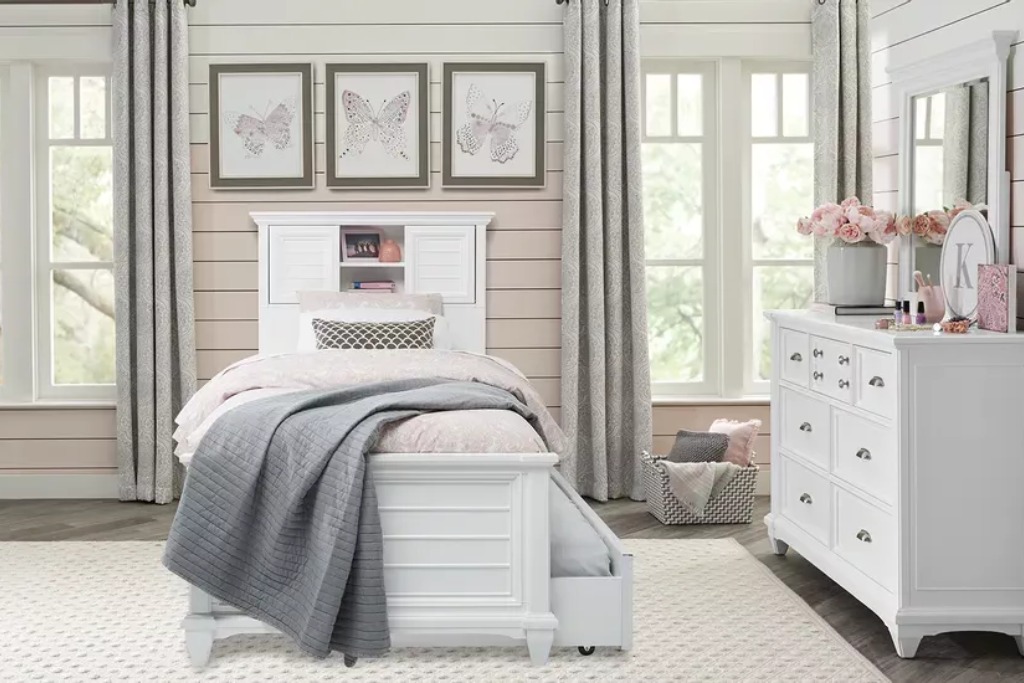 While having visitors stay over can be a bit stressful, creating a chic and comfortable guest room for family and friends makes get-togethers much more pleasant. When picking out the right furniture for your spare room, you'll need to consider the size of your space, your guests' needs and how you can use the room between visits.
In this article, you'll learn how to:
In order to be comfortable and function well, every guest room needs to have at least the most basic bedroom furniture, including a bed, nightstand and dresser.
The guest room furniture you need varies depending on the size of your space and how you want to use it between visits. However, certain pieces work in almost any bedroom. Whether you have a dedicated guest suite or a spare room that doubles as an office, understanding a few bedroom decorating basics will help you host company in style.
The right bed size and design can mean the difference between cramped quarters or a comfy night's rest. To decide which type of guest room bed is right for your home, consider who will be visiting. How many people usually stay with you? Will you have adults, kids or both? Answering these questions helps you determine the best choice among several kinds of beds perfect for visitors, such as:
Nightstands add extra storage to a spare bedroom and provide space for reading lamps, tissue boxes and other little details that make guests feel at home. Become everyone's favorite host by stocking bedside tables with items that visitors might need like phone chargers, bottled water or toiletries. You can find nightstands in styles to suit your decor, including:
Giving guests a place to unpack is a thoughtful way to make a spare bedroom feel homey and welcoming. To choose the best guest bedroom dresser, look for a compact chest of drawers. Small chests let guests unpack their suitcases while leaving floor space for other spare bedroom furniture.
A critical part of your guests' experience is getting a restful night's sleep. When choosing a mattress for your spare room, take your time. Research various comfort levels and features until you find the best mattress for a guest room that fits your budget and offers overnight visitors full support. For added convenience, you could also consider purchasing a mattress-in-a-box that's delivered to your door.
Mattress Size
To make the most of your guest bedroom, a queen– or full-size mattress should do the trick. These beds provide plenty of surface area for couples while leaving the rest of the room free for other furniture. You could also opt for a twin-size mattress if you have limited guest room space.
Mattress Comfort Level
Comfort is a critical factor when choosing the best mattress for a guest room. To give your visitors more back and spine support, opt for an extra firm or firm mattress. For house guests who need softer surfaces that cradle the body, check out soft beds.
Mattress Features
Many mattresses have features that cater to different sleeping preferences. In rooms that tend to get a little warm, select a mattress with built-in cooling gel to help regulate body temperature. You can also browse beds with memory foam support or opt for an innerspring mattress with advanced coil technology to relieve pressure on aching joints. Other material types available include hybrid and latex mattresses.
Once you have all the essentials, think about extras you can add to heighten your guests' experience. Do your friends and family enjoy spending time on their laptops? Would your visitors enjoy pampering themselves first thing in the morning? When deciding which items you want for your guest room, consider the interests of those who might be staying over.
Help Them Look Their Best with Mirrors
When you're living out of a suitcase, a dresser mirror is a huge bonus. If your guests share a bathroom, they can save time by fixing hair or makeup in the mirror while their partner takes a shower. A larger mirror makes checking clothes for creases and wrinkles easier, too. Mirrors are also a smart small guest bedroom idea because reflective surfaces make spaces seem larger and brighter.
If you have room to spare, consider a large wall-mounted mirror or a full-length decorative mirror for your guest room. Larger, longer mirrors give visitors a better view of their appearance and attire before coming down for breakfast or leaving first thing in the morning.
Selecting a Desk for Your Space
Dedicated guest rooms sit empty most of the time, so adding a stylish desk helps you get more out of your space. A home office and guest room combo is a popular small bedroom idea that's easy to put together.