How Tall Should Bar Stools Be?
Finding the perfect bar stool height can be an intimidating task, especially when you've put effort into setting up your patio table, breakfast bar or kitchen island. Whether you're ordering stools online or going to the store in person, you want to avoid choosing a seat that's too short, too tall or just awkward to sit in.
Luckily, with a little measuring and preparation, learning how to choose the best bar stool height for all counter types is easier than you think. This simple guide will show you how to find the perfect seat height to fit your table or bar counter.
In this post you will learn more about:
Taking proper measurements or purchasing a set ensures you'll have the perfect bar stool height for your table.
Best Bar Stool Heights
Why are Bar Stools Available at Different Heights?
Bar stools are an alternative to dining chairs and often serve as compact seating for patio tables on smaller decks and balconies. Commercial bar stool heights vary because there are industry standards for bar, counter and table heights. Knowing the average height of stools, chairs and seats that fit these furnishings will help you make the right choice.
The average bar table is between 40 and 42 inches tall. Counter-height tables, like kitchen counters, are typically 34 to 36 inches high. The typical height of a dining table is roughly 28 to 30 inches. Most patio bar tables or counter-height dining tables have the same dimensions as indoor furnishings, so the guidelines are the same for indoor and outdoor furniture.
This 36-inch counter-height set (left) also comes in a 42-inch bar height option (right).
Generally, a stool's seat should be about 9 to 13 inches shorter than the counter or tabletop. The chart below gives us the following standards:
| | | | |
| --- | --- | --- | --- |
| | Bars | Counters | Tables/td> |
| Counter Height | 40-42 inches | 34-36 inches | 28-30 inches/td> |
| Stool Height | 28-33 inches | 24-27 inches | 16-19 inches/td> |
Knowing these measurements will help you greatly when purchasing your next patio bar set or individual stools, as you can simply measure the height of your table and choose chairs with the right dimensions for your setup.
Bar Stool Height by Design
Bar stools often vary in height due to their design as well. While the general seat height may be the same, armless designs may fit completely beneath your table, while high-back chairs may not. If your bar stools have arms, ensure the seat can slide under the counter without getting stuck.
Different bar stool designs can affect how well your seating fits your table.
Designers account for the space between the bar stool seat and standard bar and counter table heights. As long as you stick to the measurements in this guide, finding cozy bar stools with arms for your outdoor dining area should be fairly easy. To allow guests to customize their seating level, consider adjustable bar stools for your layout.
What is the Best Height for a Bar Stool?
The industry standard for a bar table averages about 40 to 42 inches high. Using the rule of thumb for bar stool heights, subtracting 9 to 13 inches from the table's height gives an average bar stool height between 27 to 33 inches.
There are some exceptions to this rule because custom bars are common nowadays, so always measure the bar counter you're buying stools for before investing in a full set.
Here's a quick recap of how to measure a bar counter:
Grab a metal tape measure and start from the floor.
Pull the tape measure to the top counter.
Write this measurement down.
Subtract 9 to 13 inches to find your ideal bar stool height.
If you're still in doubt, measure out a piece of paper that's the same height as the bar stool you'd be buying. Attempt to sit at a similar height and see if it feels comfortable. You can also place books or boxes on top of a standard dining chair to mimic the bar stool's height and determine if you have the right measurements.
Always look for the perfect bar stool height by comparing it to your counter or bar table.
Measuring Guide
How to Measure for a Bar Stool's Height
Calculating a bar stool's height is simple. Measure from the floor to the top of the counter, as explained above. Remember, if your bar is the standard height of 40-42 inches, you should look for bar stool heights between 28 and 33 inches. Shorter or taller seats might be uncomfortable for you and your guests.
How to Measure a Bar Stool's Width
Bar stools also have a standard seat width, commonly 15, 17 or 21 inches across. Large or extra tall bar stools tend to have the widest seats, which should look natural and well-proportioned when placed at a bar or counter.
When choosing a 42-inch bar stool set, consider how the extra seat width will fit, too.
While your bar stools' seat shape may vary, there should always be at least 12-18 inches of knee space between the seat and the wall of the counter. This space makes sitting more comfortable and offers plenty of legroom.
Bar stool Distance
What is the Ideal Distance Between Bar Stools?
Knowing how far apart to space your bar stools is almost as important as knowing how tall they should be, as it makes your entire bar feel roomy, accommodating and comfortable.
Ideally, the distance between bar stools should be around 12 inches (1 foot) between the edges of each bar stool seat. This distance provides ample space for maneuvering in and out of the chairs, as well as turning and speaking to the people next to you, especially if you choose swivel bar stools that enable all-around movement.
A bar height dining set with swivel stools allows a broader range of movement.
FAQ
Common Questions about Bar Stool Heights
When it comes to bar height stools and counter height stools, you might have specific questions about certain measurements or industry standards. Many people have similar queries about the perfect height for a bar stool or how to choose the right seating for their outdoor balcony or dining area. The frequently asked questions and answers below may clarify a few things.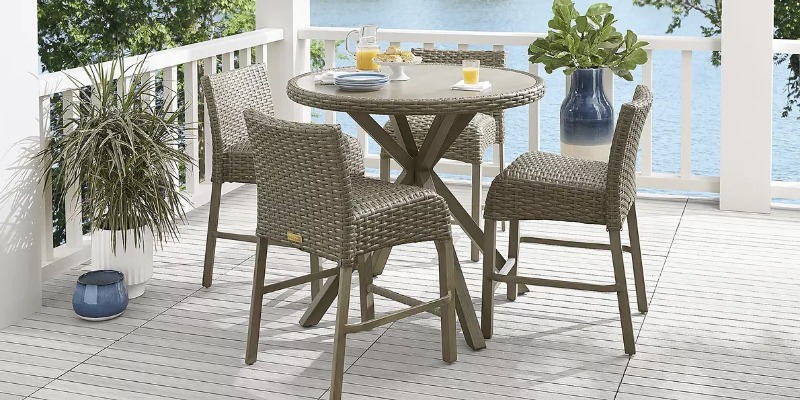 This 40-inch outdoor balcony set is the perfect height for apartment terraces.
What is the standard height of a bar top?
Standard bar top heights fall between 40 and 42 inches.
What is normal counter height?
In general, a normal counter height is between 34 and 36 inches. However, designer or custom bar counters may differ from standard dimensions.
How do you pick the right height for bar stools?
You can find the right height for bar stools by subtracting 9 to 13 inches from the bar counter's height.
How tall should a bar stool be for a 36-inch counter?
For a 36-inch standard height kitchen counter, the best bar stool height is 23 to 27 inches tall.
How tall should a bar stool be for a 42-inch counter?
At 42 inches, or the standard height for a bar counter, 29 to 33 inches is the best bar stool height.
How tall should a bar stool be for a 46-inch counter?
The standard height for an extra-tall bar counter is 46 inches, so the best bar stool heights range from 33 to 37 inches.
Two high-back stools tuck neatly underneath this 32-inch table and leave plenty of legroom.
Paying close attention to table height, chair dimensions and spacing between your bar stools can help you find the perfect height for your kitchen or patio seating. Hopefully, with the help of this handy guide, you've found the best bar stool height for your outdoor dining area and are well on your way to arranging them next to your bar or counter.