Daybeds vs. Trundle Beds
Difference Between a Daybed and Trundle Bed
Trundle Beds vs. Daybeds: Sizes, Uses and Styles
Space-saving daybeds and practical trundle beds are popular options for those looking to furnish a small area or room. However, depending on your space's size, storage and style needs, one of these beds may be a better fit for your design. Comparing the differences and similarities between these two bed types can help you decide between a daybed vs. a trundle bed.
Overview
Keep reading for helpful tips and information on:
Differences Between Trundle Beds and Daybeds
Daybeds and trundle beds are popular options for kids' bedrooms and guest rooms. They have practical design features and share similar dimensions. Even so, these two bed types have unique attributes that set them apart, too. Knowing the differences between trundle beds and daybeds can help you decide which option you prefer.
This daybed has a sofa-style frame with arms serving as head and footboards in addition to a backrest.
What is a Daybed?
Most people think of daybeds as a space-saving mix between a couch and a bed. A standard daybed frame has a headboard, footboard and a longer third panel along one side, giving it the same shape as a sofa or loveseat. Depending on the design, a daybed might look more like a chaise lounge or futon. However, most daybeds have solid frames and come with a mattress instead of cushions.
What is a Trundle Bed?
On the surface, a trundle bed resembles a normal kids' panel bed. However, trundle bed frames come with an additional storage drawer under the mattress. Caster wheels help you easily open and close the lower compartment. While many trundle drawers accommodate an extra twin or full-size mattress, you can also use them to store bedding and other essentials.
How to Choose Between Trundle Beds and Daybeds
Even when you understand the distinctions between these two bed types, deciding whether to buy a daybed or trundle bed can be a bit challenging. Luckily, you can compare the best qualities of both options to figure out which would work best for you. Consider the following factors to determine whether daybeds or trundle beds would be better for your home.
Space-Saving Uses
Due to their compact design, daybeds can double as a couch in a small space like a college dorm or a shared kids' bedroom. Trying to decide between a daybed or a sleeper sofa for your studio apartment? Daybeds lack the pull-out features of sleeper couches, so you can simply lay down and rest rather than moving coffee tables and other furniture out of the way to make room for your mattress.
Though their main purpose is to provide additional storage, trundle beds can be excellent space savers as well. Rather than crowding a small bedroom with large dressers, chests and nightstands, you can stow items in a single drawer below the bed. If your kids' room has low ceilings, a trundle bed with a lower mattress is a smart alternative to a tall loft or bunk bed.
Range of Sizes
Learning the most common daybed and trundle bed sizes can also influence your decision between the two. Since both are popular picks, bringing home a twin-size daybed or a twin trundle bed can be a breeze. It's also easy to find full-size trundle beds or full daybeds for your guest room.
Full-size trundle beds are ideal for teens who need the leg room and want to have a friend stay the night.
A trundle bed may be better if you want a larger bunk or loft bed for your children's shared bedroom. Along with providing stacked twin, full and twin-over-full beds for your kids, the lower drawer offers an additional spot for a mattress to accommodate a third sibling or sleepover guest.
Trundle Beds and Daybeds by Style
Sometimes, deciding what type of bed you want depends on your color scheme or style preference. A soft, velvet daybed with pink fabric, button tufting and a sloped backboard might be perfect for your teenage fashionista's elegant bedroom. Meanwhile, a light or dark wood trundle bed with a simple slat design could better suit a rustic, outdoorsy theme.
Many trundles and daybeds in traditional, modern and contemporary styles also come with unique design features that give your child's bedroom a chic and functional boost:
Platform Beds: A platform trundle bed has a low profile that's closer to the floor.
Decorative Bed Frames: Curved sleigh beds add a graceful touch of Victorian appeal to a teen's room, while tall poster and canopy frames complement the dramatic look of your child's princess bedroom theme.
Storage Beds: Both daybeds and trundle beds feature storage-savvy designs with headboards that have built-in shelves and cubbies. Choose a storage daybed with drawers or a trundle bookcase bed so your kid can store and display their favorite novels and trinkets.
Captain's Bed: Many captain's beds offer a second trundle bed beneath the top mattress, plus a few extra drawers and cabinets for clothing and knick-knacks. They are a bit taller than the average bed frame, making them an excellent option for older kids.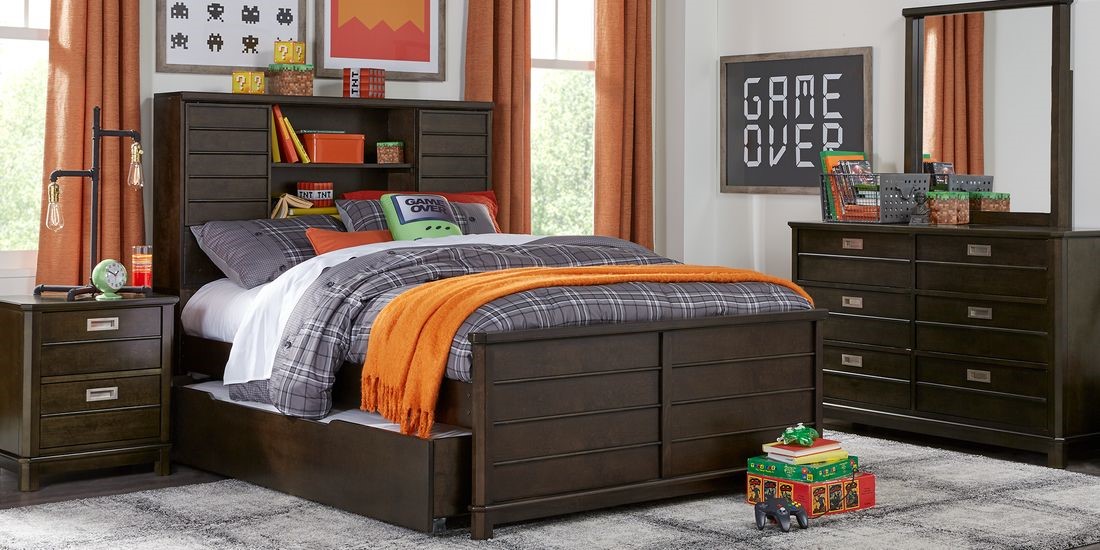 Storage daybeds or trundle beds feature many space-saving assets like cubbies and drawers.
Daybed or Trundle Bed?
Ultimately, daybeds and trundle beds are both excellent options for your interior design. Each bed type provides a cozy spot for your child or overnight guest to sleep while also saving floor space in smaller layouts. Still having trouble deciding between these two bed types? Choose a daybed with a trundle drawer to give your child or teen the best of both worlds.