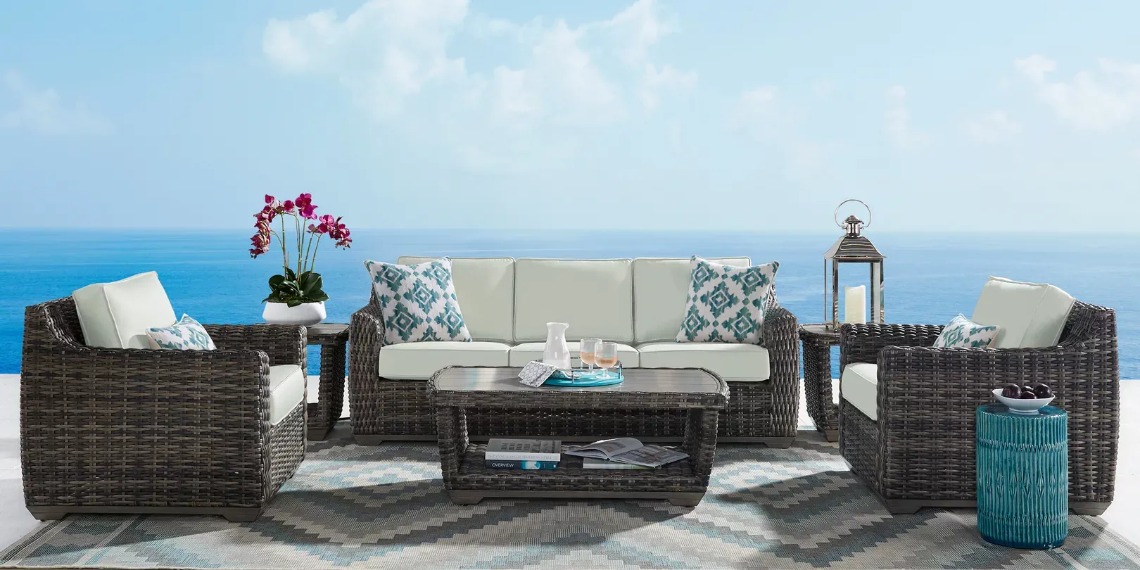 Outdoor Furniture Sales
Patio furniture and decor can be an expensive investment, especially if you select items with the strongest fabrics and materials. Bargain shoppers often outfit their decks, patios and balconies using second-hand, donated or recycled furnishings. However, many stores have sales events throughout the year so you can find low prices on chic, quality outdoor furniture.
Overview
Before you add outdoor furnishings to your home decor shopping list, use this helpful guide to learn about the best times to buy patio furniture, namely during:
Shopping during seasonal and holiday sales is a smart way to save big on new patio furniture.
When Is the Best Time to Buy Patio Furniture?
While most furniture stores start putting out their patio decor during the summer months, you can purchase outdoor seating, dining sets and accents year-round. Many retailers also offer recurring deals and host annual events where customers can discover savings on various outdoor furnishings. Consider some of these seasonal sales to determine the best time of year to buy patio furniture.
Seasonal deals help you find budget-friendly outdoor furnishings throughout the year.
Spring
Some shoppers try to get an early start on the summer season by purchasing their patio furniture in the spring. Home decor stores cash in on this idea by offering discounted rates on bistro tables, bar sets, chaise lounges and other accents during this time of year. Pre-season sales are perfect for those looking to save money and get the jump on the latest outdoor furniture fashion trends.
Take advantage of springtime sales to find affordable items and update last year's look.
Summer
Finding deals on patio furniture can be challenging when summer is already in full swing. Stores sometimes increase their rates during this season since the demand for outdoor furnishings is high. While you might be able to find low prices on outdoor rugs, lanterns and dining chairs, it's best to wait for the end-of-summer sales to buy large patio arrangements like daybeds and conversation sets.
In the summertime, shop around to find low prices on small patio decor.
Fall
Stores typically lower their outdoor furniture prices in the autumn to make room for their fall and winter stock. Take advantage of these sales by bringing home the hammocks, porch swings and outdoor sofas you want for the next summer season. Still planning to use your patio during the fall? Look for deals on fire pits, suncatchers and pillows to give your deck a warm and cozy vibe.
Most stores have sales events in the fall, so it's an excellent time to shop for patio furniture.
Winter
Winter may be the best time of the year to buy patio furniture if you're looking for the lowest prices. During this season, stores offer holiday sales and markdown prices on remaining items from their summer inventory. As such, you can discover bargains on one-off patio items in stores or shop online for a wider selection of discounted furniture to choose from.
Planning your outdoor design during the winter months is a great way to save money on patio furniture when summer comes.
What Month Does Patio Furniture Go On Sale?
Along with their seasonal sales, many furniture stores offer discounts and deals during the holidays. Depending on what month you choose to buy your patio furniture, you can take advantage of the following sales and buy patio furniture for affordable prices:
Black Friday: Stores across the country drop their prices in late November, making it the perfect time to purchase a new set of Adirondack chairs, adjustable outdoor bar stools or porch benches. You can also find huge markdowns on deck-top sectionals and accents like side tables and patio umbrellas.
Cyber Monday: Many people shop Cyber Monday deals for discounted electronics. However, this holiday is also the best time to buy outdoor patio furniture online. Some stores mark down individual items as well as complete designer patio collections during their Cyber Monday sales.
Labor Day: Labor Day weekend is a prime time for furniture and decor sales. Check your local furniture store to see what in-store and online deals they offer at the end of autumn.
Memorial Day: If you plan to do your furniture shopping in the spring, consider waiting until Memorial Day to browse the selection at your neighborhood retailer. You'll be able to discover a wide range of affordable patio decor and may be able to enjoy additional discounts if you're a veteran or active military service member.
President's Day: In addition to New Year specials, some stores host President's Day sales events to clear out their old inventory and make room for new designs. With so many discount prices available, many shoppers consider this holiday the best time to buy patio furniture on sale.
Holiday deals make it easy to find patio furniture markdowns throughout the year.
You can bring home budget-friendly patio furniture at any time of the year if you plan your shopping days around certain seasons and holidays. Next time you're on the lookout for affordable outdoor decor, use the tips from this guide to determine the best time to buy patio furniture at the lowest prices.