TV Stand vs Media Center
Difference Between a TV Stand and a Media Center
TV Cabinet and Entertainment Center Ideas
Since TVs are often the focal point of living rooms and home theaters, TV stands and media centers are an essential part of most layouts. When it comes to describing furniture for TVs, many people use the words "TV stand" and "entertainment center" interchangeably. Despite their similarities, however, these furnishings have their own distinct features that help you differentiate between the two.
Variations in size, design and price make entertainment centers and TV stands different from one another. Before selecting a model in the right style and color to suit your space, you'll need to determine which of these pieces would best suit your room dimensions, storage needs and decorating budget.
Overview
Check out this post to learn about:
Use a TV stand or media center as a stunning centerpiece for your family room or entertainment area.
What is the Difference Between a TV Stand and an Entertainment Center?
How they look, how much storage they offer and how much space they take up are the main differences between TV stands and entertainment centers. Entertainment centers are typically the size of an entire wall. Many models frame your TV with top mantle pieces and side panels as well. Also, roomy shelves, cabinets and drawers provide ample storage and display space.
Although they hold cable boxes, Blu-ray players and game consoles just like media cabinets do, TV tables usually have a simpler, more streamlined silhouette. An open design gives your media setup a sleek, minimalist look, while low-profile shelves let you place a few small decorative trinkets beside your larger electronics.
Entertainment Centers vs. TV Stands: Choosing What's Best for You
Based on their general features, you may already have an idea of which TV furniture type is right for you. However, since both TV stands and media centers come in a wide range of shapes, sizes and styles, browsing different models is a smart way to discover the perfect unique option for your space. Take a look at the following comparisons to learn which of these pieces would be best for your home.
TV Stand and Media Center Sizes
If you're looking for a wide or tall wall unit to fill a spacious layout, a large TV stand or entertainment center could be the right choice. Many models measure about 80 inches long or longer, while some TV tables only reach up to 60 or 65 inches. Pieces this size are perfect for furnishing massive basements or family rooms and accommodating extensive film, music and video game collections.
On the flip side, small TV stands are usually a better fit for dorms, apartments, and other small spaces. Choose a low-profile 50-inch TV stand or try a 55-inch media center to get that classic, grand look in a space-saving size. Even if you select one of these tiny options, you can always place standing or floating bookshelves beside your entertainment center for additional book and DVD storage.
Quote Component: Even if you have a wall-mounted TV, you can place a TV stand beneath it for aesthetics and extra storage.
Price Differences Between TV Tables and Media Consoles
Since TV stands and entertainment centers are among the larger living room furnishings, they can sometimes cost a pretty penny. Luckily, affordable options are available for those decorating on a budget. If you want to save money, consider a small TV stand for under $500. Larger wall units may have a higher price tag, but their quality materials and unique designs make them a smart investment.
Decorating with a TV Stand or Media Center: Set-Up, Styles and Colors
Once you decide on the perfect TV furniture for you, select a model that complements your design style and color scheme. From there, it's time to decorate your living room with your chic media center or TV stand. Check out the following suggestions to get some ideas on how to fit your TV into your living room and how to create the perfect stylish look for your space.
Entertainment Center and TV Stand Placement
Tv stands and entertainment centers usually work best against an expansive blank wall across from your seating arrangement. To prevent natural light from casting a glare or shadow across your TV screen, establish your entertainment area away from your living room windows. You might also need to adjust the TV table surface to find a viewing distance and sightline that works for everyone.
Proper placement is essential to ensuring your TV screen is visible from every seat in your layout.
Entertainment Center Ideas: Media Center Styles and Colors
Due to their large size, media cabinets are a common choice for traditional, sophisticated setups. If you choose this approach, a rich cherry or deep brown unit with polished wood panels could be perfect for your layout. Looking to promote a more laid-back atmosphere? Consider a wall-sized rustic or farmhouse-style entertainment center with gray or light wood finishes and distressed detailing.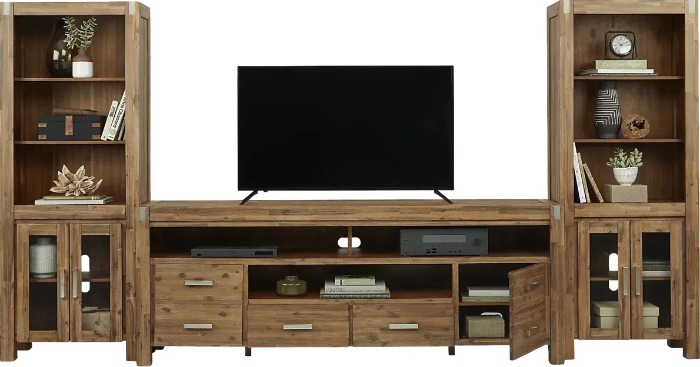 TV Stand Ideas: TV Table Finishes and Decor Styles
While traditional media storage cabinets work for elegant designs, lovers of casual decor might prefer contemporary or modern TV stands. Striking blue or white TV stands refresh your sleek and chic setup. Meanwhile, black TV stands with industrial accents like glass and metal enhance a polished, rugged aesthetic. You can also use a mid-century modern TV stand to create a more dignified feel.
TV stands usually have a sleeker, more updated look, though you can also find units with classic or traditional elements.
Whether it's the practical storage features that come with massive media cabinets or the simple space-saving design of TV tables, both these furnishings bring their own unique benefits to your layout. Consider the size, style and storage needs of your living room to determine which of these console types could be the right choice for you.