Decorating with Earth Tones
Using Earth Tone Decor to Create a Natural Look
Decorating with earth tones can help refresh your look and cultivate a calming, relaxed atmosphere. These earth tone decorating ideas will help you find the perfect furniture and decor options for your living room, dining room or bedroom.
In this article, you'll learn about:
Using neutral hues inspired by the outdoors creates a relaxed, timeless look that's easy to adapt as your style preferences change.
Contrary to what many people think, earth tones are more than just brown. An earthy color palette can feature any shade found in nature, including woodsy hues like deep reds, burnt oranges and lush greens. You may even see bolder accents like blues, pinks and purples that pay homage to the sunset.
Some examples of popular earth tones include:
Browns: Walnut, cedar and chocolate
Neutrals: Beige and taupe
Greens: Moss, pine and sage
Warm shades: Sienna, mustard and burgundy
Cool hues: Sky blue, graphite and silver
Whether your family room color palette features dynamic reds and yellows or soft blues and grays, adding earthy colors to your den can help you create the charming design of your dreams. Here are a few suggestions for how to integrate earth tone couches, chairs and tables into your layout.
Earth Tone Sofas and Sectionals
A rich brown sofa can create balance and contrast when using other vibrant natural hues in your living room. The various shades of beige and gray sectionals bring a lighter look to the space and blend beautifully with cool or warm palettes. You can even brighten things up with a lush green loveseat to bring the tranquil vibe of the forest to your home.
Other couch options in earth tones include:
Earthy Accent Tables and TV Stands
Light and dark wood end tables are a suitable option for almost any palette. Unique coffee and console tables with wood, metal and marble accents offer an easy way to incorporate outdoor elements into your design. Additionally, an earth tone TV stand or wall unit serves as a lovely complement to color schemes featuring shades like chestnut brown, snowy white or cloud-gray.
Complete Earth Tone Living Room Sets
Shopping for coordinated living room furniture sets in earthy tones is an easy way to achieve a cohesive look. A rustic brown leather living room set adds a rugged, lived-in aesthetic. Consider a striking red sectional against a beige wall to create a warm and dynamic vibe. Many of these ensembles come with coordinating earth-tone tables and accent chairs that add to their curated appeal.
To get a unified look in earth tones, consider sets in:
The next best thing to dining al fresco is bringing a little bit of nature indoors. Using earth tones in your dining room is ideal for creating a relaxed atmosphere that's easy to adapt for more formal meals. Here are some ideas to inspire you as you choose your own perfect dining set.
Earth Tone Furniture for Eating
Wooden dining room furniture is a tried-and-true option for incorporating earth tones into your decor. Try dark wood dining sets with tables in a brown or cherry finish for an elegant look that's sure to impress or build your own unique set by choosing separate tables and chairs.
Prefer something a little more family-friendly and casual? Consider a counter or bar height set with vibrant red or green stools. Those who need more flexible seating for larger crowds or guests may prefer the organic look of rustic dining benches. In addition to extra elbow room, these options often include padded upholstered or leather seats and come in a range of earthy hues.
Dining room sets are also available in gray, black, white and light wood.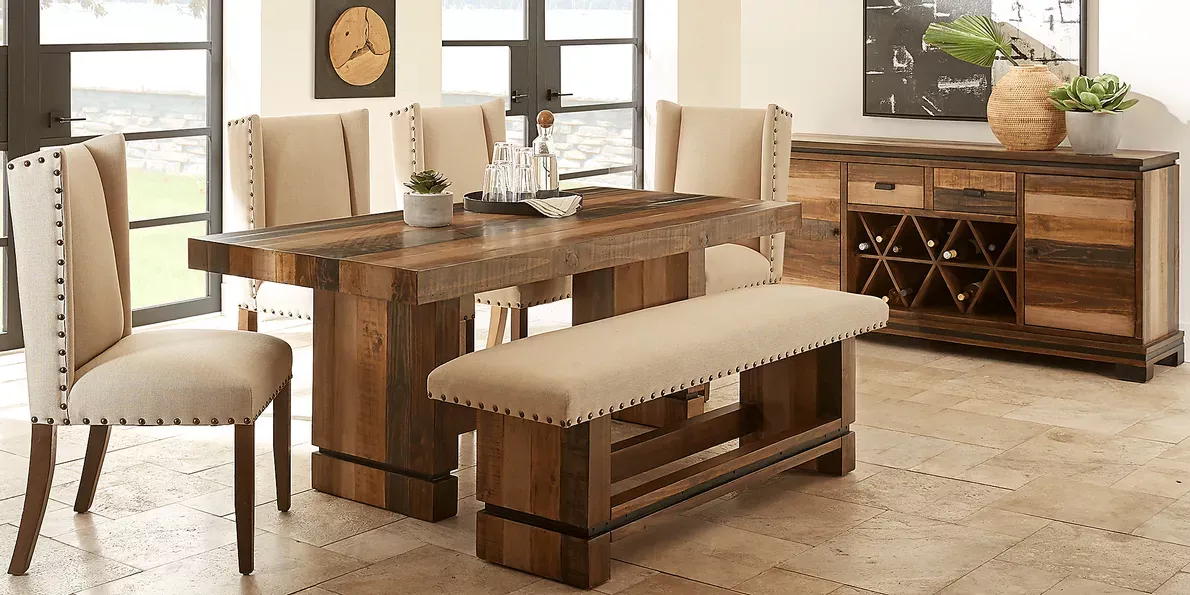 Wooden table sets provide a simple way to get a natural, earthy look in your eat-in kitchen or dining room. For a more casual feel, consider bar or counter height designs with stools that are easy to rearrange as needed.
Stylish Dining Room Storage and Service Options
Whether you need a china cabinet for stashing formal dishes or a bar cart for organizing glasses, storage is a must for any functional dining room. Dining room storage furnishings are also a great way to work other earth tones into your design. Look for credenzas that combine multiple wood tones for rustic themes or servers in hues like red or blue to bring a playful pop of color into your decor.