How to Decorate in Blue and Yellow
Where cool blue tones promote a calm, soothing atmosphere on your patio, sunny yellow hues deliver striking contrast and an upbeat, cheerful vibe. Combining these two colors is an excellent way to create a bold and beautiful look that balances the fun and fashionable aspects of your outdoor design.
Overview
Take a look at the chic decorating tips in this article to learn about:
Whether you use bold furnishings or subtle accents, blue and yellow decor can have a profound effect on your patio layout.
ils, dandelions or other yellow bl
Bold Blue & Warm Yellow Color Pairings
To create an elegant, high-contrast look on your terrace or deck, consider using dark blue furniture as a base for your design. Set up cobalt blue tables and a sofa or sectional with plush, deep navy cushions to infuse the space with cozy, classic appeal. Next, accent the space with golden toss pillows, lemon-yellow ottomans and planters full of daffodils, dandelions or other yellow blooms.
On the flip side, those looking to create more of a casual, charming setup on their balcony or terrace can start with a butterscotch-yellow couch, loveseat or table and bar stool set. Place a few sapphire or indigo throw pillows on the seats and put an azure end table on either side of the sofa for a practical accent and a cooling pop of color.
Blue background accents embolden a warm yellow bistro set.
Light Yellow & Soft Blue Patios
If soft pastels are more your style, shades of custard yellow and powder or periwinkle blue might work better for your patio. Lighter hues help your space look bright and inviting, making them perfect for relaxing lunches on your enclosed porch, as well as rowdy outdoor parties with family and friends.
Furniture with rich, dark finishes can help lighter blues and yellows stand out. Top your buttery-yellow or soft denim-blue rug with a natural teak conversation set or coffee table for a balanced, grounded look. Or, use muted teal and honey-colored pillows to accent your brown or dark gray wicker sofa set.
Soft ocean blues unite with the subtle yellow glow of a rattan chat set.
Adding Blue and Yellow Shades to Your Current Look
Rather than redecorating your entire patio layout, consider revamping your existing palette with a few splashes of cool blue and lively yellow. Incorporating these colors into your space might be easy if you're working with a neutral setup featuring beige sofas and white sectionals or if you have a similar color scheme of blue and white hues in place.
Those with more vivid colors on their patios might need a little extra help working blue and yellow accents into their designs. Try these tips for areas with the following tones: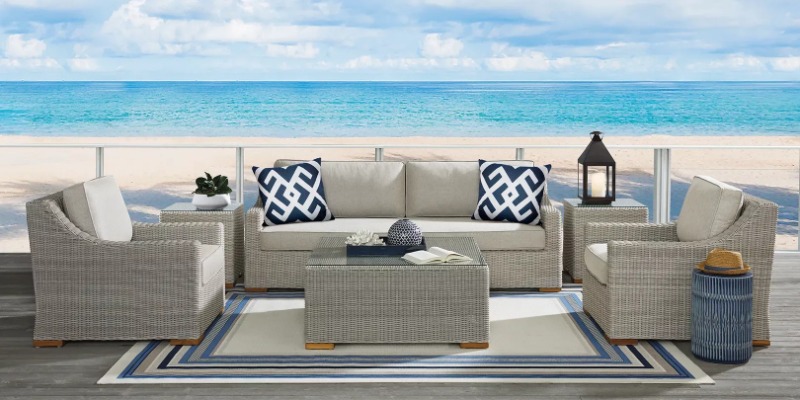 If you choose the right shades, you can add blue and yellow to almost any patio palette.
Yellow and Blue Finishing Touches
Even the subtlest touches of yellow and blue can take your patio layout to the next level. Use some of the following blue and yellow outdoor decor items to tie your comfy and chic design together:
Use decorative accents to add subtle touches of yellow and blue to your patio layout.
As you can see, there are several ways to incorporate yellow and blue tones into your outdoor design. If you're in the process of getting your patio decorating project underway, try out some of the suggestions in this post to create a calm yet fun atmosphere for your space.