Scandinavian Interior Design & Decor
What Is Minimalist Scandinavian Style?
Scandinavian Minimalism: Ideas for Living Rooms, Bedrooms & Dining Rooms
In this unique combo, Scandinavian design and minimalism come together for a simply beautiful look. By combining sleek furniture and comfy decor, you can create a cozy, clean aesthetic throughout your home. Also, neutral color palettes, bold accents and practical modern light fixtures help you finish off your Scandinavian style space.
Overview
If you're looking to incorporate Scandinavian minimalism into your home and lifestyle, use this Scandi design style guide for tips on:
What is Scandinavian Style?
Scandinavian design and minimalism have a lot in common. Both styles involve using neutral color palettes, select ornamentation and sleek furnishings to create a clutter-free setting. However, Scandinavian decor exhibits a more comfortable form of strict modern minimalism by focusing on intentional details.
Scandi design comes from trends common in Norway, Sweden and Denmark. Scandinavian style unites functionality with beauty and comfort to cleanse your home of distracting excess while still keeping the space cozy. Using this design method, more and more people are turning their homes into tidy sanctuaries that soothe the mind with clean, simple style.
Room-by-Room Decorating Using Scandi Design
In Scandinavian style, polished contrast is key. Adding minimalism to the design helps you achieve a welcoming balance of simplicity and the ultra-comfy. Whether you're looking to try something new or want a stylish way to declutter your home, Scandinavian interior design has you covered from room to room.
A dedicated minimalist struggling to cozy up their decor should explore furniture that captures the hygge energy of the style. Hygge, in Denmark, is a way of life that's all about comfort. Adopt this approach by introducing furnishings with soft textures and lush materials when decorating your living room, dining room, bedrooms and other spaces.
Scandinavian Living Rooms
The prime spot for family gatherings, book club meetings, movie nights and more, your living room is an excellent place to establish this comfortable, clean look. De-cluttering the room frees up space and helps you relax, while plush pieces wrap you in softness to create the welcoming essence of hygge and Scandinavian style. Items you can use to complete a Scandinavian living room theme include:
Scandinavian Dining Room Ideas
Whatever the size of your formal or casual dining space, Scandinavian dining rooms place a big emphasis on light. If you have covered windows in your breakfast nook or dining area, replace the heavy drapes with see-through blinds or sheer curtains. Hanging modern pendant lights above the table is a chic alternative for a windowless eat-in kitchen.
Scandinavian dining chairs and tables let you keep things simple. Long rectangular or oval tables tend to have light wood finishes and usually feature a few decorations on top instead of runners and tablecloths. Both wooden rustic dining chairs and midcentury modern dining chairs with molded plastic seats can surround the table with enough space in-between to avoid a crowded look.
Midcentury modern dining chairs with soft gray upholstery surround a wood-finished table while a few pieces of tabletop decor add a subtle yet chic finishing touch.
Decorating a Scandinavian Bedroom
A cozy Scandinavian bedroom design gives you a chance to personalize your space and hone that comfortable, clutter-free look. Even if you're outfitting the spare room as a guest suite, Scandinavian minimalism is the perfect way to welcome overnight guests and make them feel like they're spending the night in a luxury resort. Try these bedroom decorating ideas for a Scandinavian design:
Low-profile Beds: A low-profile bed and mattress set only leaves a little space between the frame and floor, minimizing the chance to store excess clutter underneath. Meanwhile, upholstered frames with clean lines and subtle decoration like channel-tufted headboards enhance the cozy aesthetic.
Plush Bedding: Combine the purity of minimalism and the snugness of hygge through layered bedspreads. A smooth, unembroidered comforter looks clean and cool in a minimalist bedroom, but tossing a faux fur throw or sweater blanket on top elevates the space into a Scandinavian getaway.
Mood Lighting: The soft glow from unique bedside lighting such as lamps and overhead chandeliers provides perfect mood lighting for reading in bed or napping during rainy Saturday afternoons. Choose modern or contemporary fixtures for a sleek, minimalist approach.
Shaggy Rugs: A thick, shaggy area rug helps you make your bedroom feel warm and comfortable, especially if you have hardwood floors. Place a large 8×10 rug with a beautiful blue or snow-white design underneath your bed to highlight your stylish sleep space.
Mid-century Modern Furniture: In addition to low-profile beds, mid-century modern bedroom sets have wood-finished dressers, chests, and nightstands with subtle details and crisp lines that make completing a Scandi design bedroom a breeze.
This light wood bedroom set maintains mid-century roots while tons of natural lighting, layers of comfy bedding and a neutral color palette lend it a Scandinavian flair.
The Colors of Scandinavian Interior Design
A neutral background with a few well-placed bold accents is typical in Scandinavian decor. Scandinavian minimalism uses neutrals to simplify a room and make it appear more calm, refined and balanced. Monochrome colors like white, gray, tan, black and cream are a common canvas for bolder hues and robust earth tones.
A Neutral Color Palette in Scandi Design
In Scandinavian interior design, white walls are standard because they give the room a clear, open appearance. If a new coat of alabaster paint is too stark for your liking, a large white TV wall unit can bring the ideal amount of brightness into your family room. To continue that crisp look, consider a modern white leather sectional.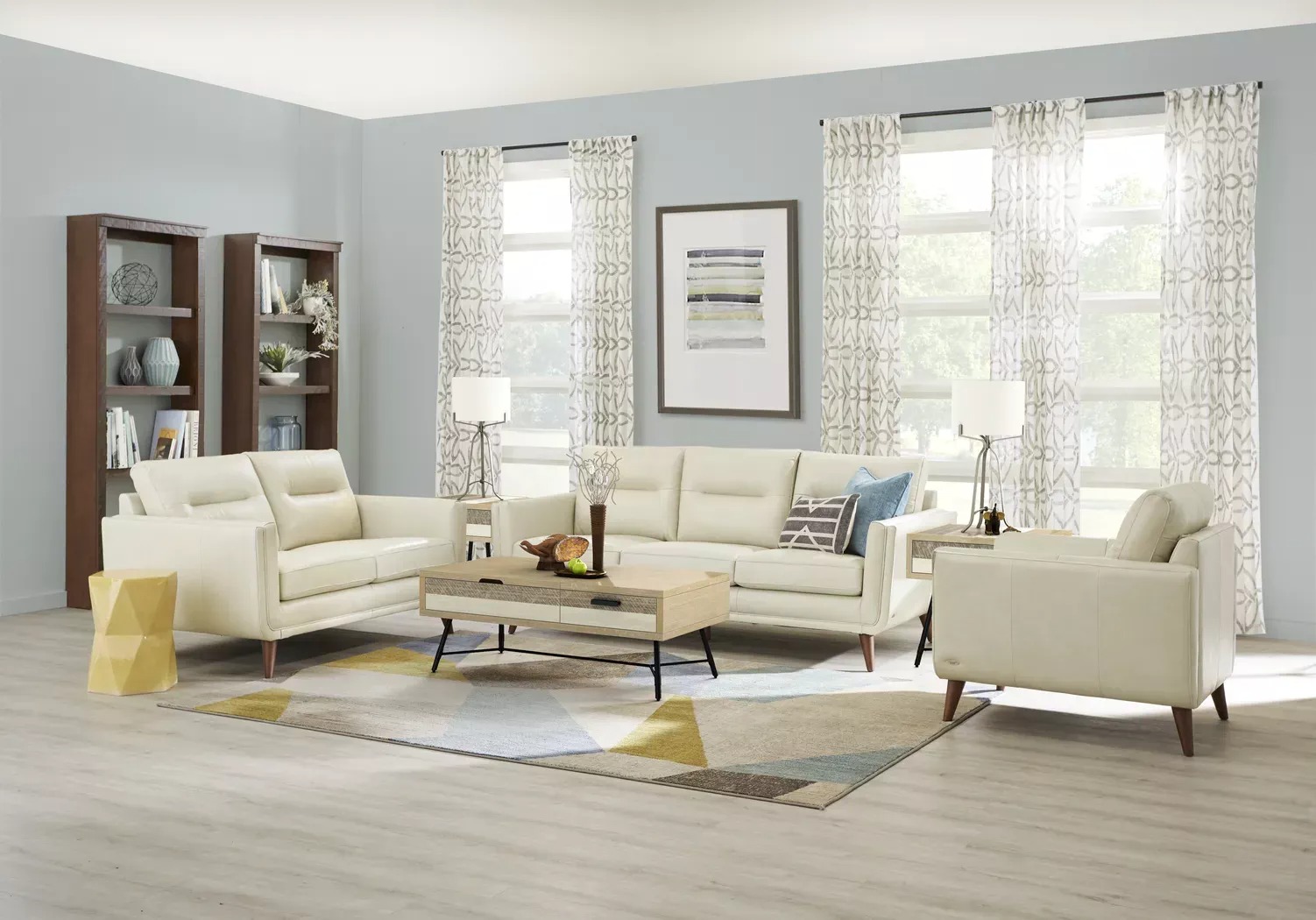 Scandinavian furniture in neutral gray, tan and black shades are popular choices, too. Make a living room feel homier with the comfortable earth-toned upholstery of a sleek, stone-gray armchair. Similarly, the subtle warmth of a cream bedspread adds an inviting allure to a Scandinavian-style bedroom.
Bold and Natural Accents in Scandinavian Decor
Vibrant color accents in a Scandinavian minimalist home bring life and energy to the mix. When incorporating bright colors into your Scandinavian home, it's best to pick a favorite shade and use it with care. Natural, earthy colors are also quite common. Some bold hues and finishes for your Scandi design include:
Blue: Calming blue tones work well in cool, wintry color palettes like the white and gray scheme of Scandinavian design. Make a blue sofa a prominent feature in your family room or find a light blue writing desk for your minimalist home office.
Green: Deep greens are nature-inspired and have a rich feel that captures a relaxed, modern mood. A forest green comforter set looks stunning in a gray bedroom, while a velvet green accent bench in the foyer adds cozy texture to your entryway.