The Beauty of Bar Carts
Boost your at-home cheer
There's a hot new trend in home accessories, it's compact, it's chic … and it's oh-so versatile. Bar carts have gotten a redesign that has transformed them into posh, must-have accessories for any style of home from modern to rustic farmhouse.
An evolution from Victorian era tea trolleys, bar carts are distinct from other kitchen or dining room offerings. They sit a bit lower and daintier than a kitchen cart. They are lighter weight and more mobile than servers or sideboards. And are more open and airy than an accent cabinet or bar cabinet.
Once you get your hands on one of these little gems you'll continually find new ways to use it.
Places and Spaces
There's any number of spots throughout your home where a bar cart would be the perfect fit. With their trim form-factor and in most cases caster wheels, you'll find that you can slide one in to just about any nook or corner. Yet with personality to spare, they can hold their own on an empty section of wall.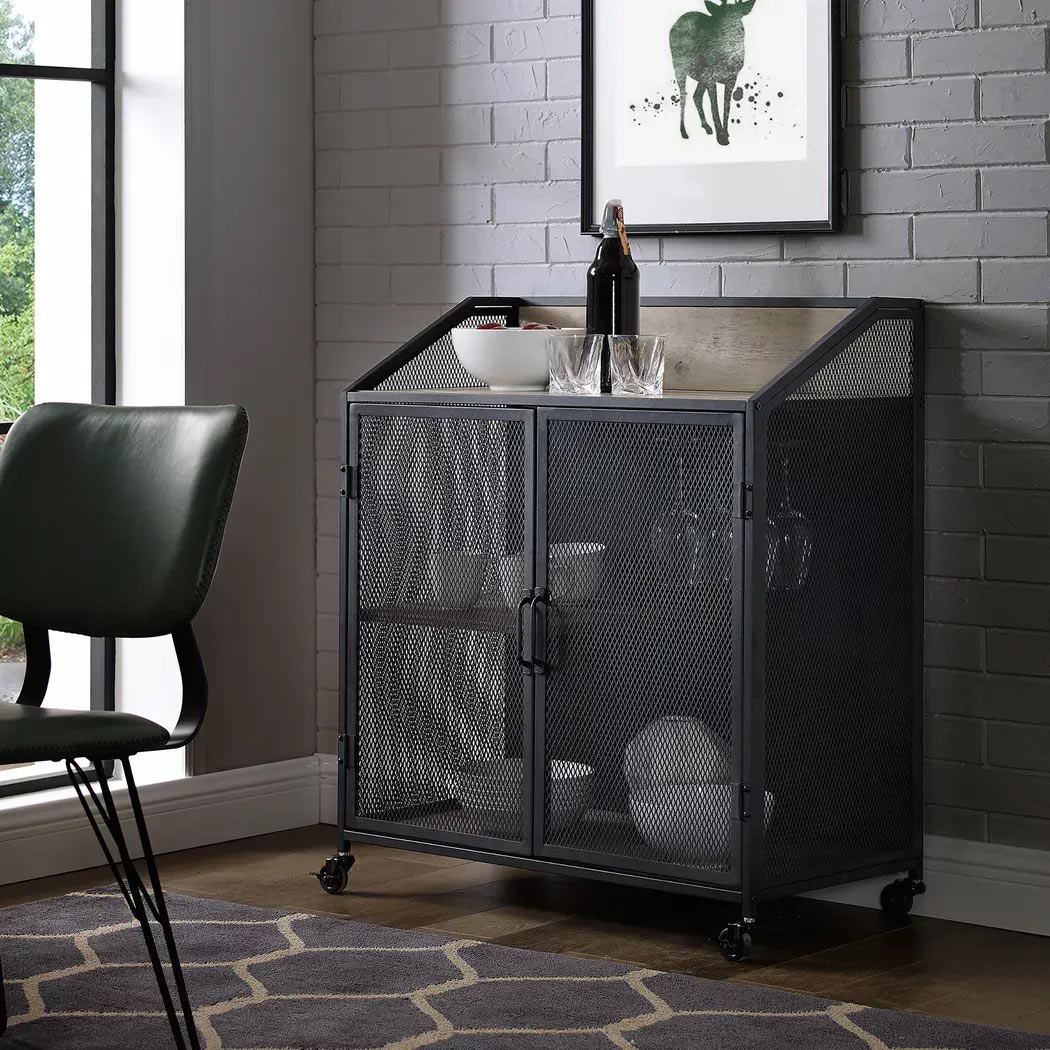 Roll it up table-side for some extra serving space when you are laying out a swanky multi-course meal. Or use it as a dessert cart for after dinner coffee and sweets.
Tucked into the corner of the dining room, this stunner is perfect for bottle service at holiday dinners. For maximum flexibility, choose a model with no rails or edges on the top and it can do double duty as a small server.
Perfect for entertaining, you'll be able to set up a serve-yourself drink station on your bar cart, freeing up valuable kitchen counter space.
A bar cart offers plenty of room for laying out serving necessities and extras for your wake-up latte and scone.
It transitions nicely as the day wears on and keeps your bottles and glasses handy so that you can indulge in an after-dinner glass of port paired with dark chocolate.
Station the cart in the living room or patio to encourage movement throughout your home. Just think how nice it would be to have a get-together where everyone isn't congregating in the kitchen the whole time!
Speaking of patios, imagine how handy an outdoor bar cart will be at your next backyard BBQ or family picnic. Wood or metal indoor/outdoor bar carts can be used on the deck or poolside for drinks or snacks whether you're spending a lazy Sunday home alone or entertaining a bunch of friends on a starry Friday night.
Drinks at the Ready
More into merlot than mules? Grab a cart with wine bottle and stemware storage.
This reclaimed wood model stuns with its rustic charm and industrial detailing. It would be as at home in a farmhouse living room as it would be in a city loft. Without casters it works well day-to-day as a server or a console table, when you're having the gang over simply relocate the décor off of the top and set up the bar.
If you think you'll be moving it while it's loaded, look for a cart that will keep your spirits secure.
Many have a lip or rail around the shelves, others have rings that secure and protect bottles when you roll it from room to room during a party.
Tips for Styling your Bar Cart
Even though you'll find all sorts of opportunities to roll it around, you'll want to find a spot for your bar cart to live most of the time. Frame your mini bar area with whimsical art or a decorative mirror above it. Tuck it beside a comfy arm chair with a plant off to the side it to soften the look.
Create a Display
Be sure to include bottles of different heights, proportions and colors. Add a carafe, shaker, and some drink accessories – think sliced limes, olives or mint. When you aren't hosting, move potables down for display to the lower shelf and place a house plant, bundle of cut flowers or sculpture on the top.
To amp up your style, look for unique touches. Faux bamboo has a vintage feel adding the charm of yester-year while the gold finish keeps it fresh. Metal and wood offer an industrial vibe. Glass shelves and clean lines offer a crisp contemporary feel.
No matter how big or small your home is chances are you've got a bare corner or empty wall in your dining room, kitchen or living room just itching for a little zing. Roll in one of these fab finds, put on your mixology hat and get ready to serve up your own swanky concoctions.