Rooms To Go Home
Decorating a dorm room requires a lot of planning and preparation that can add extra stress to college move-in day. Since the layout is so tiny, you'll need dorm furniture that provides ample storage within a small footprint for your sleeping, sitting and studying needs. You'll also want chic, space-saving accents that bring depth and personality to your design.
Overview
This post offers dorm room inspiration and suggestions to help you:

A comfortable, well-equipped dorm room is essential for maximum comfort, organization and academic success.
College Dorm Essentials
It's important to prioritize essential furnishings when outfitting a small dorm room, especially if you're decorating on a budget. Choosing your bed, seating and workstation first ensures that your limited layout has everything you need for comfy and efficient flow. Check out these suggestions for multi-purpose dorm furniture that maximizes floor space and gives you more bang for your buck.
Dorm Room Beds
A cozy bed is crucial for hardworking students who need restful sleep in order to wake up refreshed and ready to learn. Some college residence halls provide a mattress, small platform bed or bunk for dorm dwellers. If you need to bring your own bed, there are a few options you can consider:
Twin Beds: Twin and twin XL beds are common in dorm rooms. Slim metal frames and corner beds take up minimal space, while a twin mattress has ample room for single sleepers. Pair your bed frame with an upholstered dorm headboard for extra softness. Or, choose a bookcase bed with built-in cubbies to provide more dorm storage and keep alarm clocks and electronics within reach.
Futons: A convertible dorm futon offers comfort and convenience in one compact design. In an upright position, futons serve as a small sofa where you can kick back and relax between classes. When your study session is over for the night, the frame lays flat to become a spacious bed.
Bunk Beds: If you and your roommate are both on board, consider furnishing your dorm with a set of full-sized bunk beds. Stacked beds provide two comfy mattresses and leave the floor clear for other dorm room essentials. Many storage models also come with attached dressers and trundle drawers for stashing clothes, towels and bed linens.
Loft Beds: Available in twin and full sizes, raised dorm loft beds offer a cozy sleep spot up top and a place to work or relax underneath. Some lift beds have built-in desks or bookshelves for an organized study area. Others feature a futon that doubles as seating and an extra bed.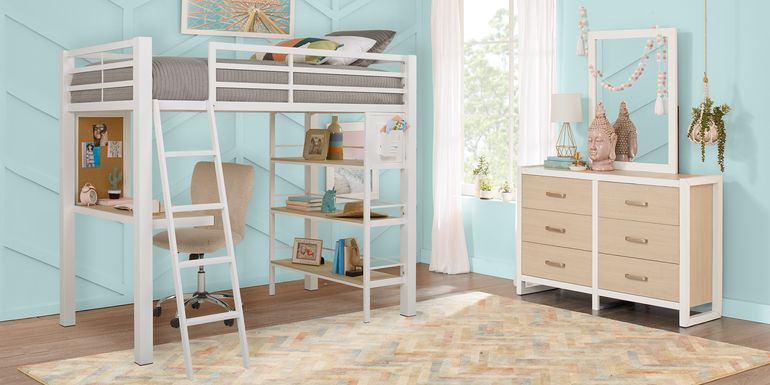 Make sure your dorm decor choices adhere to school regulations and ensure your roommate agrees with the items you pick.
Desks
When the campus library is too crowded, and the student lounges are too noisy, a dorm desk provides a quiet space for studying and completing assignments. Search for different sizes, shapes and features to find workstations that make it easy to stay focused and organized in a tiny dorm room.
Computer Desks: A sleek writing table or small computer desk is ideal for a dorm. Spacious tabletops provide room for a laptop or desktop monitor, while open-back designs and cord organizers make it easy to manage wires. With writing tables available for less than $200, these desks are an economical choice for students on a budget.
Storage Desks: Storage desks come with built-in compartments to keep school supplies within reach. Under-desk cubbies offer easy access to notebooks, pens and highlighters, while roomy shelves let you store textbooks, binders and computer towers. Consider a desk with a hutch or tuck a small filing cabinet beneath the desktop for additional storage.
L-Shaped Desks: To save even more floor space, consider an L-shaped desk that you and your roommate can share. Wide surfaces provide plenty of elbow room, and the L-shape design allows these tables to fit into corners, keeping the center of your dorm room clear.
Seating
Whether you want a designated hangout or extra seating for friends and study group members, sofas, stools and chairs are an essential part of your dorm room design. Check out these plush, practical seating options that add a functional and homey touch to your small space.
Dorm Chairs: Perhaps the most important seat in the dorm, desk chairs keep you upright and relaxed while you study. If you've got the space, incorporate a leather arm chair or upholstered accent chair into the layout. Use an oversized chair as a cozy seat for reading or watching TV. Or, tuck sleek armless chairs into the corners until you need seating for visitors.
Dorm Couches: A small sofa or loveseat is a comfy choice for roomier dorms. Plush couches make an excellent spot for watching a movie with a friend or catching a quick nap after class. Plan on hosting weekly game nights or study group meetings? Furnish your dorm with a small sofa set so your friends and classmates can pull up a chair.
Daybed: Similar to futons, full and twin-sized daybeds work for both sleeping and lounging. Chat and study with your fellow students on the plush, roomy surface or spread out and enjoy snacks and card games with your roommate. You can also choose a stylish yet practical trundle daybed with a lower mattress for overnight guests.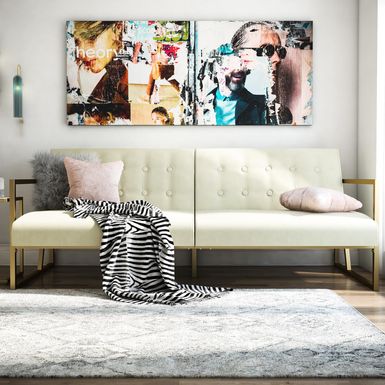 CosmoLiving Lexington Park Modern Beige Daybed
Dorm Decor Must-Haves
Once you have all your college dorm essentials in place, it's time to add a personal touch to your dorm design. Practical dorm decor enhances the functional and efficient vibe of your space, while eye-catching accessories let your personality shine through. Add some of the following dorm decor to turn a basic residence hall room into a cozy home away from home.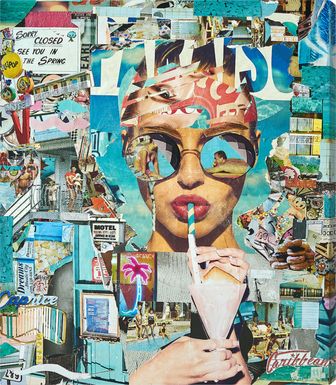 If putting holes in the walls goes against dorm regulations, consider hanging dorm wall decor with damage-free adhesive hooks.
Dorm Room Themes and Styles
Self-expression is a huge part of the college experience, and decorating your residence hall room allows you to showcase your unique tastes. Whether you like the simple look of a minimalist dorm room or the warm and whimsical vibe of a boho dorm room, stylish pieces help personalize your chic space. Consider the decor styles below to get the right look for your college room:
Modern Dorm Rooms: Students who like a neat and simple aesthetic often prefer modern furniture and decor. Setting up sleek modern chairs, bookcases and wall art gives your room a clean, streamlined look. Meanwhile, patterned seats and storage benches add a decorative and practical touch to your straightforward design.
Classic Residence Hall Furniture: For a classic elegant vibe, outfit your dorm with traditional accents. Chic ottomans with textured fabric and rich cherry and dark wood dressers give the room a sophisticated feel. At the same time, striking white and soft beige rugs promote an inviting, upscale atmosphere.
Cool Contemporary Dorms: Curved lines, posh accents and bold colors are the hallmarks of contemporary design. Update your dorm with nightstands featuring chrome details and arched, button-tufted headboards. Or, use decorative throw pillows with funky zigzag and geometric patterns to accent your sofa or bedspread.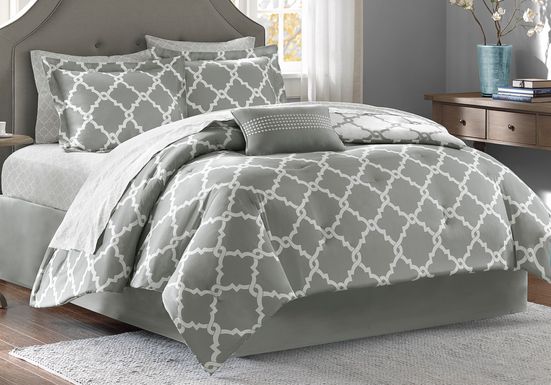 Coordinating headboards, dressers and bedding give your dorm a chic, cohesive look.
Colorful Dorm Room Ideas
The colors you choose for your dorm have a huge impact on how your space looks and feels. Certain shades enhance the bright, upbeat atmosphere you need to stay energized as you study, while other hues create a simple, soothing vibe for relaxing after class. Think about these color palette options to set the right mood for your space.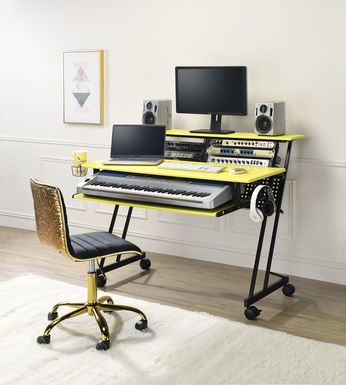 Colorful accents and wall art transform dorm rooms into comfortable spaces that can relax or motivate you while displaying your personal style.