Shelf Styling Like a Pro: Bookshelf Decorating Ideas & Tips
Styling a bookshelf allows you to display some of your favorite things, organize your reading material, store some practical essentials or mix these approaches in a way that works best for you and your home. To get started, you'll need to consider the type of bookshelf you have and its overall purpose before deciding how to style the shelves and achieve a balanced aesthetic.
In this bookshelf styling post, you'll learn:
Open Bookshelves vs. Enclosed Bookcases
While many people use the terms interchangeably, these two display pieces are technically two different furniture designs. Bookshelves typically have shelves with framing on both sides and an open back, while bookcases feature frames enclosed on all three sides.
While most of the tips listed below will suit both bookshelves and bookcases, there are some specific aspects of each to think about. With open bookshelves, which can be leaning, ladder-style designs or an openwork room divider, you'll need to take what's behind the shelves into consideration. If your bookshelf is against the wall, your wallpaper or paint color can play into your design.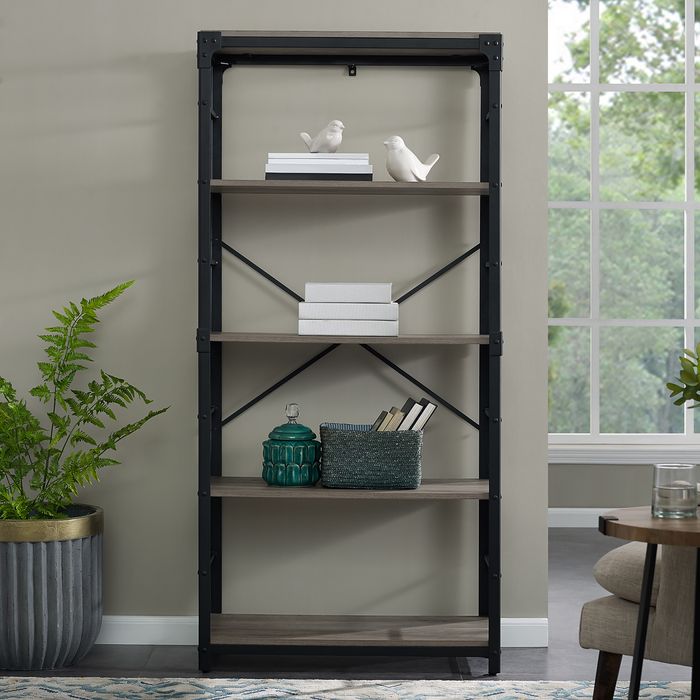 If you're using a standalone bookshelf to divvy up a studio apartment or a large living room, you'll have open space on either side.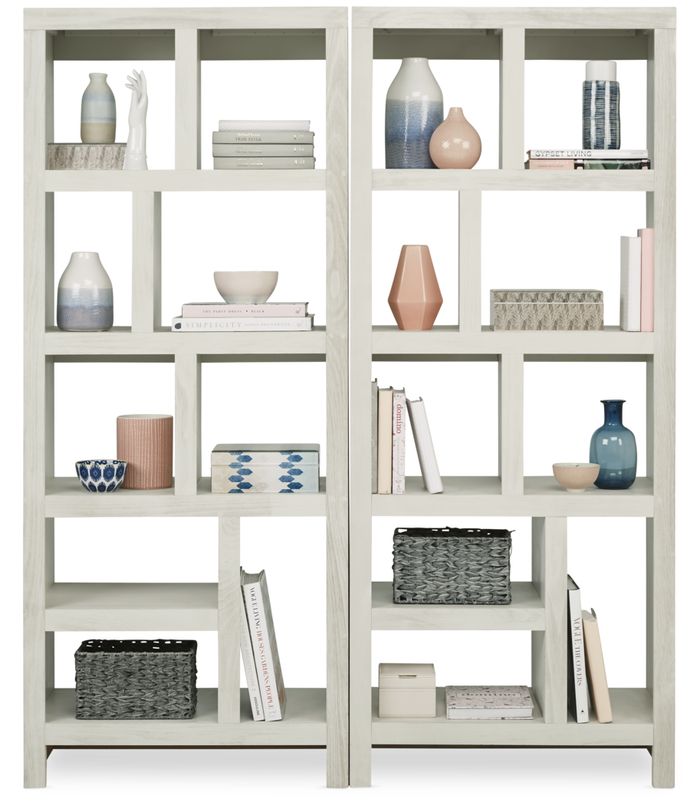 Bookcases have a back panel that gives your shelves a seamless backdrop. Many bookcases have a woodgrain panel, but glass is also common, giving you the best of both worlds. However, if you want to spruce up your bookshelves, you can also add wallpaper to a piece of foam board cut to size, so you can incorporate a color or pattern into your bookcase styling arrangement.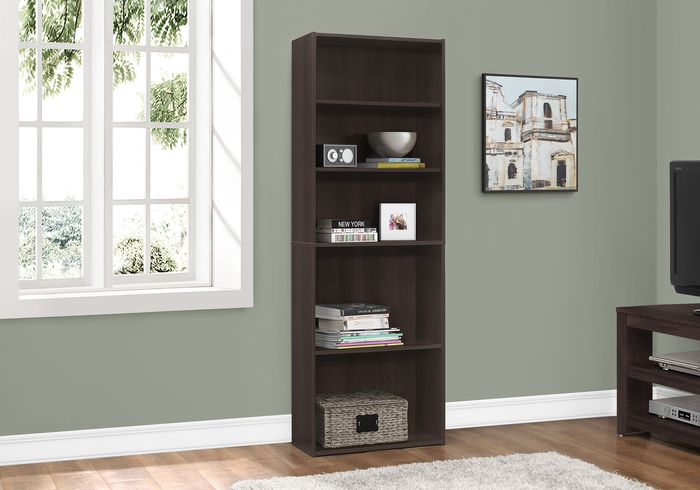 While bookshelves and bookcases with simple flat shelving and frames are easy to find, you can also search for more creative options. If your rooms have a specific theme, consider bookcases with a unique design to coordinate with your motif and add a fun twist to your decor.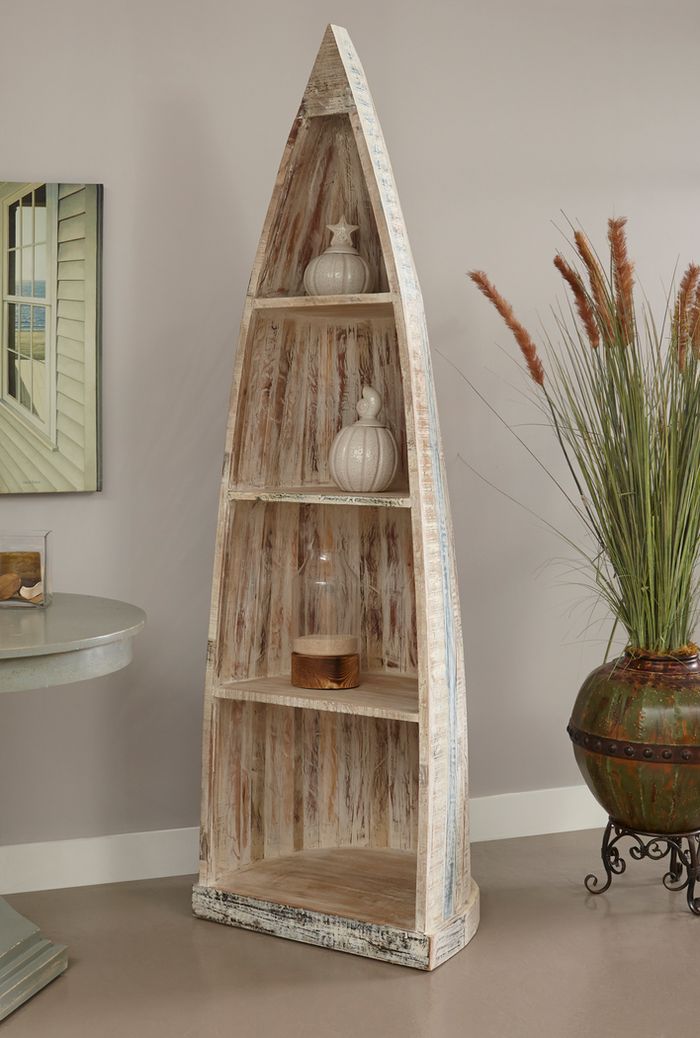 Bookcases and Decor Style
If you're adding a bookshelf to your existing layout or designing a new space, make sure to choose a model that coordinates with your decor style. Look for transitional bookshelves if your den has both modern and classic touches, or opt for a mid-century modern bookcase to enhance a minimalist living room.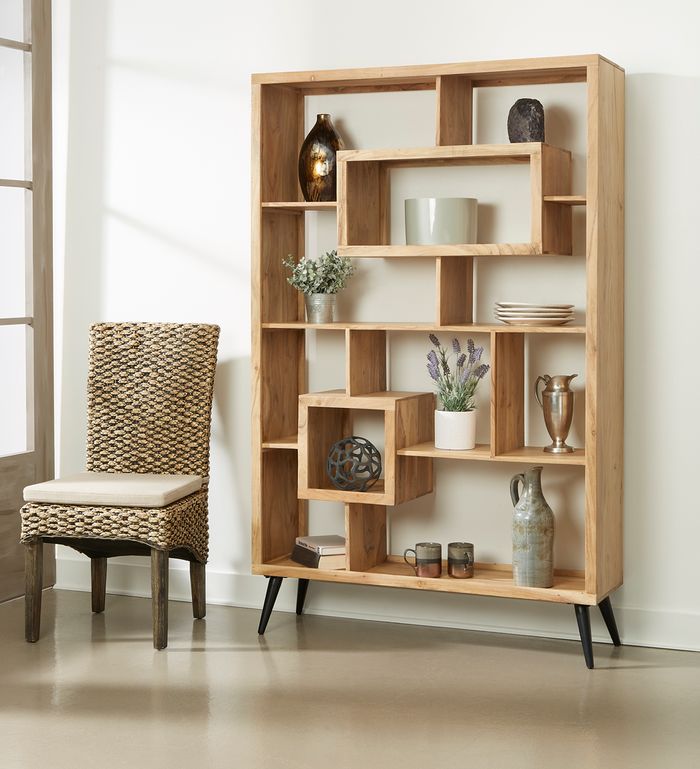 Keep the room's color palette in mind when searching for the right bookcase. Different finishes, materials and hues can either blend in or stand out, depending on the desired effect. Dark wood bookshelves have a classic feel, while neutral finishes like black, gray or white complement any color scheme.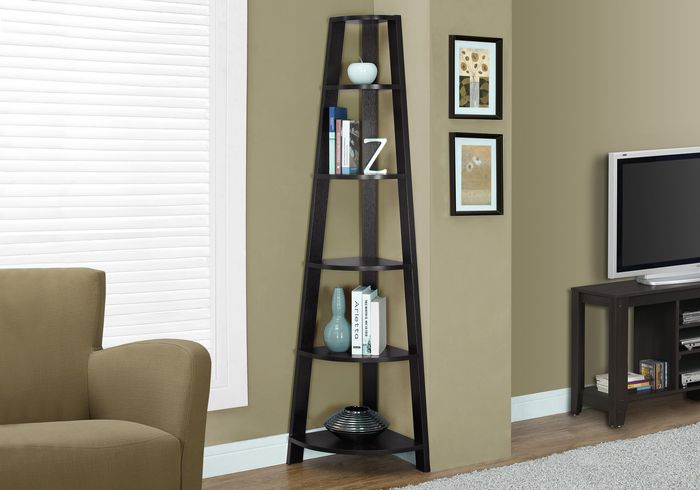 What Should You Display on a Bookshelf?
From displaying your favorite novels to decluttering your home, there are plenty of different goals you can have and items you can use when decorating a bookshelf. So, before you begin, take a moment to decide what the main purpose of your bookcase will be:
Books: If hardbacks and paperbacks dominate your bookcase, you'll need to figure out how to arrange books so they look good. Your approach might consist of accessorizing your bookshelf and mixing up how to arrange your novels and make them the focal point.
Display: Using a bookcase so you and your guests can admire your favorite things is a popular bookshelf decorating idea. However, you'll need to pay attention to size and proportion to balance out your design.
Storage: While a little more utilitarian, organizing a bookshelf to keep stationery, devices or other essentials tidy is a valid tactic, especially when decorating a home office. To get the right look, you'll need chic bins and baskets to bring it all together.
Decorative: If your motivation for styling a bookshelf is to coordinate with your furniture style or to add some flair to a room divider, you'll need to think about what to put on your bookshelf and create a curated collection of items.
Mix and Match: The purpose of your bookcase styling efforts could be a combination of all of the above, and that's okay, too. With the tips given below, you can figure out how to style an office bookcase for both storage and display purposes.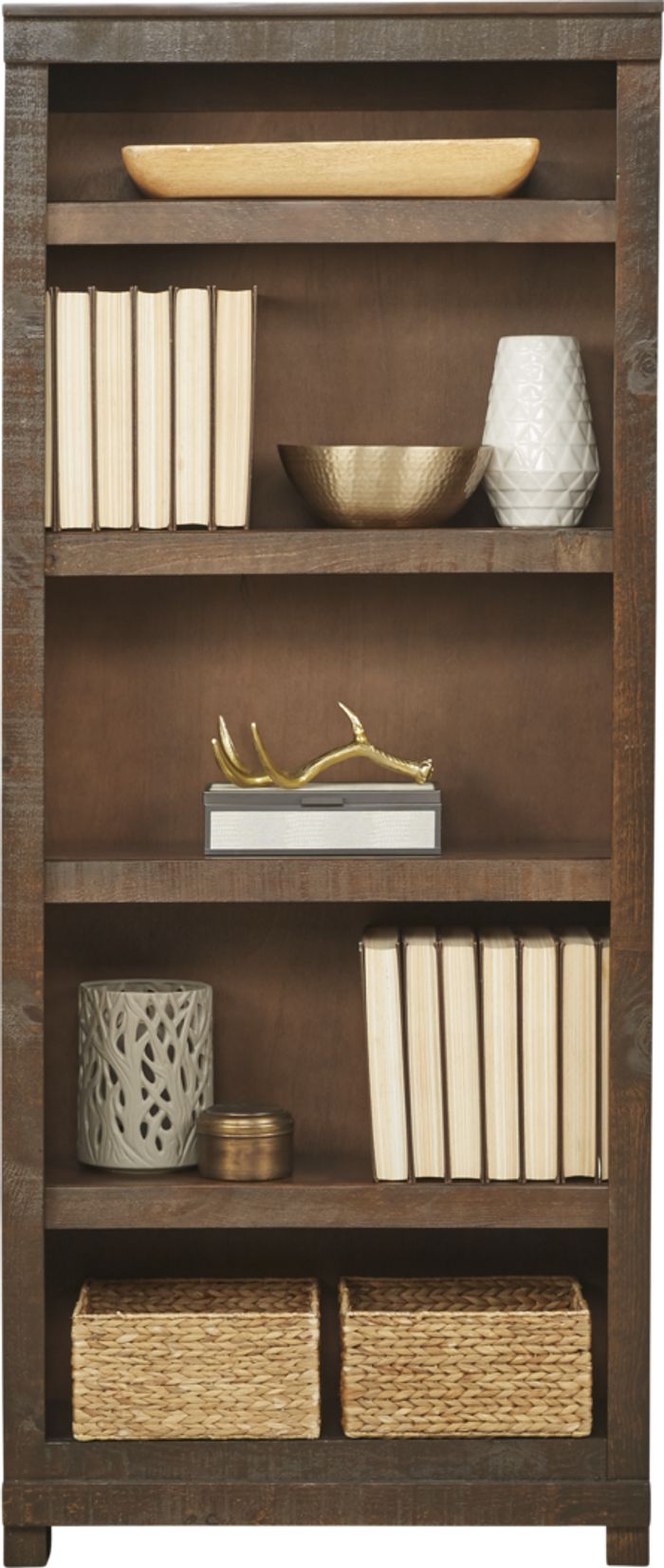 7 Tips on How to Style a Bookshelf Like a Pro
Once you've decided on your purpose, it's time to make your bookshelf decorating ideas a reality. Gather the decor, bins and other accessories you've chosen and keep your bookcase's purpose in mind. Depending on your styling goals, some of these tips may matter more than others, so keep your ultimate purpose in mind as you fill the shelves.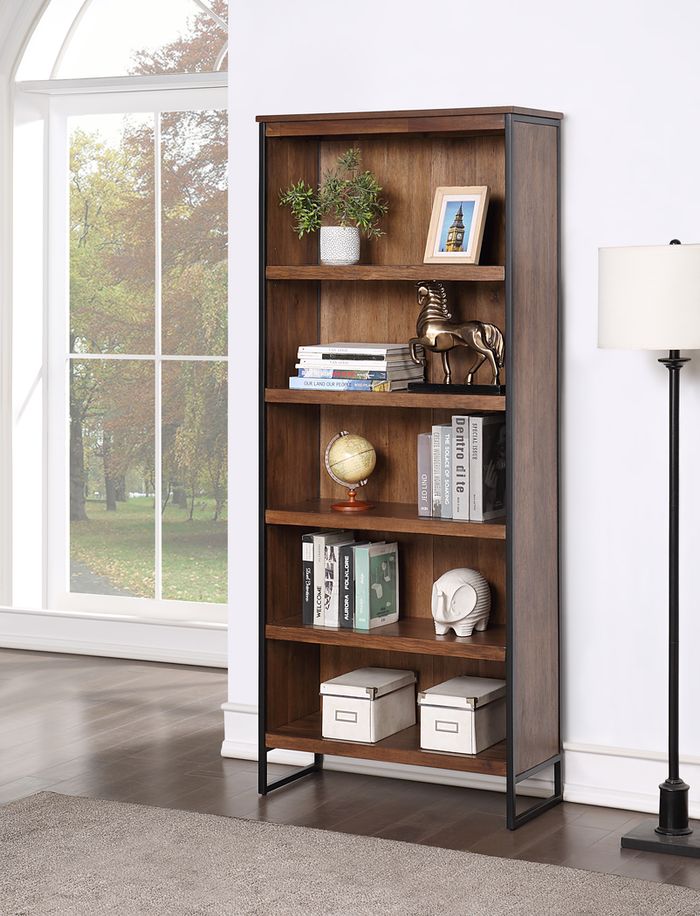 1a. Start with Books
If your fiction and nonfiction book collection is your focal point, you'll need a stylish way to put it on display. Stack larger tomes horizontally alongside vertical volumes for some variety and use vases, sculptures and other knickknacks as bookends where needed. Accessorizing with objects and varying your stacking methods makes your design feel thoughtful and planned rather than chaotic.
How you organize and style your bookshelves with novels or nonfiction affects the overall look, and you can skip arranging them alphabetically by author. Coordinate your book covers with the room's color palette or opt for a gradient of related hues on a single shelf. If the dust covers of your favorite novels are a little too well-loved and tattered, consider setting them aside to create a cleaner look.
1b. Or, Opt for Big Stuff First
If books aren't the primary component of your bookcase styling plan, then start with the bigger objects first. Whether you're adding large storage baskets or sizable framed artwork to your shelves, these are the pieces you'll need to work around, so put them in place first to establish your foundation.
Keep in mind that when you're deciding what to put on your bookshelf, you can, and should, arrange small accents in front of large flat photos or paintings. Position framed artwork toward the back of the shelf and add a few color or theme-coordinated decor items in front of it. For example, a colorful desert painting with a few succulents placed before it creates a complete scene on your shelf.
2. Add Decorative Items
When choosing decorative items, look for pieces that complement the other objects on the shelves. Books have a lot of angular horizontal or vertical lines, depending on how you style them, so look for round or oval objects to balance out the silhouettes on each shelf. The same goes for tall and short items, too. The decor you choose should add visual interest and a sense of harmony.
Be aware of negative space when choosing what to put on your bookshelf as well. While you can place decor in front of large art pieces, avoid taking this concept too far and crowding your shelves. Leave some spaces around tall sculptural pieces or round vases so the wall paint or bookcase panel can act as a frame for each item.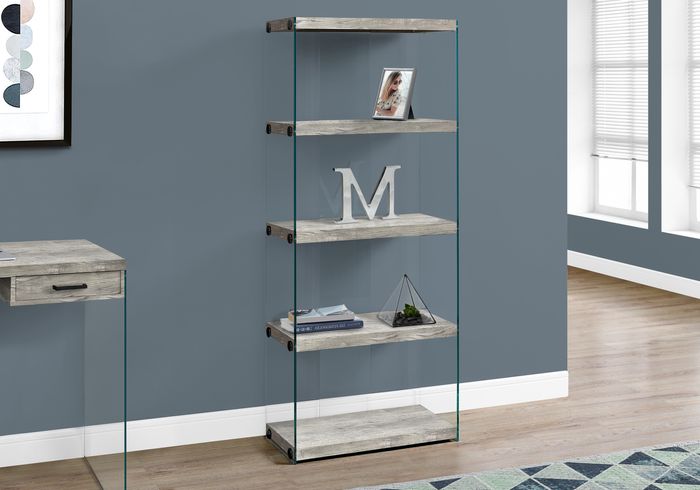 3. Bring in Some Greenery
Whether you choose live or realistic silk plants, bringing some greenery to your bookshelves is a shortcut to style. Position your bookshelf near a sunny window or look for low-light houseplants to place on your shelves. You'll also want to keep your books and other items safe in case of overwatering or spills. If you don't want to risk water spots faux foliage is the way to go.
If you're planning out how to decorate your bookcase with live plants, consider the type of plant as well as its size and growth patterns.
4. Play with Texture
When adding things to your shelves, think about how they look and feel. Bring in some rougher material, like a woven basket or a driftwood sculpture, if you have several smooth ceramic pieces. You can also go the opposite direction and curate a glass and metal bookshelf with clear jars and vases along with photos in slim metallic frames.
5. Weight and Alignment
Visual weight can have a big effect on a styled bookcase. Stacks of books seem thicker and heavier than upright novels or leaning tomes. Rounder objects also feel a bit weightier than tall or slim items. Arrange your decor carefully so you get a nice balance of visually heavy and light pieces.
The alignment of your shelves refers to whether objects are centered or shifted to the right or left. Try not to favor one side with visually heavier items, as this may seem a little off-kilter. One easy approach is to use counterbalance. On one shelf, place items to the right, and then position pieces to the left on the next shelf up to create an effortlessly harmonious design.
6. Color Palette
You have a few choices when it comes to using color on your bookshelf. A monochrome approach using objects within the same color family is a lovely way to highlight your bookcase, and you can choose a signature hue from your room's existing palette. Or, if you've decorated with neutral hues, using vivid colors on your bookshelf will also make it stand out.
If your home features colorful boho-chic or eclectic furnishings, you can still style your bookshelf to complement your decor. For example, in an earthy bohemian space, arrange books and objects with rusty red, dark brown and deep navy hues on your shelves to blend in seamlessly with the rest of the room.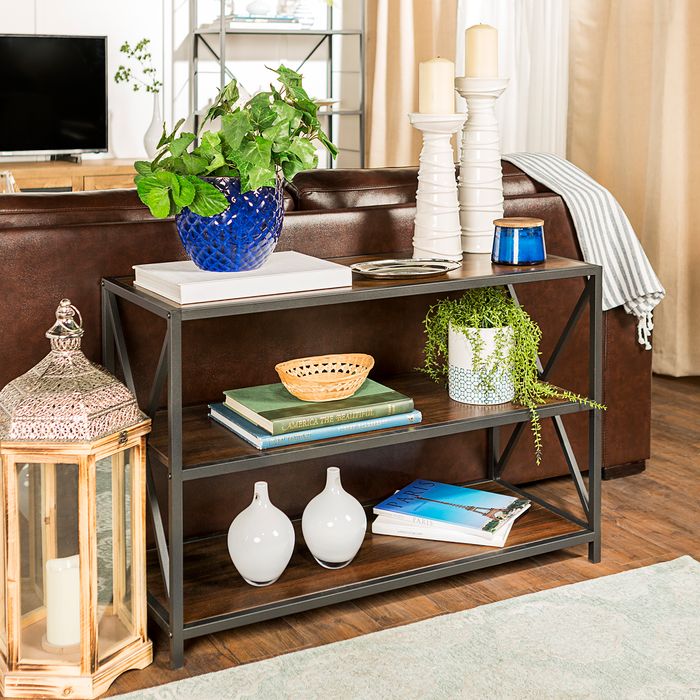 7. Edit Your Design
Once you've finished styling your shelves, step back and take a critical look at the overall effect. Do the shelves seem crowded, or is there space around each piece? Does one side seem visually heavier than the other? Do the colors on the shelves coordinate with each other? Is there one piece that overwhelms the design? Did you arrange items on top of the bookcase as well as the shelves?
Also, test certain items you may need access to later. If you're using storage bins, can you slide them out easily, or do they fit too tightly in the space between shelves? Can you reach the plants you need to water, or do you have to move things out of the way? Are your favorite novels within reach? Rearrange or remove items that hinder access or make your design feel cramped or unbalanced.
Bookcase Decorating Ideas for Every Room
The room you're working in can also determine how you style your bookshelves. A bookcase in the living room will likely look different from one in a dorm room or home office, especially if you need your shelves to serve more than one purpose. We've included a few suggestions below for styling bookshelves in different rooms to help you decide on a look that's useful as well as chic.
Home Office
If you're working from home, you might need your bookcase to serve a few different purposes. You can store devices and office supplies on the shelves, as well as reference books or advertising flyers and other printed media for your business. Or, impress your clients with awards, degrees or framed certificates alongside your important files and ledgers.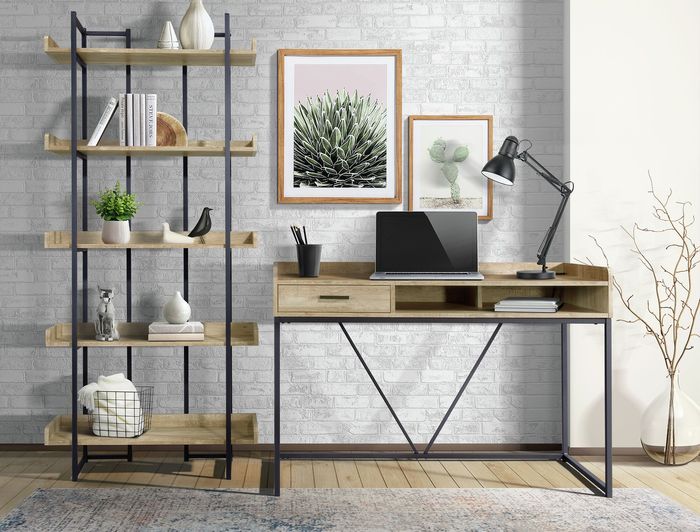 Bedroom
While you might not think of adding a bookshelf to your bedroom at first, bookcases are an asset in almost any room layout. If you like to read before bed, you can organize your novels and keep them close at hand. Add a few chic storage baskets to keep styling tools and other personal care items within reach of your vanity or dresser.
Kitchen or Dining Room
Bookshelves are a smart addition to the kitchen. Arrange your cookbooks on the shelves, create a makeshift pantry in a kitchenette or fill them with accents that complement your modern farmhouse or cottage decor. In dining rooms, use a bookcase instead of a curio cabinet to display heirlooms or use a bookshelf to create a study station for the kids so you can help them with homework after dinner.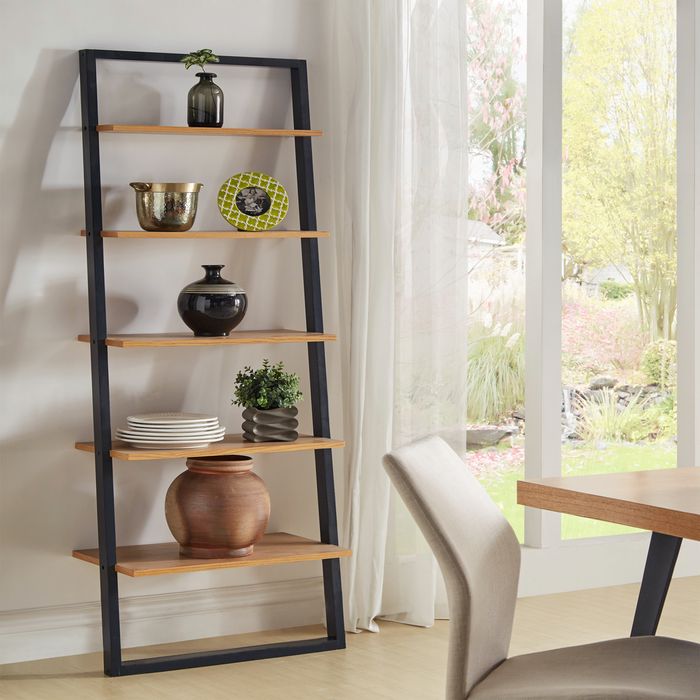 Living Room
While you can always use them as dividers and accents, bookcases also let you fill empty wall space while complementing your furniture and decor. Look for glass or metal bookshelves when decorating your living room with contemporary or modern furnishings, or opt for dark or light wood bookcases to boost the look of rustic or traditional spaces.
In the end, you'll want to style your shelves to coordinate with your decor while serving a useful purpose. By incorporating a few styling tips and keeping your needs and goals in mind, you'll soon have a gorgeous, and useful, new accent to enhance any part of your home.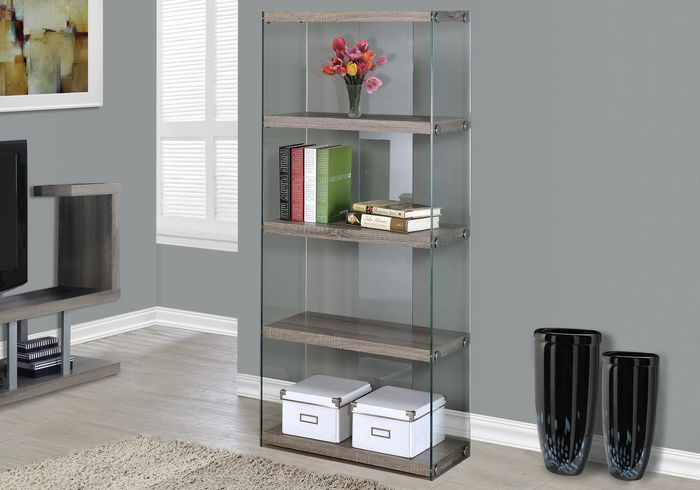 In This Guide:
Styling a Bookshelf