Patio Office Guide
With many companies shifting toward a work-from-home model, employees need spaces where they do their jobs effectively. One of the best benefits of working remotely is the ability to change up your scenery, which can even include moving your workspace to your patio,
balcony
or backyard. An outdoor workspace allows you to enjoy fresh air and sunshine while completing assignments. Creating an efficient open-air office involves more than simply taking your laptop outside and getting work done on the
porch
. You'll need to pick the right location, select the proper furnishings and arrange the space to suit your purposes. From there, you can decorate your patio office using chic and practical items that help make your workday cozy and enjoyable.
Overview
In this post, you'll discover helpful tips and information on:
Remote workers can use chic outdoor furniture to transform their patios into breezy, relaxing office areas.
Choosing a Spot for Your Outdoor Office
Before you start
buying patio furniture
for your outdoor workspace, you need to decide where to set up. A covered patio, gazebo or
sunporch
works best for keeping you and your equipment safe from rain and harsh sunlight. If you're working with an open backyard or uncovered terrace, use a
patio umbrella
,
canopy
or other
shady option
to protect your work area. Those who need a quieter, distraction-free spot for their work area should consider setting up shop in a shed, detached garage or unused outdoor playhouse. While it may take more effort to convert these
small spaces
into functional offices, having a separate structure for your backyard jobsite establishes a clear boundary between your home life and your work life.
Planning Your Outdoor Office Layout
Once you decide where you want to create your open-air workspace, grab a pen and paper and create a quick sketch of how you want the
patio layout
to look. Find all the electrical outlets within the space and designate those areas for your Wi-Fi router, media setup and other
automated fixtures
like
lights
, security systems and outdoor refrigerators. You'll also need to designate a spot for your work desk. Many remote employees use video calls to communicate with their managers and colleagues, so your workstation must have a neat, well-lit background. Consider placing your desk in a spot that lets you use your house, manicured lawn or
garden boxes
full of tall, colorful plants as a backdrop for video chats and conferences.
Be sure to reserve spots near electrical outlets for your computer, printer and video call stations.
Furnishing a Patio Office
Now it's time to decorate your outdoor workroom with chic, comfortable and efficient furniture. While it may be tempting to use your current
seating
or
dining set
, those pieces may be too plush and relaxing to help you stay focused while you work. Also, you'd eventually have to move your work setup when you wanted to use the space for enjoying meals and quality time with your friends and family. Instead, consider purchasing the following furnishings to create the perfect functional work zone on your
deck
, patio,
balcony
or terrace: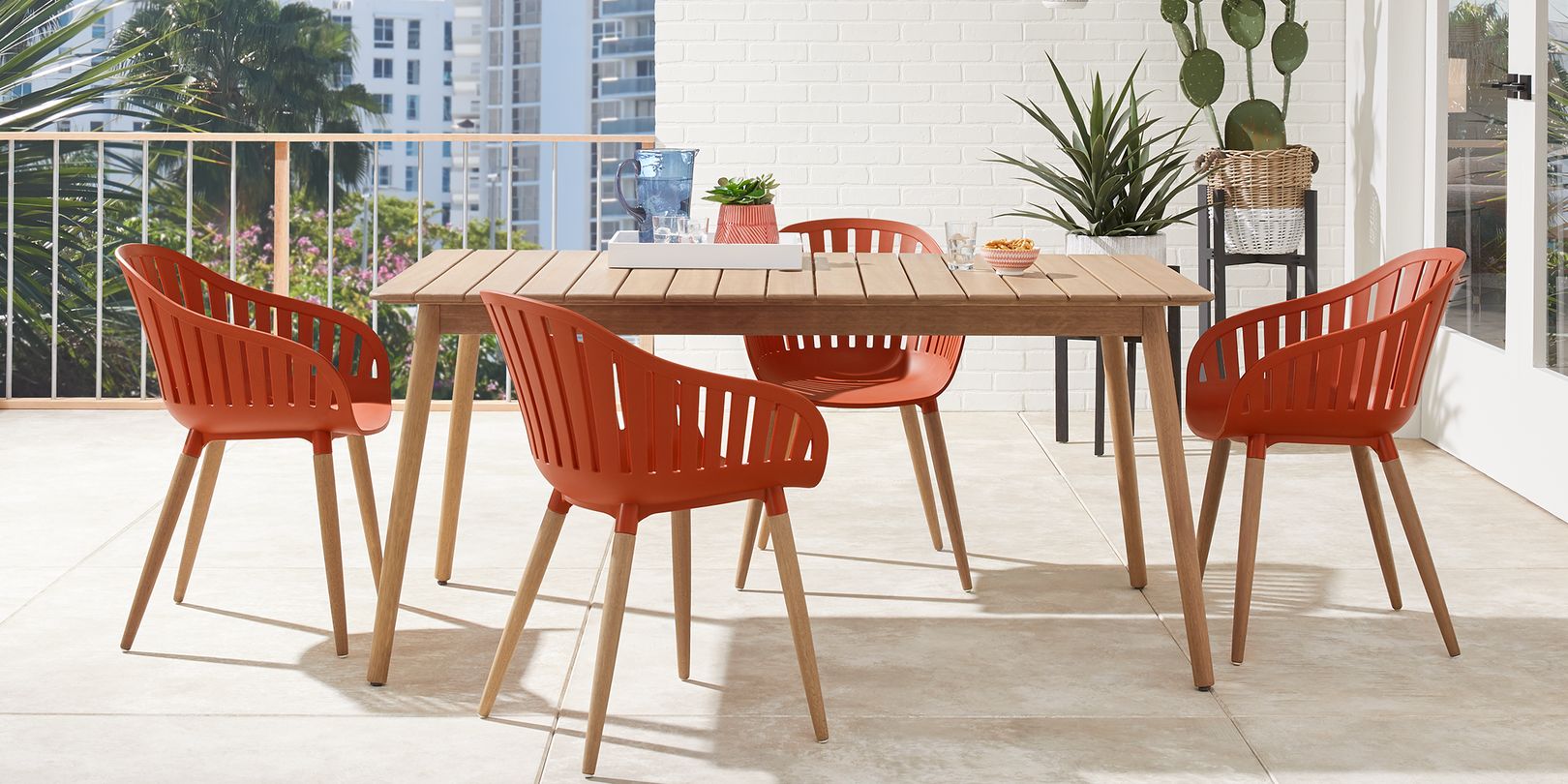 Select furniture that creates a productive yet relaxing atmosphere in your outdoor office.
When its time to make your purchases look around for
patio furniture sales
.
Decorative Accents for Your Outdoor Office
With all the essential pieces in place, all that's left is to incorporate some practical and stylish
outdoor decor
to put the finishing touches on your patio office layout. Choose
throw pillows
and high-pile
rugs
to add extra color and softness to the space. Also, include lawn sculptures and
wall art
to complement your
coastal
,
rustic
,
modern
or
retro
theme. Depending on where you live, some outdoor heating and cooling units could be
must-have accessories
for your outdoor work area. Invest in a
patio heater
,
fire pit
or chiminea to help you stay warm while working on chilly days. To keep the sweltering temperatures at bay, set up a fan, dehumidifier or a patio misting system that cools down the layout.
Regulate the temperature in your patio office using outdoor heaters and cooling systems.
Finding a quiet, cozy and distraction-free spot to complete assignments is one of the toughest challenges people face when they first start working from home. Thankfully, the tips and tricks in this guide can help you establish a comfortable patio office that lets you stay productive while enjoying the sunshine and scenery.