How to Recognize Rattan vs. Wicker Furniture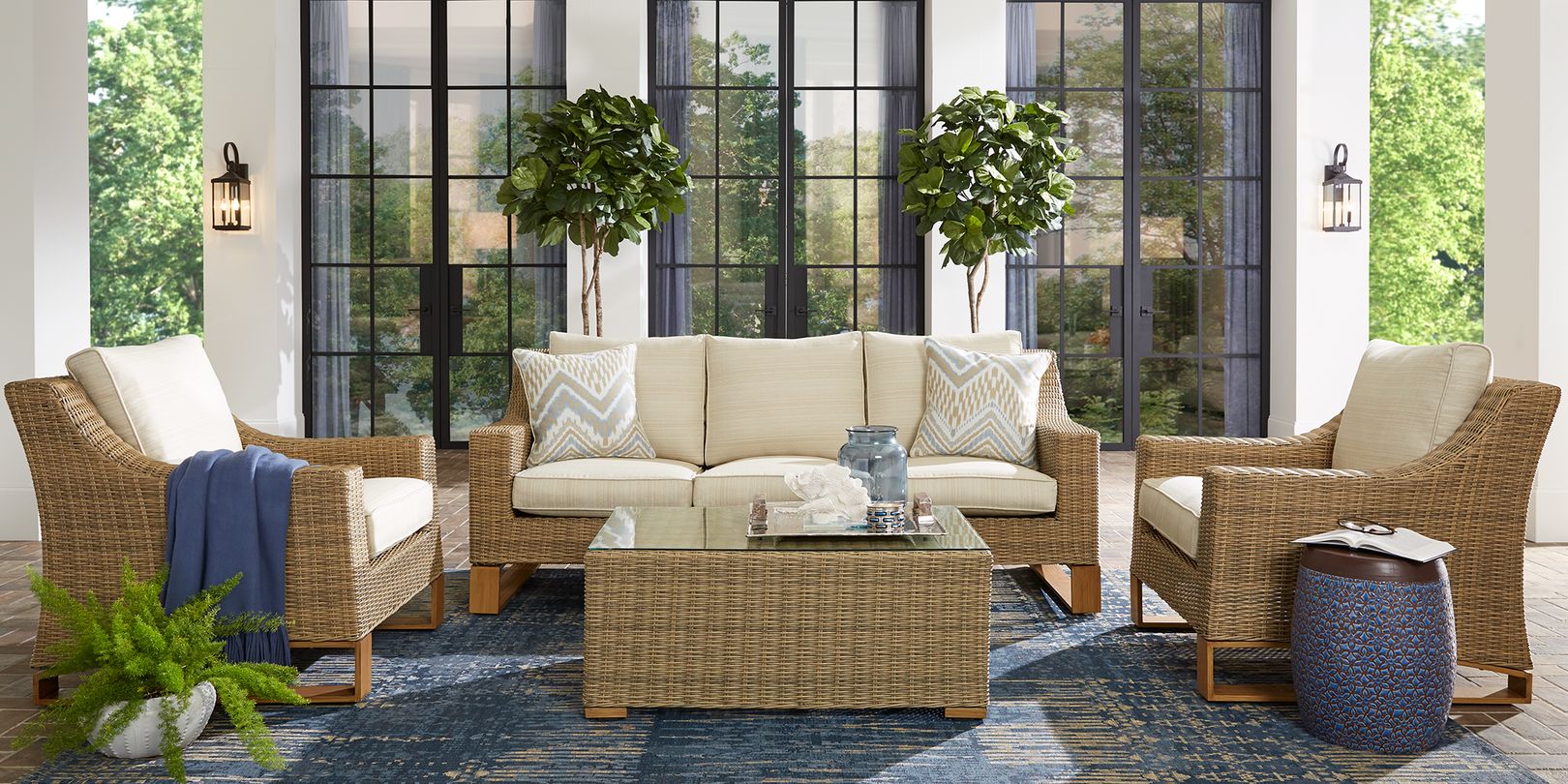 Though many people use the words rattan and wicker interchangeably, they are actually two different things. Understanding the unique traits of each option is essential when choosing the right outdoor materials for your patio. In this post, you'll discover information to teach you what wicker and rattan are and help you decide which is the better choice for your outdoor design.
Overview
Check out this article to learn:
While rattan and wicker materials have a similar look, they each have their own unique qualities.
What Is Rattan?
Rattan is a material derived from a wood-like vine that grows throughout Australia, Asia and Africa. There are over 600 different species of rattan, each one with a strong stem core that makes it perfect for creating solid, supportive furnishings. Rattan plant skins are a big part of the weaving process as well since they help builders bind furniture joints together.
Rattan furniture can have a wood-like look and feel, depending on the weaving style.
Natural vs. Synthetic
Depending on your needs, you can choose either natural or synthetic rattan patio furniture for your backyard setup. Both these lightweight options feature strong, flexible fibers that lend a relaxed, breezy vibe to your space. However, the untreated materials of natural rattan pieces may require a little more maintenance to stay in peak condition.
Many people concerned about deforestation or over-harvesting of natural rattan choose synthetic rattan furnishings. While they give you the same look as real rattan, couches, loveseats and benches in this material have a fortified, biodegradable design to suit your sustainable or zero-waste lifestyle. Synthetic rattan furniture tends to come with a lower price tag as well.
Choose between synthetic and natural rattan furniture when selecting patio pieces.
What Is Wicker?
While many people think that wicker is another type of patio furniture material, it actually refers to the several-thousand-years-old technique artisans use when weaving pliable twigs, branches and palm fronds together. Some furniture builders use rattan for wickerwork, but there is a wide range of other wicker materials available, including:
Bamboo
Cane
Reeds
Vinyl and Resin Fibers
Willow
When it comes to decorating patio layouts, many people turn to wicker patio furniture to create the stylish, refreshing atmosphere they want. Its lightweight design, natural look and versatility make woven wicker pieces excellent for both indoor and outdoor use.
Woven wicker furniture is a popular pick for home furnishings.
Which Is Better: Rattan or Wicker?
Both rattan and wicker furniture bring their own stylish and practical advantages to your space, so the choice between the two of them will depend on your personal preferences. If you want your balcony or deck to have an organic look and feel, a natural rattan sofa could be the perfect addition to your setup.
On the other hand, if you're on a budget, looking for tightly-woven furniture frames in a certain colorful finish or plan to keep these furnishings outside long-term, wicker may be the more fitting choice. While you'll still need the proper cleaners and patio covers to take care of these pieces, wicker is also great for those who prefer lower-maintenance patio decor.
Woven Conversation Set
Decorating with Rattan or Wicker Patio Furniture
Once you decide whether wicker or rattan will work better for your patio, you can select chic and gorgeous furnishings for your outdoor design. Wondering what pieces to pick? Consider browsing rattan or wicker patio furniture that lets you perform the following leisure activities in comfort and style: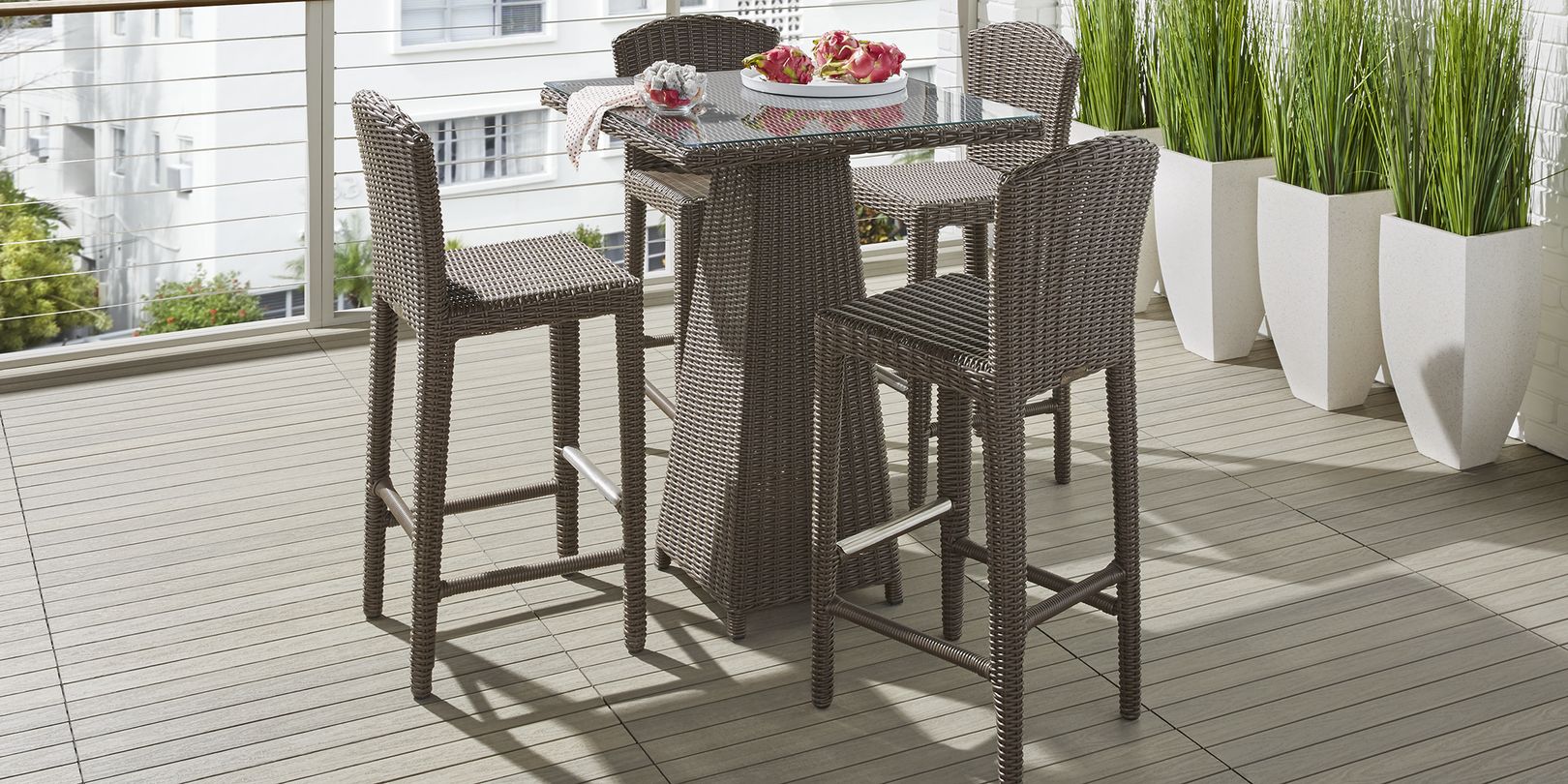 Update your outdoor entertainment space using a chic wicker bar table set.
Style Suggestions
Woven wicker and rattan patio furniture help you convey feelings of refreshing relaxation and casual comfort throughout your space. For many people, a low-profile wicker sectional or loveseat featuring these natural, organic-looking materials make the perfect style complement to the rest of the pieces in their coastal, Zen or rustic layout.
Rattan and wicker club chairs, coffee tables and palm frond-print rugs work beautifully in bohemian and eclectic-style spaces as well. Prefer a more contemporary or modern look? Consider wicker lounge chairs with sleek metal frames and plush seat cushions. To give your veranda or terrace a more traditional aesthetic, try a rattan conversation set featuring arched silhouettes for classic appeal.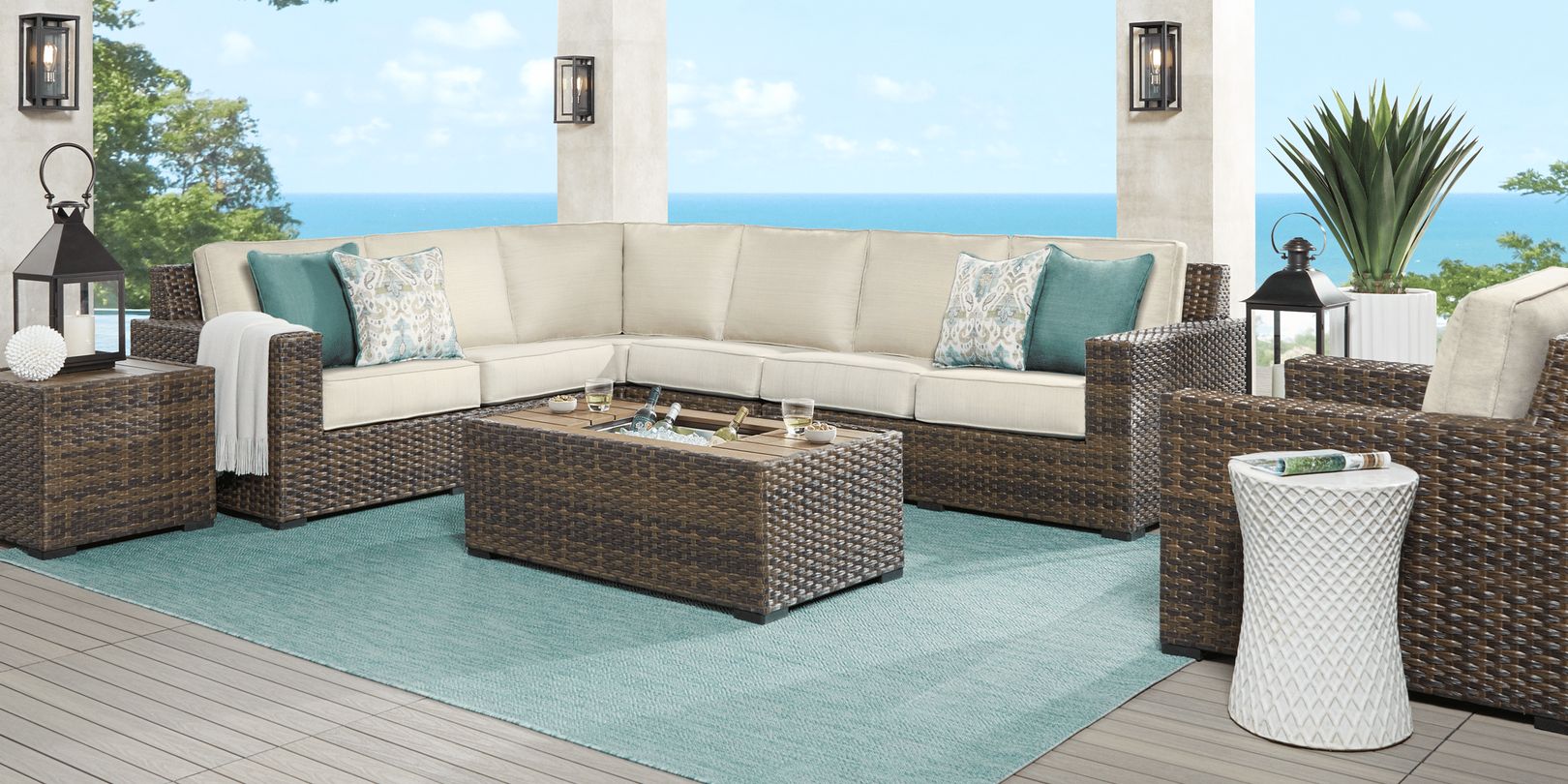 Wicker furniture blends well with several different decorating styles.
Wicker Furniture & Color
Both wicker and rattan are highly versatile in design and come in various finishes, stains and shades. While decorating your patio with a gray wicker conversation set looks cozy and casual, you might want a brilliant yellow wicker chair for a pop of vibrancy on rainy days. Depending on your patio palette, you could also try:
Rich Brown Tones: Brown is rattan's natural color, so choosing pieces in this shade can enhance the organic, outdoorsy look of your layout. A dark, chocolate-brown wicker seating set with off-white cushions brings a formal feel to your courtyard tea parties, while softer walnut-colored furnishings suit the warm, laidback vibe of a sundeck or front porch.
Black or White Shades: Consider decorating with white and wicker furniture to give your patio an upscale, sophisticated look. Pair black wicker seats with glass-top tables and add dark gray cushions, throw pillows and geometric pattern rugs to the space to tie this chic yet simple design together.
Warm Hues: Whether you're swapping out cushions for the sunnier seasons or going all in with an orange, yellow or red-painted wicker chair, the cozy look of rattan patio furniture shines in a warm color palette.
Cool Colors: A lime green wicker arm chair or powder blue wicker sofa can bring eye-catching appeal to the rest of your decor. Even deeper blue or purple cushions on a wicker sectional can add a calming atmosphere to your backyard hangout space.
Use different color wicker furniture to complement your palette and capture the look you want.
Rattan & Wicker Decor
Adding natural rattan or wicker accessories to your patio is a great way to complete your look. Find wicker fire pits and heaters that coordinate with your seating. Use rattan baskets to hold throw blankets and include wall art featuring woven accents for a chic finishing touch. You can also enhance your patio with light fixtures such as wicker chandeliers and lanterns that light up the layout.
Want to add texture to your metal patio seating or complement the natural look of your wooden outdoor dining set? Consider adding a wicker ottoman, footstool or console table for a mixed-material effect. You can also incorporate small amounts of wicker such as serving trays, placemats and outdoor planters.
Wicker light fixtures add ambiance and texture to your patio layout.
Once you understand the difference between wicker and rattan patio furniture, choosing decor that suits your space becomes a bit easier. Now that you know more about these two furniture types, you can make informed choices when browsing pieces with rattan or wicker material that complement your stylish outdoor setup.