Homeschooling can often improve a child's academic performance and mental health, improving their chances for future success. These benefits prompt many parents to choose an at-home education for their little ones. However, teaching your kids also comes with the challenge of establishing a productive environment amid all the comforts of home.
Creating an academic setting in a place typically associated with rest and leisure time is a daunting task. Parents-turned-teachers must combine these different atmospheres to create an environment that allows learners to relax and focus at the same time. Keep reading to learn more about homeschool room ideas to help you get started.
Create the Main Homeschooling Area
Begin by creating a designated education space. Your homeschool room should be free from distractions, encourage your child's learning style and support your own teaching strategies. With the following tips and a bit of creativity, you can design the perfect layout for an effective class space.
Provide a Workstation
Whether you are tutoring a single student or siblings, the right workstation is crucial for a functional homeschool experience. Desks and tables give your learners room to take notes and complete projects. Consider the advantages of different workstations to choose the best option for your child:
Desks for the Study Space
Mimic a traditional classroom environment with kid's desks. Look for models with drawers, shelves or cubbies to keep study materials close at hand. Also, take advantage of the homeschool approach and let your children express themselves and personalize their workstations with decals, photos or collectibles.
Try to find a desk that can help your student in all areas. This one includes a pullout keyboard tray, multiple drawers and wire management system for all those pesky cables.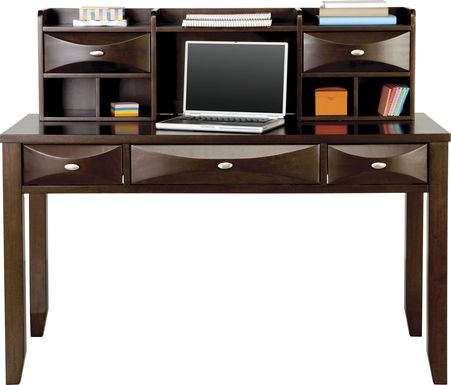 Kids Ivy League Cherry Desk and Hutch
Homeschooling at a Table
Using a dining table as a workstation gives kids plenty of room to study with multiple textbooks, notes and other essentials. This informal setup creates a communal atmosphere for siblings, encourages discussion about class topics and enables students to assist each other with difficult assignments.
Counter-height tables allow for leg room in addition to comfortable modern barstool seating.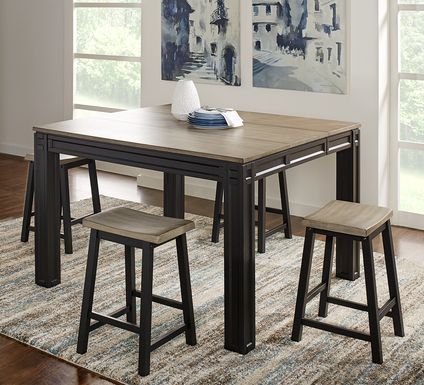 Adelson Black 5 Pc Counter Height Dining Room Table
Provide Good Lighting
It is important to provide learners with good lighting in their homeschool room. Proper illumination increases focus and productivity while reducing eyestrain. Appropriate student lighting includes:
Natural Light
Sunlight can boost the mood of your learners and may decrease stress or anxiety.
Table Lamps on a Desk
Task lighting from desk and table lamps with an adjustable base brings the glow closer to the page or screen while reading and writing, while swivel shades add versatility and function.
Overhead Lights and Floor Lamps for a Study Space
Floor lamps and chandeliers shine down on your students and brighten workstations. Search for models with dimmer switches to adjust lighting for different tasks.
Overhead lighting is perfect for a studying student. This modern drum offers diffused light, giving off a warm glow.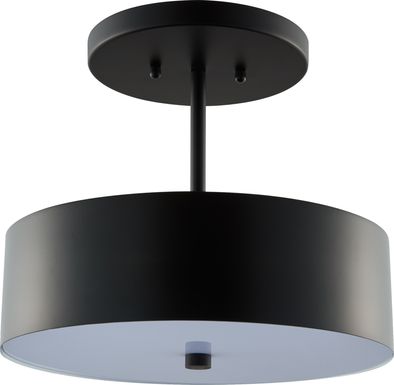 Shiran Street Silver Chandelier
Kids Lamps Add a Touch of Fun to the Study Area
Decorative kids lamps are a fun and stylish way to add lighting to a bedroom study corner or reading nook.
Choose Comfortable Seating
The seating in your learning space can make or break your kid's homeschooling experience. Chairs should be comfortable for long class sessions yet firm enough to keep them alert and productive. Research different styles and materials to find a kid's chair that is just right for your students.
Classic wood chairs are a solid choice for a traditional classroom vibe.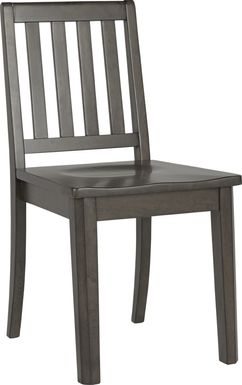 Kids Bay Street Charcoal Desk Chair
A gaming desk chair keeps kids comfy while sitting through long lectures or films. These chairs are comfortable alternatives to keep students comfy until they can be used after school for some fun video game time.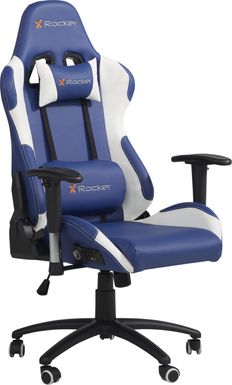 Kids Sound Trek Blue/White Gaming Desk Chair
For a light-weight breathable option, try an adjustable mesh chair that lets students control their own comfort level. Mesh chairs offer back support, adjustable seats and wheels to help move around the room.
Don't forget to look for cozy adult-sized seats for homeschool educators. Similar to kids' chairs, ergonomic seats offer support during lessons and keep you energized as you answer questions and instruct your learners. Think about features like rolling castors, lumbar support, armless designs and adjustable tilt and height before purchasing your own comfortable office chair.
Organize School Supplies and Materials
Prevent students from scrambling and searching for their school supplies by outfitting your space with homeschool storage. These organizers keep class materials tidy and ensure your learners always know where to find their books, notepads and other essentials.
Look for bookshelves to hold textbooks and work folders for your students. Each child can have a designated shelf or cubby to store completed projects or put dioramas and artwork on display. Parents can also keep worksheets and assignments divided into convenient file cabinets for easy access.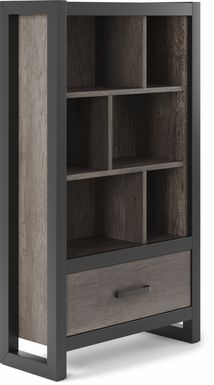 Kids Colefax Avenue Gray Bookcase
Use the Outside as a Classroom
Think outside the box, or rather, outside the house. The great outdoors offers your students a breath of fresh air and a burst of energy to get them through the day. Holding lessons outside also allows you to add hands-on outdoor activities to your curriculum while you make learning fun.
Equip your outdoor area with furniture such as comfy sofas for literature or history discussions and chaise lounges for cloud watching and stargazing. A wide picnic table is ideal for lunches as well as a place to identify leaves and rocks the kids bring back from their nature walks. To avoid messes in the house, set up a dining set on the deck for art and chemistry projects.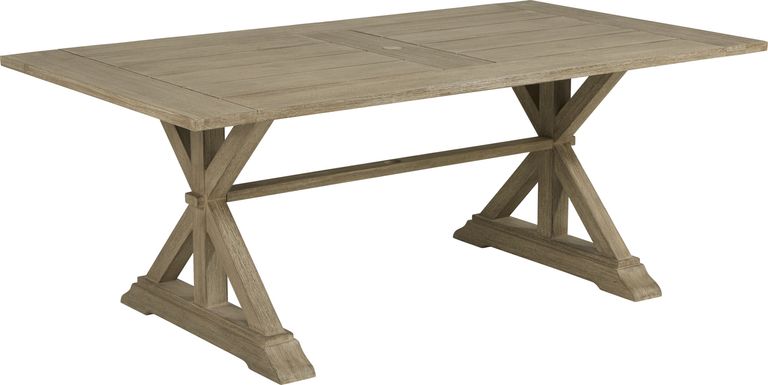 Siesta Key Light Wood 76 in. Rectangle Outdoor Dining Table
Create Activity Stations
In addition to your other homeschool organization ideas, you might consider dividing your children's learning space into different activity stations. Perfect for kids who struggle with fidgeting or focus, choosing a specific spot for each subject gets students up and moving as they rotate to a new topic.
Set up a reading station with bookcases, plush chairs and small tables so kids can finish writing and vocabulary assignments comfortably.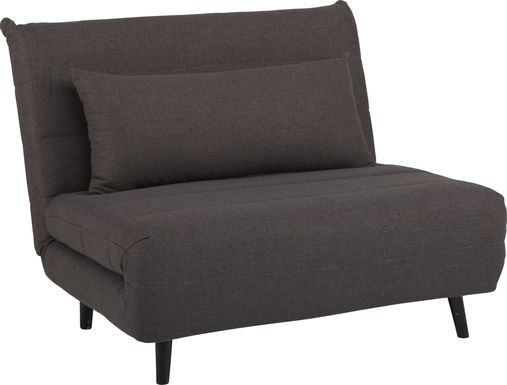 Kids Baris Charcoal Sleeper Chair
To create a science area, consider spacious work surfaces for beakers, microscopes and Bunsen burners. Add a few easels and craft tables for art classes as well as desks with USB ports for laptops and printers.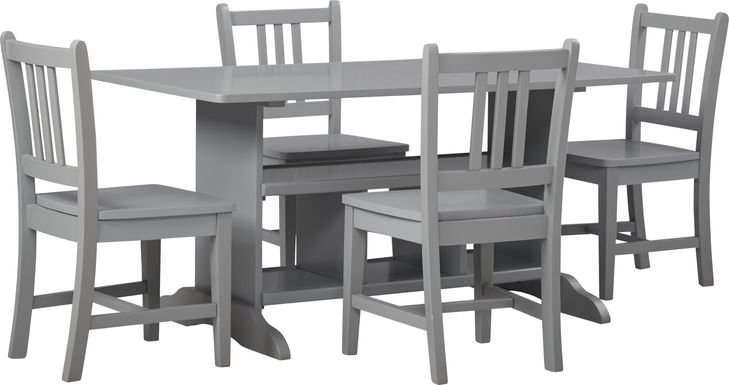 Kids Jo Jo Gray 5 Pc Storage Table Set
Ask Your Students
Your kids know what works best for them so get their input on your classroom design. Ask about their favorite subjects, preferred study and notetaking methods and their needs for stress-free focus during lessons. With the tips listed above and some help from your star pupils, you can create the perfect class setting for your child, so they reap all the benefits of a homeschool education.