How Tall Should a Desk Be?
How to Choose the Right Height Desk
Average Desk Height
When looking for the right desk for a home office or study, most people are just as concerned with comfort as they are with style. While the right desk chair delivers supportive seating, the height of your desk is another factor that can affect your comfort level as you read textbooks or type on a laptop.
Typical desk heights range from 28 to 30 inches high. If you're a bit shorter or taller than average, models as low as 22 inches up to 33 inches high are also an option, or you might consider an adjustable desk for a customized fit.
Finding the Right Desk Dimensions
Consider Style
When looking at desk dimensions, you will likely see two height measurements. One is the distance between the tabletop and the floor. The other is the overall height of the desk, which may differ if the unit has a bookshelf or hutch attached.
Desks designed with shelves and cubbies are ideal for cutting clutter and creating a commanding and classic style statement. However, desks with built-in storage also take up more room, so you'll need to consider the amount of wall space available when arranging one in a small home office.
Desk heights can also vary widely depending on the design. While most models are traditional seated desks, standing and adjustable pieces are also available. The typical desk height for standing models is 35 to 47 inches tall, while adjustable desks can accommodate sitting or standing.
Fit Your Height
While it might not seem like much, a few inches difference in desk height can impact your long-term comfort as you work on your computer or complete craft projects. A simple test can determine whether a desk's height will work for you:
Sit or stand in the position you'd normally use to work.
Rest your arms at your sides.
Keep your elbows at a 90-degree angle with your upper arms in line with your torso.
Check to see if you can comfortably rest your hands, palms down, on the desk.
If you're unsure which desk height is right for you, try this experiment with several models and take note of the desk dimensions that pass the test.
Plan for Use
A specific design may work best depending on how you want to use your desk. For example, standing desks are ideal for people who need to spread materials over a large area or collaborate with others over blueprints or plans. On the other hand, seated desks are ideal for detailed work performed within 15 inches of the body, such as arts and crafts, drawing or typing.
To avoid inactivity during long workdays, consider an adjustable sit-stand desk. While many people choose standing desks as an alternative to sitting all day long, giving yourself the option of sitting or standing introduces some variety to your daily workload and allows you to adjust the height for different projects.
Kids' desk heights are variable depending on their age. The right desk size keeps art projects and homework within easy reach, allowing kids to sit comfortably and maintain good posture. Consider a standalone kids' desk or opt for a bunk bed set with a built-in desk to save space in boys' or girls' bedrooms.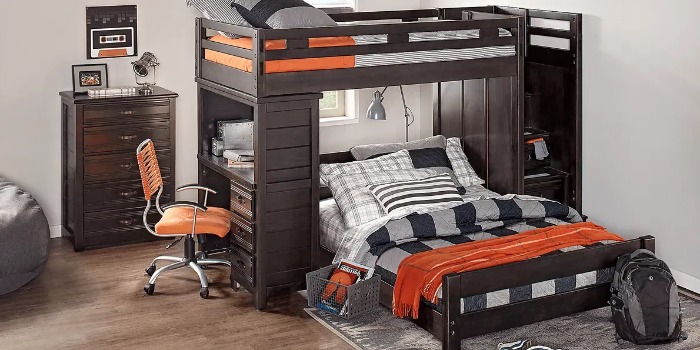 The fit test described above works for children as well as adults. Age-range recommendations can guide your purchase, too. Just make sure the model you choose leaves seven to eight inches between the chair seat and the desk's underside to provide plenty of wiggle room.
While finding the right desk height for adults or children can be tricky, finding a comfortable fit for a home office or your child's bedroom is worth the effort. Consider the types of projects you work on, the length of time spent at your desk and your physical requirements to find a stylish desk at a comfortable height that keeps you happy and productive.