Dresser Decor Ideas
Bedroom Dresser Decor Tips
How Can I Decorate My Dresser?
Dressers can be a clutter danger zone in your bedroom. It's far too easy for dresser tops to become a resting place for books, jewelry, personal items and other random objects you tend to drop off when entering or leaving the bedroom. Styling your dresser is key to creating a cohesive look for your bedroom decor and combatting clutter.
Fortunately, transforming your dresser from a handy surface to stash your stuff to an organized space styled to match your decor is easy. And don't worry; you won't have to sacrifice the practical nature of your dresser top to achieve a clean, organized and stylish surface for this useful space.
Before You Begin
Before clearing away clutter and delving into dresser decor ideas, look at what has already accumulated on this surface. Figure out what you usually put on top of your dresser and consider how you'd like to organize these items in the future. You may need to give your things a new home and create new habits to avoid having your newly styled dresser fall into disarray.
This step can also help you figure out what to put on your dresser besides a mirror. If you leave your rings, watch or bracelet on the dresser top, you may want to add a storage component to your new dresser design. If personal grooming tools have taken over the surface, consider whether your 5 or 6-drawer dresser can hold your skincare or hair tools in the top drawer.
Consider a few of the following ideas to give your personal items a new home, so you can decorate your dresser with a balance of practical pieces and chic decor:
Jewelry Boxes: Available in a wide range of styles, these handy boxes keep rings, bracelets and necklaces safe and secure.
Valet Box: Need a place to keep glasses, wallets and watches? Wood valet boxes are a timeless accessory for your dresser.
Trays: Decorative trays are a smart way to keep small daily wear items accessible.
Decorative Box: If you want to keep eyeshadow palettes, keys or other items conveniently close but out of sight, a sleek storage box is the perfect solution.
Bookends: Does your dresser end up holding your bedtime reads? Consider a set of stylish bookends to keep your novels neat, or arrange them in a tidy stack according to size.
Bedroom Dresser Decor Ideas
When coming up with new ways to decorate your dresser, consider practical needs first, then choose decorative items that coordinate with your bedroom's theme and design style. Keep in mind that the goal is to avoid overcrowding the surface, so you'll need to select your items wisely.
Practical Necessities
If your dresser is your primary place for daily grooming and accessorizing, a dresser mirror and a place to organize makeup and styling tools is essential. If you use your bedroom dresser primarily for storing clothes, you'll have a bit more surface space to experiment with your dresser design.
Mirror, Mirror on the Wall?
While dresser mirrors are popular as well as convenient, if you use a separate vanity or get ready in the bathroom rather than the bedroom, you can incorporate the space above your dresser into your design with artwork or wall hangings. Build on your bedroom's theme by choosing wall decor that blends in seamlessly with the rest of the room.
If you don't need a mirror above the dresser, opt for artwork that reflects your bedroom's color palette or theme.
Choosing Decorative Accents
This is the part where things get fun. Shop for vases, silk florals, sculptures and decorative accents like boxes and trays to style your dresser's surface. Don't forget art prints or photos, as you can decorate using wall decor, with or without a mirror on your dresser. Look for accent pieces that boost your bedroom's theme and coordinate with your color scheme.
Contemporary Bedrooms
To style a white or gray dresser in a contemporary bedroom, consider metal or glass elements to coordinate with your layout's chic style. Look for mirrored accents or trays with gold or silver trim to build on a glam theme, and consider fresh or faux flowers in a clear glass vase to give a beige or tan dresser a boost of color.
Rustic Rooms
Natural textures and organic materials make the perfect accents when decorating a rustic bedroom dresser. Unfinished wood frames, well-loved leather-covered storage boxes and useful metal trays make ideal decor for a rustic look.
Traditional Style
Combine your traditional dresser with timeless touches to create an inviting primary or guest bedroom. Search for vintage accents that work well with your dark or light wood dresser. Opt for decorative urns, intricate mirror frames and sculptures inspired by the classics to complete your bedroom's motif.
Transitional Accents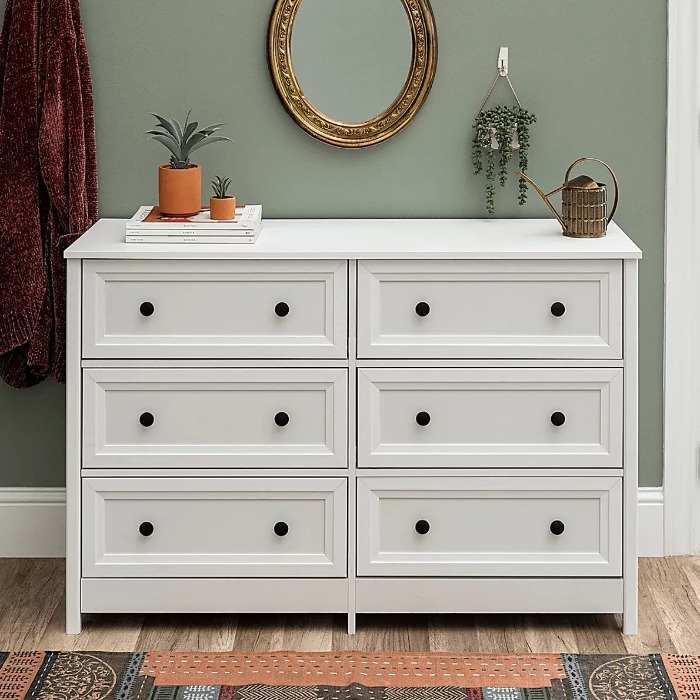 Combining different decor styles is part of the fun when decorating a transitional dresser. Go for trays and bookends with clean lines and angles alongside ornate frames or vintage pottery. Leaning into transitional style's design mix can help you choose the right accents for your 7, 8 or 9-drawer dresser.
Modern Motifs
Offset the clean lines of your modern dresser with decor that features curves and vertical and horizontal shapes. Consider stacked books, round trinket boxes or picture frames to contrast against modern silhouettes or lean into your motif with geometric patterns on a vase or jewelry box.
Distressed Decor
Distressed dressers work with various design styles. Limit your ideas for decorating a dresser to items that evoke your room's decor style. Look for vintage vases and knickknacks for a cottage-style room, or consider art prints or sculpture pieces to enhance a boho-chic bedroom.
Using Color in Dresser Decor