Standard vs. Counter Height vs. Pub Tables
Differences Between Pub, Standard & Counter Height Tables
As the center of family meals, homework sessions and holiday dinners, a dining table is an essential part of your interior design. When picking a new table for your kitchen or dining room, it's important to choose the right table type, height and size to keep you comfy as you dine. From there, you'll need to select a table in the right style to suit your chic and gorgeous layout.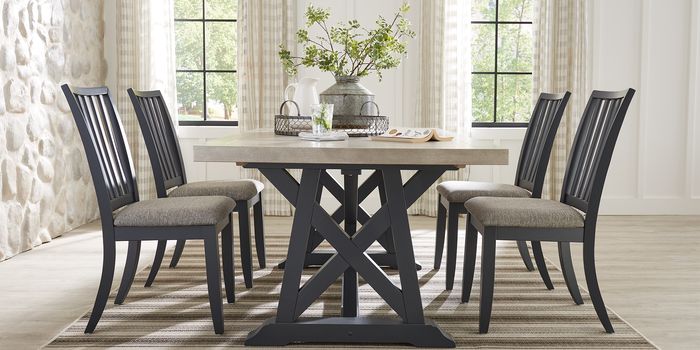 Overview
To help you decide on the best dining table for your home, this post offers tips on: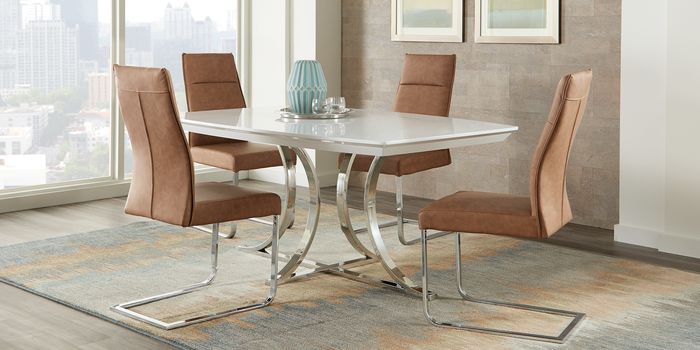 Dining Table Sizes & Types
Whether you're having a grand banquet or enjoying a few quick drinks with friends before a night out, it's essential to choose a table type that is large and tall enough to suit your needs. Most tables fall into one of three categories based on their heights. Knowing the differences between these designs makes it easier to decide on the best table height and size for you.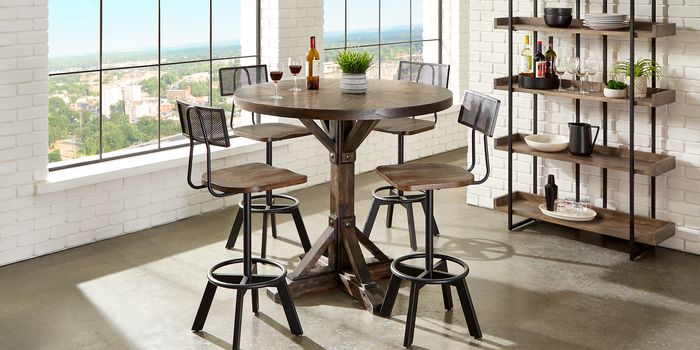 Standard Table Height
Standing between 28 and 30 inches tall, a standard dining table is one of the most common choices for sit-down restaurants and formal dining rooms. Selecting standard height dining table sets comes with several advantages, including:
Size and Length: Many standard height tables include a leaf that lets you extend or shorten your table length depending on how many dinner guests and tabletop decor pieces you have.
Shape Variety: Since standard tables are such a popular pick, it's easy to find them in all sorts of shapes to suit your layout. Choose from round, oval, square or rectangular tables to complement your space and design preference.
When choosing seats for your standard dining table, keep in mind that the standard dining chair height requires a little extra legroom to keep guests comfortable. Select chairs that leave about 8 to 12 inches of open space between the seat and the underside of the table. Or, consider a standard height dining bench that coordinates with the height and length of the table.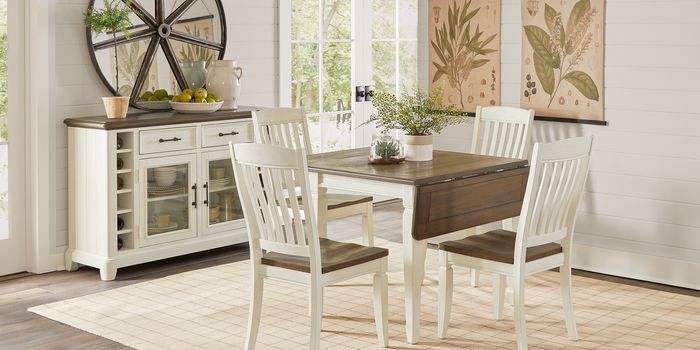 Counter Height Tables and Chairs
If you compare counter height vs. table height, you'll notice that a counter height set is several inches taller than the standard table height. Ranging from 34 to 36 inches tall, these tables have the same measurements as your typical kitchen counter. Along with inspiring a casual vibe and filling in rooms with high ceilings, counter height tables and chairs are also perfect for:
Casual Entertaining: Set drinks and hors d'oeuvres on these tables during your next party for easy access to snacks and beverages as guests move about your home.
Versatility: Counter height tables mimic the height of most kitchen counters, allowing them to serve as additional island dining, food prep and storage surfaces as needed.
Limited Spaces: Since many counter height tables are narrower than standard height tables, they're often a perfect fit for small dinette areas and eat-in kitchens.
Pair these tall tables with stools and dining chairs at counter height. While the typical counter chair height measures about 24 inches from the floor to the seat, you'll need the same amount of legroom as you would for a standard height table. Consider adjustable stools so taller guests can customize their comfort or try counter height dining benches for a more flexible seating arrangement.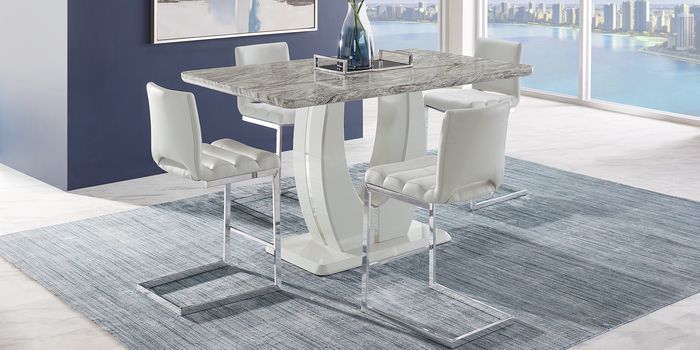 Pub Table and Chairs
Those who love the look of tall tables will need to choose between pub height vs. counter height tables and chairs. Pub table height ranges between 40 and 42 inches tall, roughly 6 inches taller than the standard counter height. Also called high-top tables, they're the tallest options available. As such, bar table sets are excellent for giving your dining room a casual or ultra-modern appearance.
Similar to a counter height table, bar tables take up less space than a standard model. Accommodating two to four people at a time, these pieces are ideal for tiny apartments and studios that lack full dining areas. Meanwhile, 30-inch bar height chairs and stools come in various space-saving designs including backless and armless options.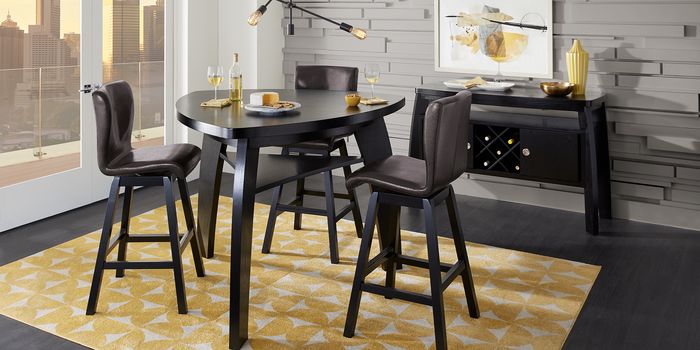 How to Choose the Right Size Dining Table and Chairs
Now that you understand the differences in table heights, how do you determine which type would be the best fit for you? Consider how and how often you plan on using the table to figure out which option would keep you comfiest. You'll also need to think about how much space you're working with and what style of table will blend best with your overall look.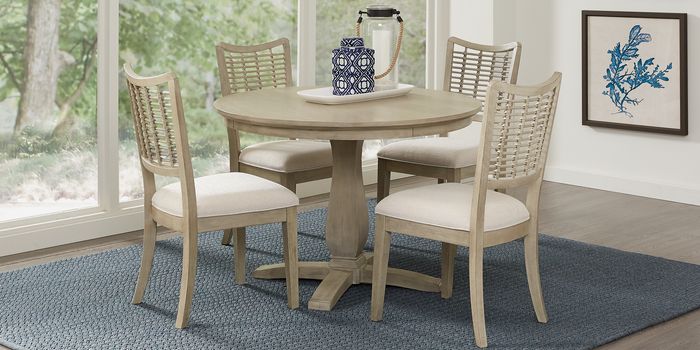 Comfortable Table Heights
Depending on their height, some people feel more comfortable sitting at a particular type of table. Taller diners might feel crowded and cramped at a standard height table, while others may dislike the way their legs dangle when they sit at a high-top table. Even the slight difference between a counter height vs. bar height stool can cause discomfort for some guests.
For optimal alignment, choose a table height that lets you plant your feet on the floor or a footrest, placing your knees as close to a ninety-degree angle as possible. Also, make sure you can set your forearms flat on the tabletop without having to reach up or hunch over. Lastly, test out sets with padded chairs and upholstered stools to find seats with ample softness and lumbar support.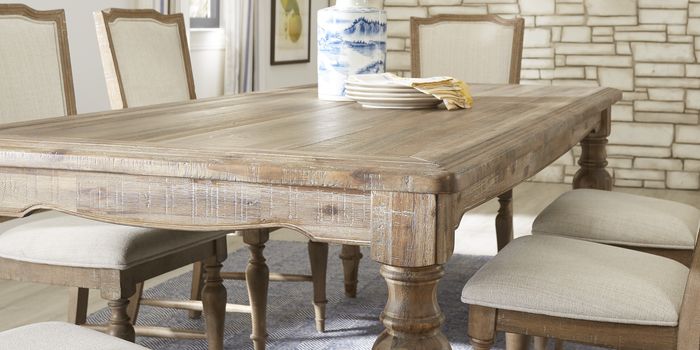 Table Sizes for Different Dining Areas
A 9pc standard height table set with a corresponding buffet might be the perfect fit for your large formal dining room. On the other hand, if you're working with a small dinette or kitchen nook, a 3pc or 4pc dining room set may be better suited for your tiny layout. Remember that it's usually easier to find these smaller dining sets in counter and bar height options.
If you like to throw extravagant dinner parties every weekend while also having dinner and drinks with your partner each night, you might need to choose between formal vs. casual dining room furniture. However, some layouts have enough room for both. For example, you can place a formal dining set in an attached dinette area and use a more casual arrangement as a kitchen island.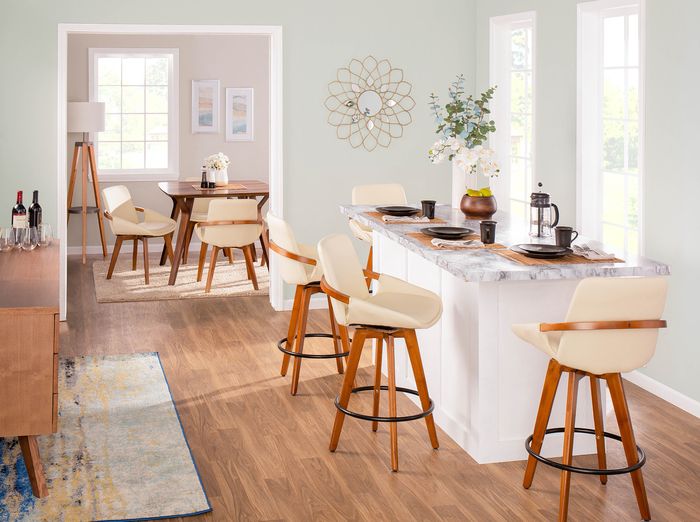 Want to avoid a cluttered look and keep dinner guests comfortable? Make sure to choose a dining set that leaves plenty of room for guests to shift their chairs and walk around the table freely. A general rule of thumb is to keep two feet of space between each seat. Also, make sure that extension tables leave about three feet between the table and the wall when fully extended.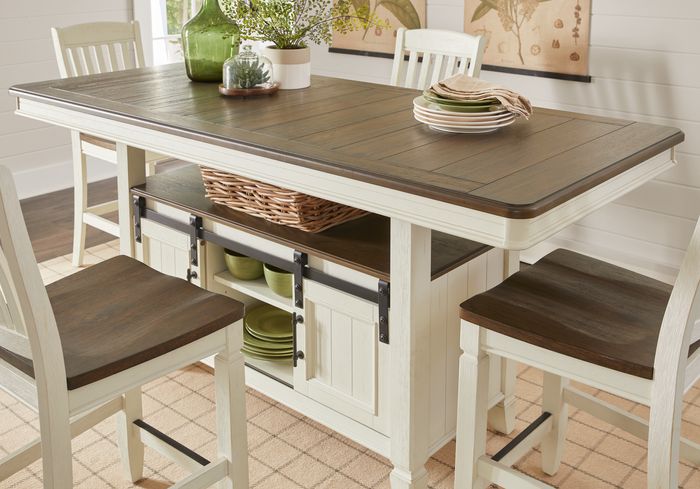 Table Height Shapes and Styles
The right table for you should suit your unique tastes and complement the rest of your home. While certain table heights may seem like a perfect fit for a particular aesthetic, these versatile dining table sizes work well with almost any look. Once you've decided on what gorgeous look you're going for, browse dining sets in your preferred style to find the table and chair heights that you want.
For a charming, down-home vibe during family meals and holiday get-togethers, furnish your rustic dining room using a farmhouse style standard height set with a weathered wood trestle table and padded seats. Choose a rectangular set to provide plenty of room for everyone. Or, keep it casual and cozy with a square contemporary counter height set in a shade that suits your palette.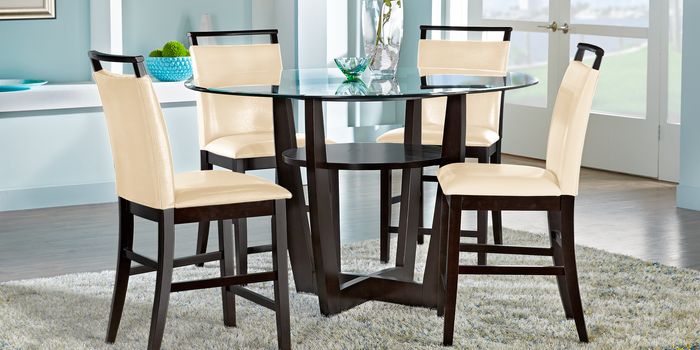 Industrial bar sets with leather seats and iron bases blend well with an urban-chic aesthetic. A triangle-shaped table brings a unique modern feel to your studio apartment while providing ample seating for you and a couple guests. Chrome and glass-top dining sets are also perfect for small spaces, since they brighten up the tiny layout and give your home a clean, sophisticated appearance.
Comparing different table sizes, types and styles is a smart way to determine whether a standard, counter-height or bar-height table is the right choice for you. Test out each of these table heights to find a dining room set that is comfortable for your family and compatible with your beautiful design.
In This Guide:
Standard vs. Counter Height vs. Pub Tables