Living Room Lighting Ideas
Living Room Lighting Ideas
When it comes to living room lighting, your best option will depend on a few key factors. The shape and size of your space and your furniture and decor layout help determine which living room light fixtures make the most sense. Check out the following living room lighting ideas from Rooms To Go featuring cool living room lamps, decorative lights for living rooms and more.
Choosing The Best Visual Accents
When designing a living room, it's important to make sure that your furniture, accents and accessories are as functional as they are visually appealing. The living room is the central hub of your home for rest, relaxation and entertaining, so you'll want to make sure the space is comfortable and accessible. This approach should extend to your living room lighting setup, too.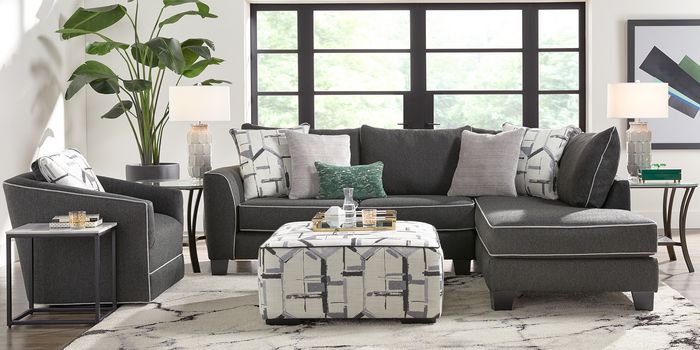 Creating the Best Atmosphere
The shape and size of your living room can affect how you light the space. Larger living rooms need more light sources for full illumination, while smaller spaces require fewer fixtures. If you have a living room with high ceilings, consider lamps that cast light upward to highlight the vertical space and make the room seem more expansive.
The color and intensity of your living room lighting contribute to the overall atmosphere of your design. Bright, open spaces are perfect for entertaining friends, families and guests. Meanwhile, lower lights promote a calm, reflective tone that's ideal for quiet nights in.
You can control the level of light in your living room in a few different ways. Dimmers are a simple and effective solution that lets you adjust the light intensity with the press of a button. For a more low-tech approach, lampshades block the intensity of bare bulbs, and you can change the brightness of your living room lighting by choosing opaque or sheer material.
When it comes to color, ensure that lighting in your living room complements and accentuates your palette. Avoid harsh, unflattering fluorescent lights and opt for lampshades in complementary colors or unique living room lamps with beautifully polished chrome or antique bronze finishes to add chic style to your space.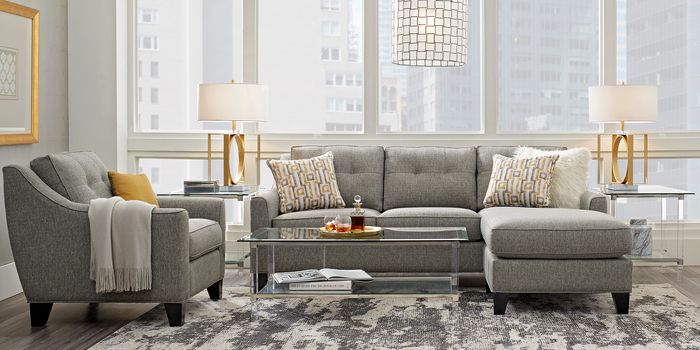 Types of Lamps
Living room lamp sets are a popular and convenient way to light your family room. Living room end table lamps on either side of a sofa or paired with a cozy armchair provide direct lighting for your seating. If you find that table lamps for living rooms aren't quite bright enough, consider hanging a chandelier to cast the entire space in radiant light.
Other common living room lamp ideas include using standing floor lamps as an elevated light source. Living room floor lamps have a small footprint and elevate bulbs above the eye line to reduce glare. Considering different floor lamp ideas such as directional shades, tripod or tubular designs and built-in tray tables can enhance your living room decor and create a chic, well-lit space.
Small living room lighting ideas make the most of compact spaces. The best lighting for living rooms short on square footage makes the space feel bigger while accentuating your floor plan. Meanwhile, living room wall lights add a touch of drama with the creative use of shadows. Try light sconces for living rooms instead of traditional living room lamps to avoid a crowded layout.
In This Guide:
Living Room Lighting Ideas