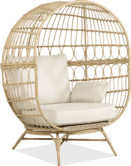 PATIO FURNITURE SIZE GUIDE
Stunning outdoor patios can be any size, and knowing your deck or
patio dimensions will allow you to create a perfect outdoor area that's
functional and reflects your personal style.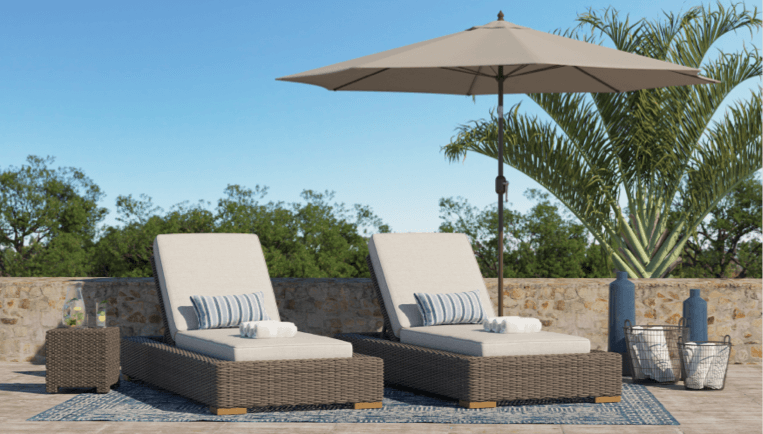 What size is your patio?
So, how do you know if you have a small, medium-size, or large patio? First, you will need to measure the area. Using measuring tape, find the square footage. If your patio is round or an unconventional shape, try breaking up the area into rectangles or squares. Once you have an approximate number, compare it to the measurements below to confirm your outdoor patio's size.
Example Outdoor Patio Sizes
• Small: 6-10 feet by 8-12 feet, or 48-120 square feet
• Medium: 10-16 feet long and wide, or 100-256 square feet
•Large: 14 by 20 feet and larger, or 280+ square feet
Now that you know your outdoor patio's dimensions, you're ready to choose the right size furniture on Rooms To Go patio furniture dimensions.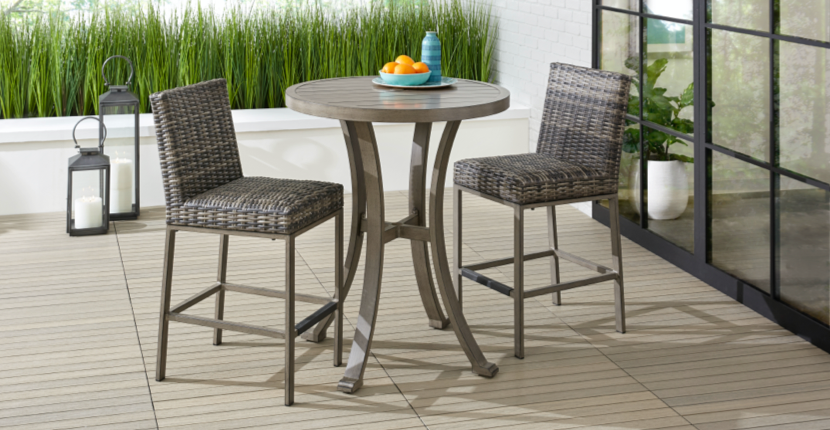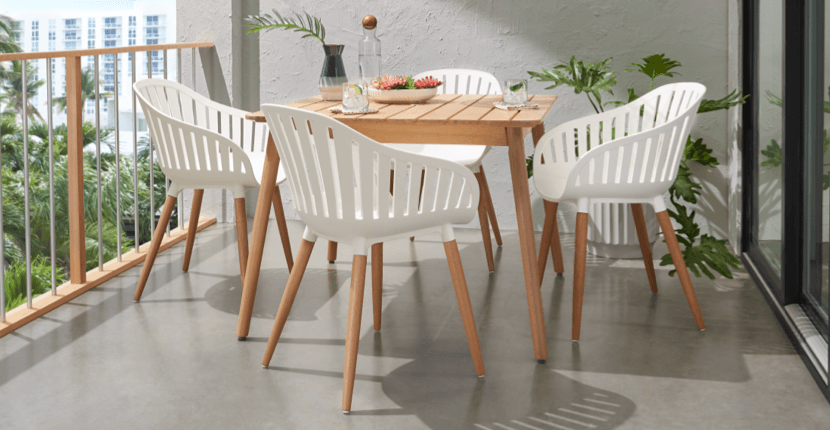 Medium-size Patios
Ideal for condos, townhomes, and midsize decks, Rooms To Go patio sets feature outside patio tables and chairs, outdoor umbrellas, plus outdoor patio couch sets and sofas for extra seating. The possibilities are endless.
Large and Plus-size Patios
Entertain with style and comfort. Accommodate friends and family with plus-size patio furniture, such as a patio sectional and a long patio table and chairs, or create a more intimate gathering space and extend the outdoor season with a fire pit.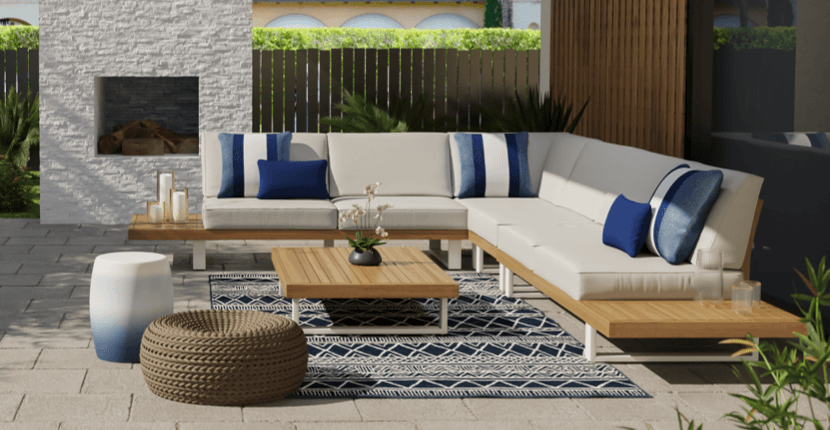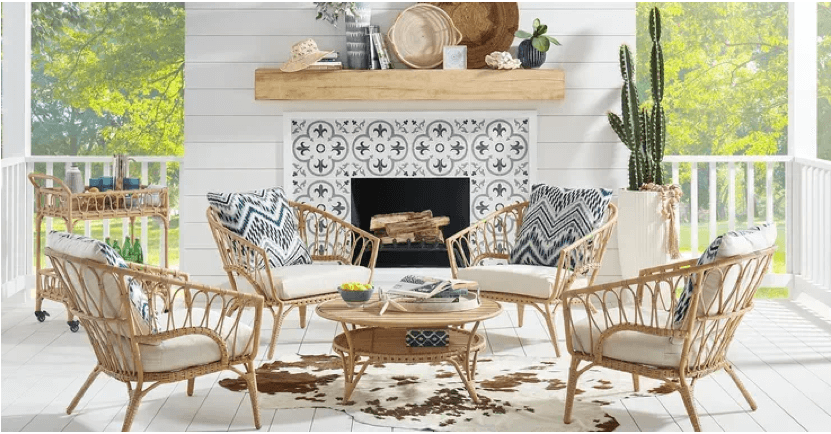 Complete the Look
The final touches can make all the difference. Discover colorful outdoor pillows, patio rugs, lighting, and wall décor that tie your look together.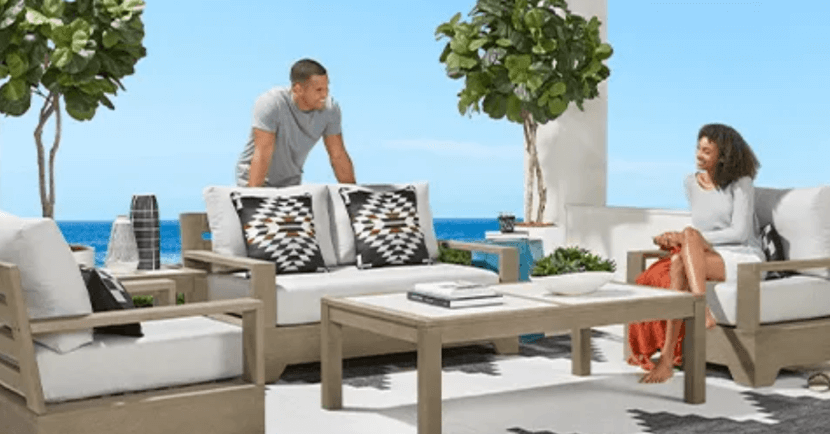 Does Rooms To Go have quality furniture?
It's the question every smart shopper asks. Learn why Rooms To Go is the smart way to shop and save.
How many pieces do you need?
Once you find the dimensions of your patio, you can decide what size furniture set would work best for your space. Depending on the size of your layout, you can choose:
3 Piece Patio Sets:
Available in standard and bar height models, 3pc outdoor dining sets include a pair of dining chairs and a round or square table. On the other hand, a 3pc patio seating arrangement often comes with a single 3pc sectional. Due to their small size, these collections tend to be the perfect fit for narrow apartment balconies and condo decks.
4 Piece Patio Sets:
4pc outdoor seating sets
feature a comfy sofa or loveseat, plus a pair of coordinating arm chairs and a coffee table. Some sleek metal and wire sets can fit a small front porch, while a wider wicker option may be better-suited for a roomier deck-top hangout spot.
5 Piece Patio Sets:
Perfect for a standard-sized patio, a 5pc patio dining set comes with a round or rectangular table and 4 chairs or bar stools. Similarly, 5pc conversation sets include 4 cozy arm chairs and a low-profile coffee, cocktail or fire pit table.
Options for 5 piece sets include:
6 Piece Patio Sets:
If you're decorating a more spacious outdoor area, you could use a 6pc dining or seating set. A 6pc dining arrangement usually comes with a table, 4 chairs and a bench seat, while 6pc conversation sets have a sofa, 2 arm chairs, a coffee table and a set of coordinating end tables to tie the space together.
Larger Patio Dining Sets:.
Those looking to furnish a grand terrace or courtyard can choose a wide 7pc or
9pc dining set
for their outdoor meals and get-togethers. The
7pc arrangement
features a spacious table with 6 chairs, while the 9pc set has 8 chairs. Some of these sets also have an extending leaf that elongates the table to give you even more space.