Decorating Your Home with Black and White
Black and white is a stunning color combination that's always in style. On their own or paired with other hues, this neutral mix is truly versatile. This makes it simple to create a wide range of coordinated and curated looks. With a virtually endless list of possibilities, black and white design is equal parts practical and fashionable.
Discover the Perfect Pairing
Balance is an important principle in design, and these two colors harmonize beautifully. The crisp contrast between black and white works in an array of styles and palettes for a striking effect. On their own, black and white patterns have a big impact, but they're also lovely when used alongside more vibrant hues.
As a dark color, black is intense and can seem overwhelming in large doses. However, it's also very grounding, so designers sometimes use it as a visual "anchor" in interiors. Many people associate this shade with authority, sophistication and mystery.
White, on the other hand, is bright and peaceful, conveying cleanliness, positivity and innocence. For some, it's synonymous with a fresh start. It represents a blank canvas where you can create something new. White also reflects light, making areas appear more open and spacious.
When you bring the two together, you get the best of both worlds, which is why this duo remains an iconic pairing. Check out these ideas for how to use black and white design in your own home for a fashionable look.
Making a Statement in Any Style
Black and white designs are easy to tailor to your personal style preferences. By switching up materials, textures and accent colors, you can highlight your unique tastes. Here are a few ways to incorporate this combo into your decor.
Traditional
For that timeless, elegant appeal, make white your dominant color. For example, an ivory bedroom set with wrought iron embellishments feels sophisticated with a hint of opulence.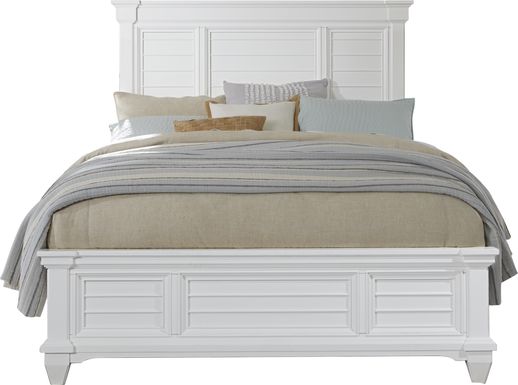 Hilton Head White 3 Pc Panel Bed
Contemporary
Contemporary design typically features dark pieces with lighter accents. In your living room, try using a black leather couch with an arctic white ottoman.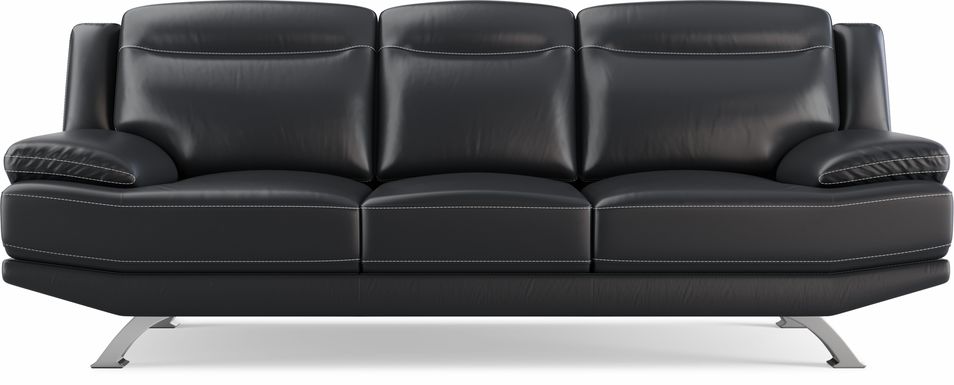 Sofia Vergara Zamora Black Leather Sofa
Transitional
As the ideal blend of classic and cutting-edge decor, transitional rooms should have a balanced look. Pair a streamlined charcoal sofa with an alabaster rug and throw pillows with a black and white pattern.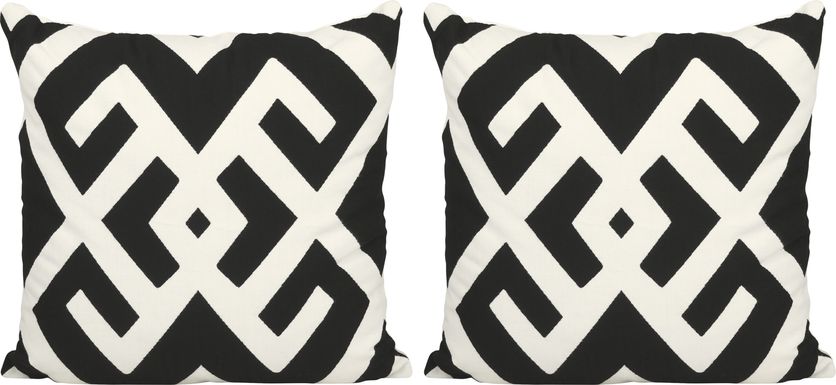 Simah Black Indoor-Outdoor Pillows
Cottage
If you prefer country-chic, black and white design may just be your best friend. This neutral duet serves as a backdrop for the colorful pastels of the typical cottage palette. Consider a simple sable and cream dining set as the base for your breakfast nook.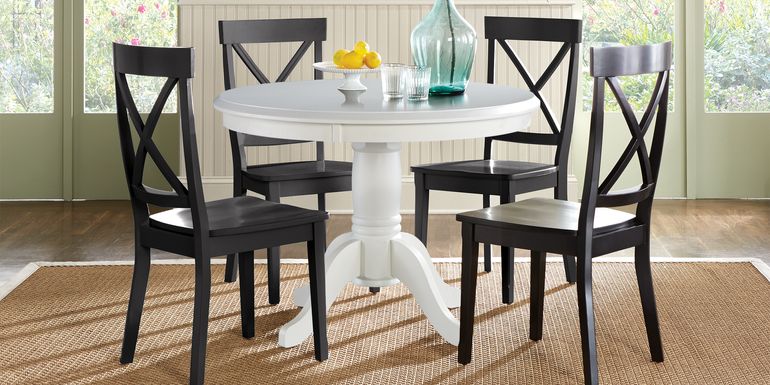 Cindy Crawford Home Cape Cottage 5 Pc Dining Set
Mid-Century Modern
While earth tones are the go-to hues for retro designs, finding balance is still important to keep the color scheme from feeling overwhelming. Anchor your mid-mod furniture with a rug featuring a geometric, black and white pattern.
Using Black and White on a Larger Scale
Whether you're starting from scratch or just updating an existing look, there are many ways you can try black and white design in your home. Eggshell walls help the room seem bigger and more open, making it a great choice for smaller spaces. If you want to use black, limit it to trim or an accent wall to prevent the space from seeming claustrophobic.
Floors present another opportunity to include this combination. For a timeless allure in your kitchen or bathroom, try using ceramic tiles in a checkered pattern. If you have hardwood flooring, consider adding rugs with black and white patterns for a touch of softness and warmth.
Ideas for Every Room
Black and white designs are a stylish pick for any room of your home. Browse these ideas to get you started:
Living Rooms
The trick to decorating your living room in black and white is to balance out large pieces. If you have an onyx couch, add a couple of cream armchairs. Alternatively, a white sectional goes well with a black table set.
Master Suites
One of the easiest ways to include this palette in your bedroom is to use contrasting bedding. For instance, use a crisp linen comforter with an obsidian headboard.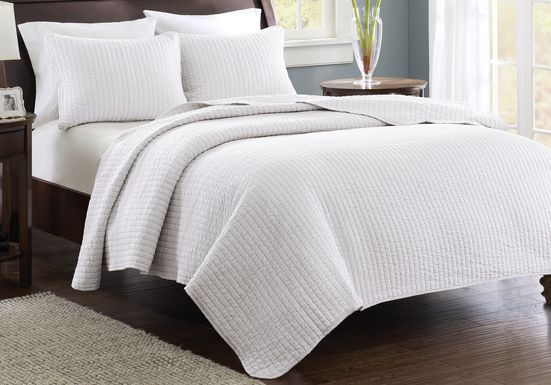 Keaton White 3 Pc King Coverlet Set
Dining Room
Your dining room seating is a fun place to play around with mixing materials. A table set with espresso legs, a glass top and black upholstered chairs creates a chic look that's perfect for those who love to host.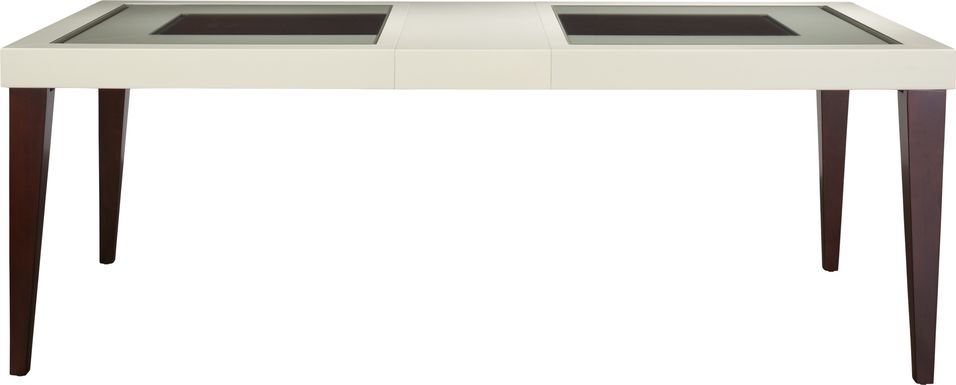 Sofia Vergara Savona Ivory 5 Pc Rectangle Dining Set
Home Offices
For an updated yet professional feel, select an ebony corner bookcase or sleek desk that mixes a white top and a darker frame.
Kids Bedrooms
Choose a classic bed style in midnight that your child can use from toddler to teen. For an accent, add a fluffy rug or cozy bean bag chair.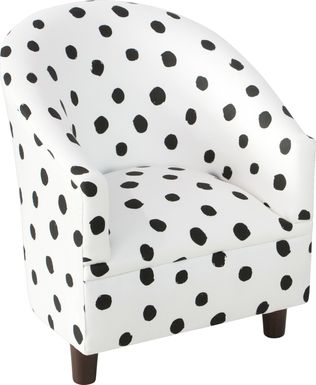 Kids Bodoni White Accent Chair
Playing with Colors and Patterns
This dynamic duo lends itself to an array of fun motifs and color combos. Explore these black and white patterns for some inspiration:
Checkerboard
This pattern works well for floors, bathroom walls or textiles. You can opt for the standard black and white option, or look for pieces that integrate a third hue to spice things up a little.
Polka Dot
A little goes a long way, so a black and white polka dot lamp with a lampshade in pink or blue is a lovely little accent.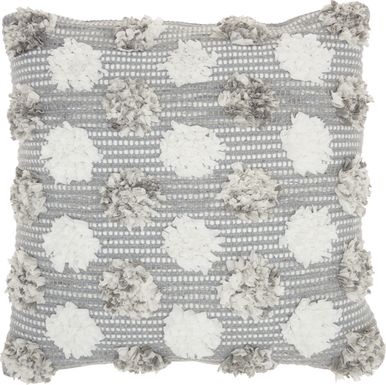 Kids Flowerful Gray Accent Pillow
Plaid
Known as a classic for a good reason, plaid is a great way to add contrast to your space. Try using a subtly striped comforter set with your monochromatic bedroom palette.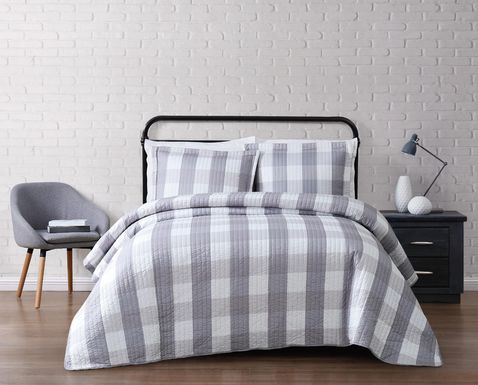 Kids Cottage Pearl Gray 3 Pc Full Queen Comforter Set
Animal Prints
For a little quirkiness in your home decor, consider a zebra print rug. This natural motif is a whimsical way to embrace black and white patterns.
Black and White Design: Pulling it All Together
Whether your tastes run modern or traditional, black and white design is a wonderful choice. You can go big with a full room makeover, or simply add a piece of furniture or decor featuring a black and white pattern. Hopefully, this guide has given you some ideas to incorporate this winning pair throughout your home.