Grounded and Gorgeous Decor
When it comes to interior design, going green is in high-demand. Why not carry that idea through your whole home? Decorating with earth tones can help refresh your look and cultivate a calming, relaxed atmosphere. Check out these tips and tricks as you explore how to use an earthy color palette in your decor.
What are Earth Tones?
Contrary to what many people think, earth tones are more than just brown. An earthy color palette can feature any shades found in nature, including woodsy hues like deep reds, burnt oranges and lush greens. You may even see bolder accents like blues, pinks and purples that pay homage to the sunset.
Examples of popular earth tones include:
Browns: walnut, cedar and chocolate
Neutrals: beige and taupe
Greens: moss, pine and sage
Warm shades: sienna, mustard and burgundy
Cool hues: sky blue, graphite and silver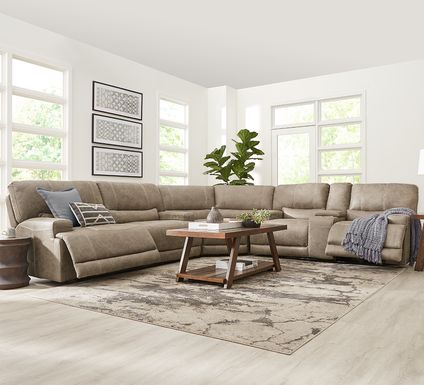 Warrendale Beige 3 Pc Power Reclining Sectional
Toned to All Styles
These neutral hues complement an array of designs, so feel free to weigh your options to find the perfect combination. Here are a few suggestions for how you can integrate some earth tones into your home: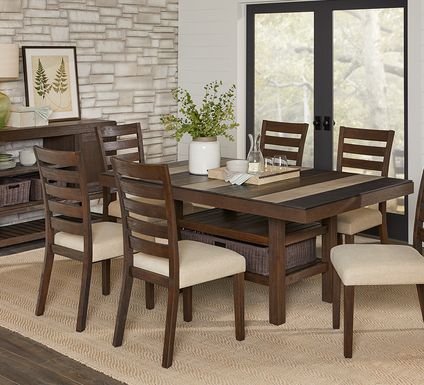 Farmington Hills Brown 5 Pc Rectangle Dining Room Set
Every Space Can Be an Earthy Retreat
You can get creative and use earth tones throughout your entire home. For example, you can create a spa-like getaway in your bathroom with a plush brown area rug and a wall sculpture featuring muted greens. Similarly, the cheerful hue of an ochre desk will inspire your best work in the office.
Painted Perfection
For a soothing earthiness throughout the whole room, consider a fresh coat of paint. Neutral hues like beige with brown undertones are go-to options that complement an assortment of shades with ease. Use taupe bedding and a sand rug for a warm and inviting overall color scheme.
If you prefer a bolder choice of paint, opt for auburn or forest green for a dramatic look. Burnt sienna is another shade that can help brighten up the space. Use furniture to create a sunrise-inspired color scheme with pieces like a copper sofa or a harvest gold accent chair.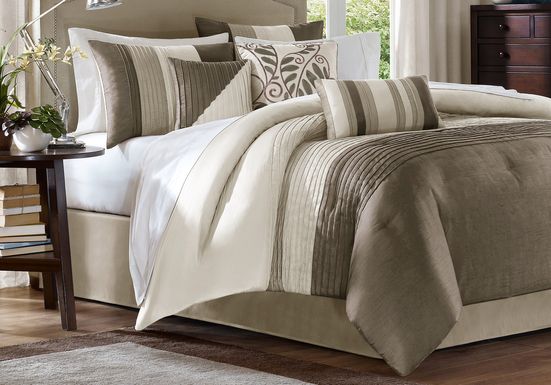 Brenna Natural 7 Pc Queen Comforter Set
Patterned to Please
Another effective way to incorporate earth tones into your home is through patterns in nature. A floral quilt or a graphic rug showcases these beautiful, organic designs. This is also an opportunity to explore wall decor featuring serene skylines, closeups of flowers or flowing leaves. Something as simple as seashells in a chic bowl can even have a big impact.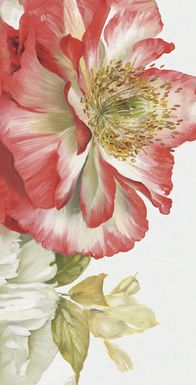 Romantic Afternoon Light 7' Long Canvas Artwork
Lights On
Playing with light is another wonderful way to use earth tones in your decor. Lamps with earth-toned shades or sea-glass bases give the whole room a gold or green glow. On the other hand, a unique fixture like a chandelier with leaf-shaped metal details serves as a multi-dimensional, nature-inspired conversation piece.
Wood: The Ultimate Earthy Material
Wood furniture brings the very essence of the outdoors inside. Here are a few ways to use wood in your own design:
Always timeless and available in a wide range of types and finishes, hardwood floors will give your home a refined, earthy ambiance.
Dining sets are another staple for an earth tone color scheme. Consider options in light and dark wood to find the right pick for your palette.
Look for pieces with a raw, rough-hewn look like this counter-height table so you can appreciate the natural beauty of the wood.
Mixing materials can also have a grounding effect on your design. A sunflower yellow sofa with wooden legs showcases subtle earth tone upholstery alongside the natural wood base.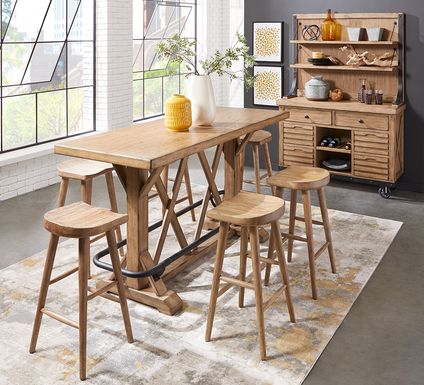 Eric Church Highway To Home Tap Room Blonde 5 Pc Bar Height Dining Room
Plant Decor
Biophilic design is all the rage. It focuses on directly connecting people to nature through live foliage. Although you may not be able to build a wall of flora in your living room, house plants are a great alternative than can help energize a space. Choose a succulent or a large fern in a colorful planter for a dynamic addition to your home.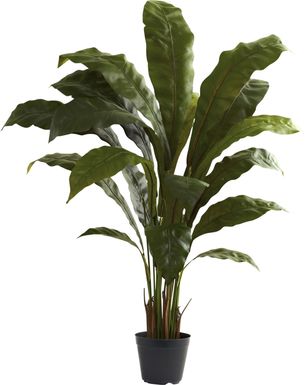 Eladio Green Birds Nest Silk Plant
Final Thoughts
Whether you're planning a full-scale remodel or sprucing up your home in smaller ways, earth tones can rejuvenate a room. Adding some greenery, drawing inspiration from patterns in nature or concocting your own earthy color palette are just a few techniques to create beautiful spaces that Mother Nature herself would love to live in.