In recent years, minimalist decor has emerged as a popular approach in home decorating. More and more people are turning their homes into tidy sanctuaries that soothe the mind with clean, simple style. Neutral color palettes, select ornamentation and clutter-free settings are all characteristics of minimalism.
Scandinavian decor is a similar movement taking over interior design. This particular offshoot of minimalism unites functionality with beauty, simplicity and comfort. If you're looking to cleanse your home from distracting excess but still crave coziness, we've put together the following tips to help you get the Scandinavian look.
What Is Scandinavian Decor?
Scandinavian style comes from trends common in Norway, Sweden and Denmark. Homeowners and tenants there often adopt a more comfortable form of strict modern minimalism by focusing on intentional details. It may seem tricky to find pieces that combine both clean and cozy vibes, but the key to creating a Scandinavian space is choosing decor with care.
The Colors of Scandinavian Spaces
Neutral is Key
Minimalist styles use neutral hues, and so does Scandinavian decor. White walls are standard because they give the room a clear, open appearance. If a new coat of alabaster paint is too stark for your liking, a white TV wall unit brings the ideal amount of brightness into your family room.
Other neutrals like gray, tan and black are popular choices, too. Make a living room feel homier with the comfortable earth-toned upholstery of a sleek stone gray chair. Similarly, the subtle warmth of a taupe bedspread adds an inviting allure to a Scandinavian-styled bedroom.
One Bold Accent
If incorporating a vibrant color into your Scandinavian decor is a priority, pick a favorite and use it with care. Blue is a fine choice for minimalist spaces. Make it a prominent feature with a blue sofa or add a tidbit of color with turquoise pottery. Those who prefer lighter and brighter tones might toss in a yellow accent pillow among a mix of neutral cushions.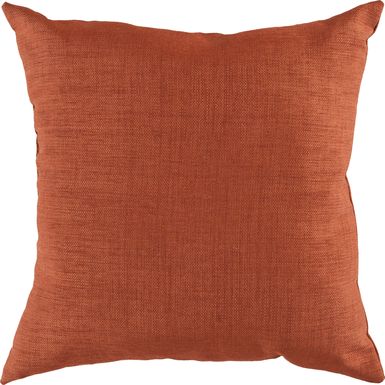 Adney Orange Indoor Outdoor Accent Pillow
Warm Woods
Wood furniture gives a natural, lived-in aura to Scandinavian spaces. Whether you choose a roomy light wood dining table or favor exposed wooden couch legs, these details add just the right touch of coziness. Round and oval coffee tables that combine the simplicity of minimalism and refined rustic charm are common in Scandinavian design as well.
Scandinavian Textures and Textiles
Polished contrast is the key to Scandinavian style. If you're a dedicated minimalist struggling to cozy up your decor, explore fabrics that capture the hygge energy you're searching for. Hygge, in Denmark, is a way of life that's all about comfort. Adopt this approach by introducing soft textures and lush materials to your living room, bedroom and other spaces.
Connect with Coziness
What's better than sinking into an overstuffed recliner or covering up with a thick blanket for a lazy evening in? Plush pieces like these are physically comforting and create the welcoming essence of hygge and Scandinavian style. A high-pile rug with a simple pattern softens flooring and looks chic in a roomful of soothing decor.
Layers on Layers
Combine the purity of minimalism and the snugness of hygge through layering. Bringing different textures together can help you accomplish both goals. For example, a smooth, unembroidered comforter looks clean and cool in a minimalist bedroom, but tossing a faux fur throw on top elevates the space to a Scandinavian haven.
Built the Scandinavian Way
Vintage Simplicity
Most Scandinavian-style furniture has an understated vibe. Streamlined mid-century modern pieces such as tulip tables and swan chairs are popular additions to minimalist rooms. These simply constructed furnishings have clean lines with distinctive decorative character.
Less is More
In Scandinavian decor, size matters. For minimalistic layouts, consider multiple space-efficient pieces instead of bulkier models. For instance, opt for a pair of end tables for your den to replace a large coffee table. This trick magnifies floor space while discouraging clutter.
Arranged for Companionship
The principles of hygge emphasize connectivity with loved ones. Furniture intended for comfortable conversations and time spent near one another is an essential part of Scandinavian decor. For example, arranging two snug loveseats together, rather than separate armchairs or recliners, creates a comfy family gathering spot that invites closeness and familiarity.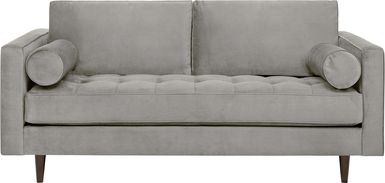 Sofia Vergara Plush Apartment Sofa
Love Your Lighting
Using natural light to its fullest is a significant element of Scandinavian style. Go curtain-free to maximize the sunny glow in your home, or opt for sheer panels that let in plenty of rays. If your room lacks available sunlight, candlelight elevates the coziness of a room in an instant. Candles in chic holders with a metallic or neutral finish cast a lovely glow.
If you're looking for a larger fixture to illuminate a space, a captivating geometric design suits minimalist decor. A contemporary chandelier with exposed bulbs is a neat artistic focal point above a long dining table. Alternatively, paper lanterns are a favorite in Scandinavian spaces due to their whimsy and charm.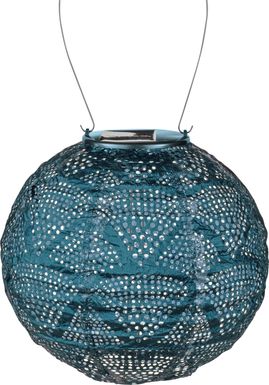 Bombora Ink Outdoor Solar Lantern
Style without Distraction
Scandinavian decor is the opposite of eclectic, in which knick-knacks, wall hangings and other ornaments play a major role as part of the design. In a minimalist room, display only a few select pieces chosen with intention.
Wall to Wall
Concentrating wall decor to one area maintains visual order while also showing off your personality. The Scandinavians favor art prints, especially black and white designs or a collection of monochromatic pieces. Mirrors with simple metallic edges are another option for elegant minimalistic design.
Gorgeous Growth
Nature and climate have strong influences on Scandinavian style. Bring some of the natural world into your space with houseplants. Vases in neutral hues fit the standard minimalist palette while complementing your chosen greenery. Or, skip the fuss of real foliage and decorate with silk flowers for effortless earthiness.
A Modest, Meditative Motif
Combining clean and cozy design elements to create a peaceful space is at the heart of Scandinavian style. Careful, intentional choices of neutral hues, touches of coziness and streamlined decor culminate in a minimalist home you'll love to live in.