How to Decorate a Living Room
Living Room Ideas: Decor, Designs & Inspiration
Living room interior design is an art. When decorating, the goal is to strike that perfect balance between form and functionality. While this process can be a challenge, developing a plan can yield amazing results. Get the most out of your space by evaluating how much room you have, considering the various living room styles and exploring accents to complete the look.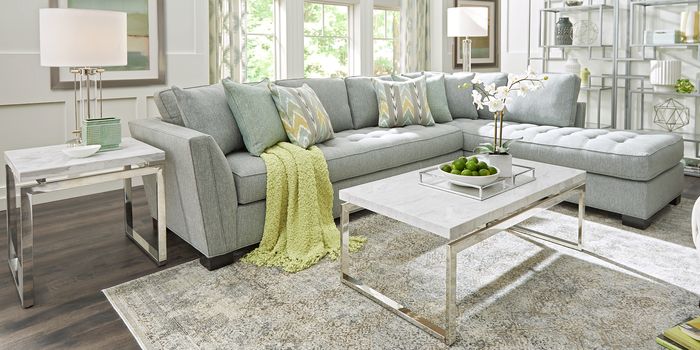 Work Within the Space
Before shopping for living room sets, it's important to know the size of the room. It's always better to over-prepare than to guess at the dimensions of the space. Whether you need to create a large or small living room setup, planning will help ensure that the pieces you choose fit through the door and into your floor plan.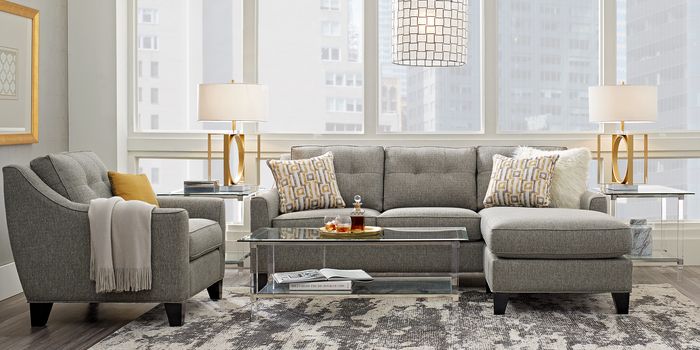 Living Room Layout and Measurements
Begin by creating a drawing of your space, noting the length of each wall, window and door placement, ceiling height and features like alcoves or staircases. Graph paper works well for this. Once you have a few furniture options in mind, sketch each piece into your blueprint to help visualize how they'll fit into the room.
You'll also want to consider how you're going to get your new living room furniture into your home. Carefully measure the entryway to make sure you have plenty of clearance for that sofa or recliner. When you go shopping, take a measuring tape with you so that you can gauge whether that sectional will fit through your front door.
The overall size of your room can also help you determine which pieces to include. These guidelines, along with your measurements, will make narrowing your choices easier once you begin to shop:
Large Rooms: Spacious, open living rooms offer plenty of breathing room, but they can feel overwhelming to furnish. Look for sizable pieces like seven-piece sectionals and large recliners with a heavier visual weight. Finish the look with a set of end tables and a large cocktail table.
Small Rooms: Small living room decor should feature streamlined silhouettes and open profiles to keep your den from feeling overcrowded. Seating like small couch sets, accent chairs and ottomans are versatile and space-saving. You can also explore functional accents like narrow sofa tables and bookshelves that allow you to take advantage of the vertical space in your room.
Studios: When decorating a studio apartment, you can establish zones to break up the open floor plan. Many of the same small living room decorating ideas from above can help you create a stylish and practical seating area. Consider multipurpose pieces such as expandable sleeper sofas and storage like accent cabinets and console tables to help cut the clutter.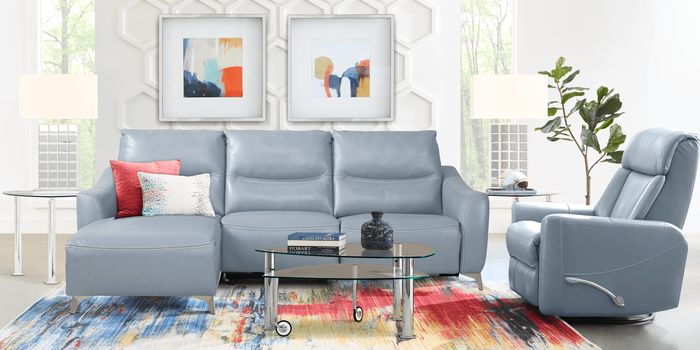 Visualizing the Room
Need something a little more hands-on to help you visualize new furnishings? Create tape outlines on the floor to represent the furniture you're considering. This approach is a great way to plan your family room design because it allows you to easily experiment with different setups before you commit to rearranging the entire space.
Once you have your living room decor ideas outlined, try navigating the room by walking around the tape lines. Does any furniture placement seem cramped or any walkway too narrow? Will the sofa cover up any floor vents? Are your end tables close to outlets? Use these observations as a guide while you shop.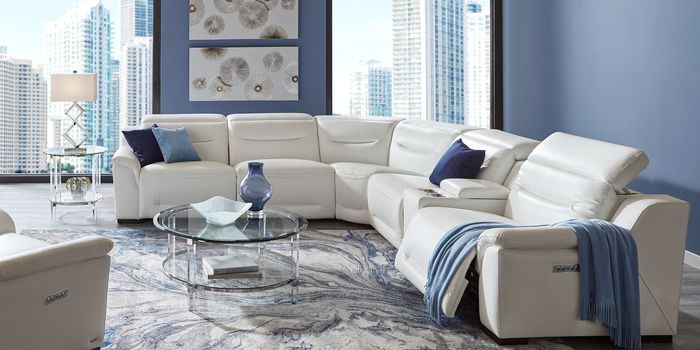 Pick a Living Room Style
You can achieve a cohesive and curated look in your family room by choosing a style you love and decorating with pieces that showcase that aesthetic. From charming, homespun farmhouse living room decor to graceful traditional furniture, there are designs to suit any taste. Consider these popular living room interior design styles to help get you started:
Traditional: Drawing inspiration from classic European design, traditional decor evokes old-world elegance. Dramatic shapes, refined finishes and bold accents are hallmarks of traditional design.
Contemporary: Featuring simple silhouettes and cutting-edge appeal, contemporary furniture has a slick and distinctly current feel.
Rustic: Rustic living room furniture incorporates raw materials, muted organic colors and a rugged handcrafted look for a warm, inviting vibe.
Transitional: Fusing elements of traditional and contemporary design, the refined profiles and sleek finishes of transitional decor offer a one-of-a-kind look.
Modern: Modern living rooms can range from glamorous to retro. Natural wood finishes and sleek leather seating sets look right at home in this style.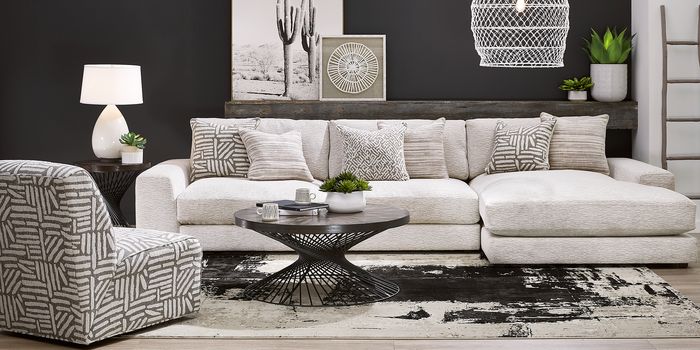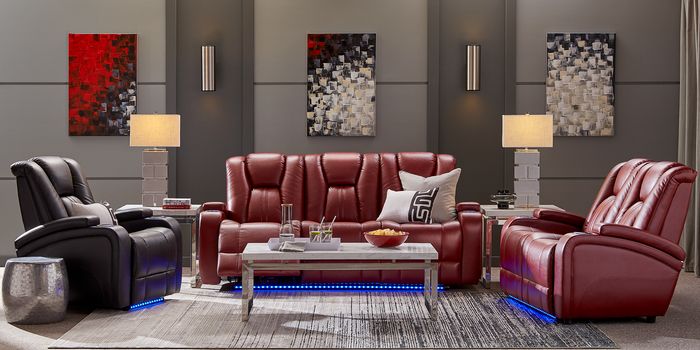 Living Room Set Ideas
With essentials like measurements and style decided, it's time to select your living room furniture and decor. Form follows function when choosing the right pieces for your den, meaning comfort and convenience come first. Since this is an all-purpose room, you'll need to include a few essential elements, such as:
Seating: From sofas and sectionals to accent chairs and recliners, there is a huge variety of seating options. Keeping room measurements at the ready, think about how many people gather in this space regularly. Shop by style to find seating that meets your needs and that suits your vision.
Tables: Living room tables are another practical and stylish necessity. People who want to snack, play games or store remotes will want a coffee table. Use an end table set between seats to hold lamps or mugs and create appealing symmetry in your design. Finally, media units or TV stands help keep electronics organized.
Lighting: It's a good idea to incorporate several styles of lights so that you have the flexibility to adjust the brightness of the room as needed. Include overhead lighting to brighten up the whole room, floor or desk lamps for reading and sconces to provide a soft, ambient glow. Play around with these versatile living room lighting ideas to make your space shine.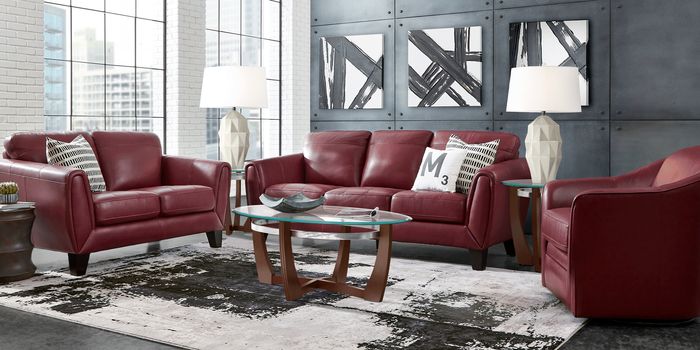 Time to Decorate
Now that you have your living room layout the way you want it, you can add a little flair to reflect your style. Incorporate a bold accent color by piling an array of vibrant toss pillows on the couch. Set the mood in your space with living room wall decor featuring abstract prints or stunning landscapes, or hang shelves to fill with plants, books and photos.
A stylish living room rug brings an extra layer of warmth to your space, plus it can help define zones in an open-concept home. Elegant vases and sculptures add visual interest to your room, while a set of living room mirrors can make small spaces feel bigger and more open. Experiment to discover which accents are the best fit for your design.
In This Guide:
How to Decorate a Living Room