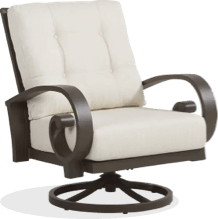 HOW TO CHOOSE PATIO FURNITURE
Whether you're buying patio furniture for the first time or
you're a seasoned outdoor entertainer, here are a few good
questions to ask before starting your outdoor patio makeover.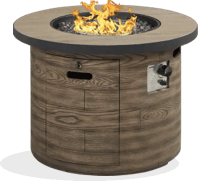 How do you like to relax and entertain outdoors?
You probably already have an idea for how you'd like to use your outdoor space. Rooms To Go patio furniture has all your needs covered, including dining patio furniture, patio furniture chairs, all-weather outdoor chairs and tables, and more.
Do you like to host big bashes and family reunions, or do you prefer more intimate gatherings? If your motto is "the more, the merrier," consider a long patio table and plenty of seating to accommodate all your guests. For smaller parties and tighter spaces, a three-piece patio table and chair set might be just what you need.
How would you describe your style?
Your style is an expression of who you are, from the clothes you wear to how you furnish your home. The best patio designs are an extension of that. Whether you envision a modern backyard patio or something more classic, Rooms To Go has easy patio ideas to make your outdoor oasis come to life.
What's the climate where you live?
If you live in a wet or cooler climate, you might consider what is the best outdoor furniture for rainy weather or what type of outdoor furniture is the most durable during harsher winter months. One good option for wet coastal regions is high quality wicker patio furniture. Whereas people living in hot and sunny parts of the country might search for the best quality teak outdoor furniture because this material does well in extreme climates.
No matter where you live, Rooms To Go has all-weather outdoor chairs and furniture sets that you will enjoy for years to come.
When is the best time to buy patio furniture?
Outdoor furniture is an investment in your home, and Rooms To Go helps make your dollars go further. One of the best times to buy outdoor patio furniture is during our Memorial Day Sale. Best of all, Rooms To Go now provides free doorway delivery* — so you save even more.
*No-charge delivery to select ZIP codes, on orders $1,119.99 or less.
Whether you're looking to furnish a brand new deck or want to refresh your outdoor design for the coming season, knowing how to choose patio furniture is essential for creating a chic and cozy backyard hangout. Taking the time to consider practical details like the size of your setup and your personal style preferences will help you select furnishings that define your space and reflect your unique tastes.
What size is your patio?
The first step in deciding how to buy patio furniture is finding out how much space you're working with. Grand terraces and wrap-around decks offer plenty of room for large centerpieces like wide outdoor sofas and sectionals. On the flip side, compact seating options like narrow loveseats and small chairs are a better fit for tiny porches and balconies.
Measuring the length and width of your patio lets you know exactly how much room you have for outdoor furniture, accents and decor. Once you find the dimensions of your deck, porch or patio, you'll be able to quickly and confidently pick out furniture that will suit your outdoor layout.
What stylish look are you going for?
Choose patio pieces featuring stunning designs, finishes and materials to add a fashionable flair to your outdoor gatherings. Enhance the beachy vibe of your pool area using upholstered blue lounge seats with driftwood frames and angled legs. Or, turn up the heat with vibrant patio furniture in sunny shades like orange, yellow and red.
Select wooden outdoor furniture to provide natural rustic appeal for your patio. Looking for something a little more elegant? Try vintage metal patio furniture with antique finishes and charming, cafe-style embellishments. Regardless of your decor preferences, you can find the right look for your backyard with stylish Rooms to Go outdoor furniture.
Patio furniture sets are a great way to outfit your space with everything you need to entertain, but if you have a smaller area to work with or simply like to mix and match styles, buying single pieces of outdoor furniture can be an excellent strategy. Pair your sunny coastal sofa with a glass contemporary coffee table for sparkling contrast, or offset your rustic patio with some bohemian flair.
What type of patio furniture materials do you prefer?
High-quality wicker makes the best outdoor furniture for rainy weather and wet coastal regions. Meanwhile, teak outdoor furniture can handle the heat in the hotter, sunnier parts of the country. When choosing cushions and upholstery for your outdoor seating, look for common all-weather materials like denim, canvas and Sunbrella fabric.
Aluminum
Looking for something a little more elegant? Try aluminum patio furniture with antique finishes and charming, cafe-style embellishments.
Antique bronze, cast aluminum and wrought iron patio sets are other common options for outdoor spaces. Many of these metal furnishings have an all-weather coating that can keep them from rusting and fading over time. Bronze pieces also tend to have robust, yet lightweight frames that can make these pieces easier to set up, rearrange and put away.
Wicker
Wicker patio furniture has a strong, tightly woven design that can help these tables, chairs and sofas last longer. Also, the natural rattan, reed or bamboo material can resist moisture, mold and burrowing bugs, especially if you choose pieces with lacquered finishes. Lastly, their lightweight design can make rearranging your layout easier and less strenuous.
makes the best outdoor furniture for rainy weather and wet coastal regions.
Teak
Teak outdoor seating sets can also bring durability and longevity to your patio design. The naturally high oil and rubber content makes it harder for rain, pests and UV rays to penetrate this type of wood, so mildew, splintering and wood rot are less likely. In many cases, the occasional cleaning and proper maintenance can help your teak furniture last for years.
Sunbrella
Sunbrella patio furniture features performance fabrics in a variety of rich colors. Seat cushions, throw pillows and patio umbrellas with Sunbrella fabric have a tight weave that can help them withstand normal wear and tear. It can also keep spills and stains from soaking into the material and prevent the colorful fabric from fading in the sunlight.
What is your outdoor color scheme?
Your choice of outdoor furniture should complement your patio palette as well. Some common patio colors include:
Neutral Colors
Shades of white, black, beige and gray complement a wide range of color schemes and can give your patio a simple, stylish look. Striking ivory seat cushions can brighten up your enclosed porch, while black dining sets help you create a sleek and chic balcony layout. Meanwhile, tan rugs and smoky gray accent pillows can balance out almost any palette.
Earth Tones
Rich, robust earth tones can complement the trees and greenery in your backyard or bring a grounding, yet lively energy to concrete patios and metal balconies. Dark wood or bronze tables can add a charming touch to a bright yellow or pink palette. On the other hand, burnt orange rugs help promote a warm, welcoming atmosphere on a gray or dark brown deck.
Cool Hues
Colors like blue, green, purple and teal help give your space a calm, yet refreshing atmosphere. Pairing deep navy pillows with gray arm chairs brings soothing contrast to a modern patio design, while aqua or sky blue cushions and beige rugs complement a breezy, coastal look. You can also use lavender and emerald-green accents for a fun, relaxing look.
Vibrant Shades
Dynamic reds, yellows, pinks and oranges can give your patio a cheerful, upbeat vibe. A canary yellow patio umbrella can brighten a pool area with dark gray chaises, while orange lanterns help you create a fun atmosphere for backyard barbecues and kids' birthday parties. Additionally, wine and rose-colored pillows add a sophisticated flair to brown and gray sofas.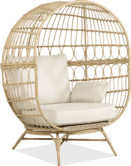 Take the next step.
Is your vision for the perfect patio coming together? Rooms To
Go is here to make it happen! Learn how to choose the right
size furniture for your outdoor area.