Patio Layout Ideas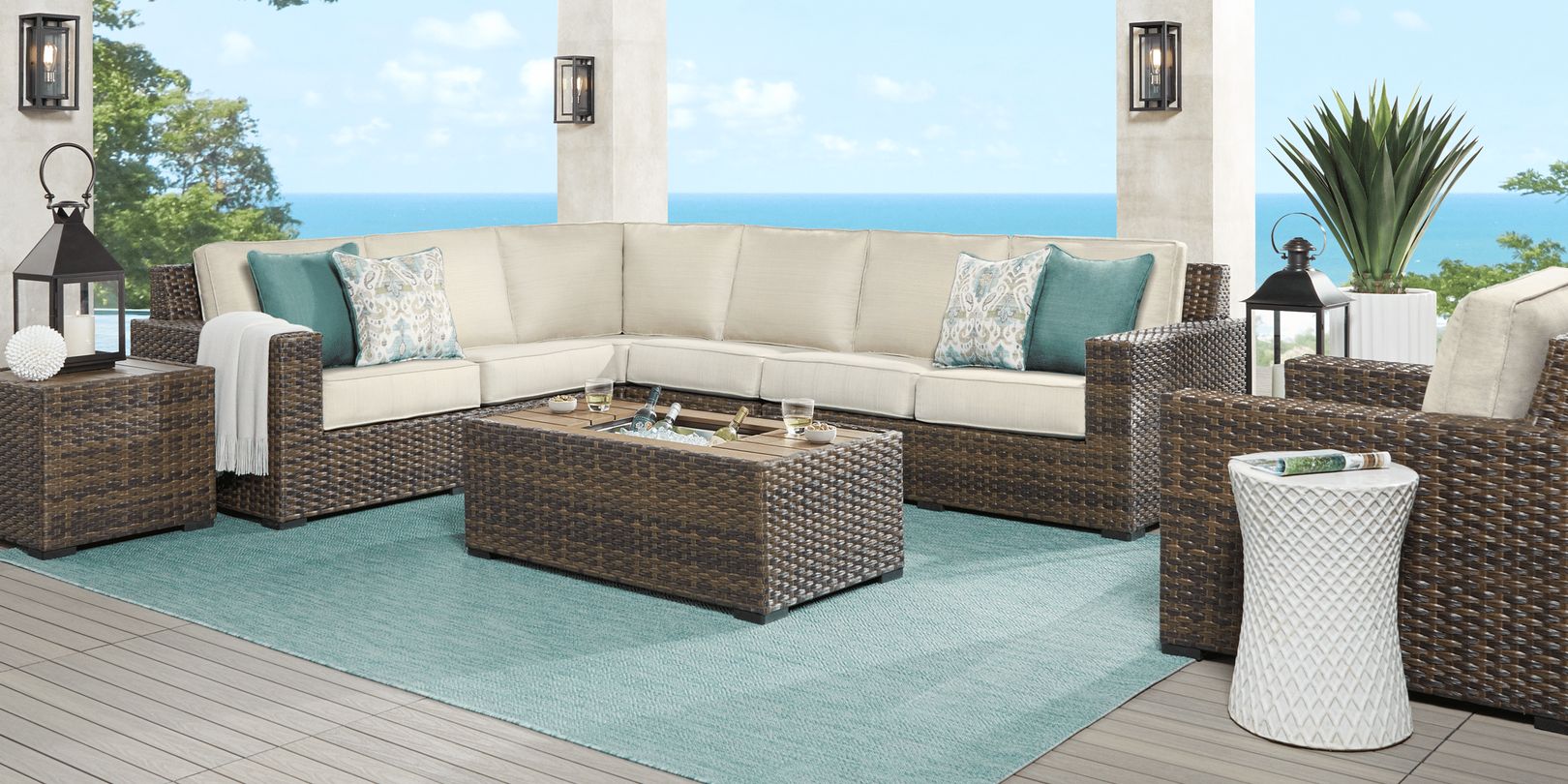 Designing a patio furniture layout that works for your lifestyle allows you and your family to get the most out of your outdoor spaces. Creating a blueprint of your patio layout design ideas is the first step. From there, you can choose furniture, decor and accessories to make your vision a reality.
With careful planning, you can have your own back porch paradise. This article discusses different patio layout designs and ideas, including how to: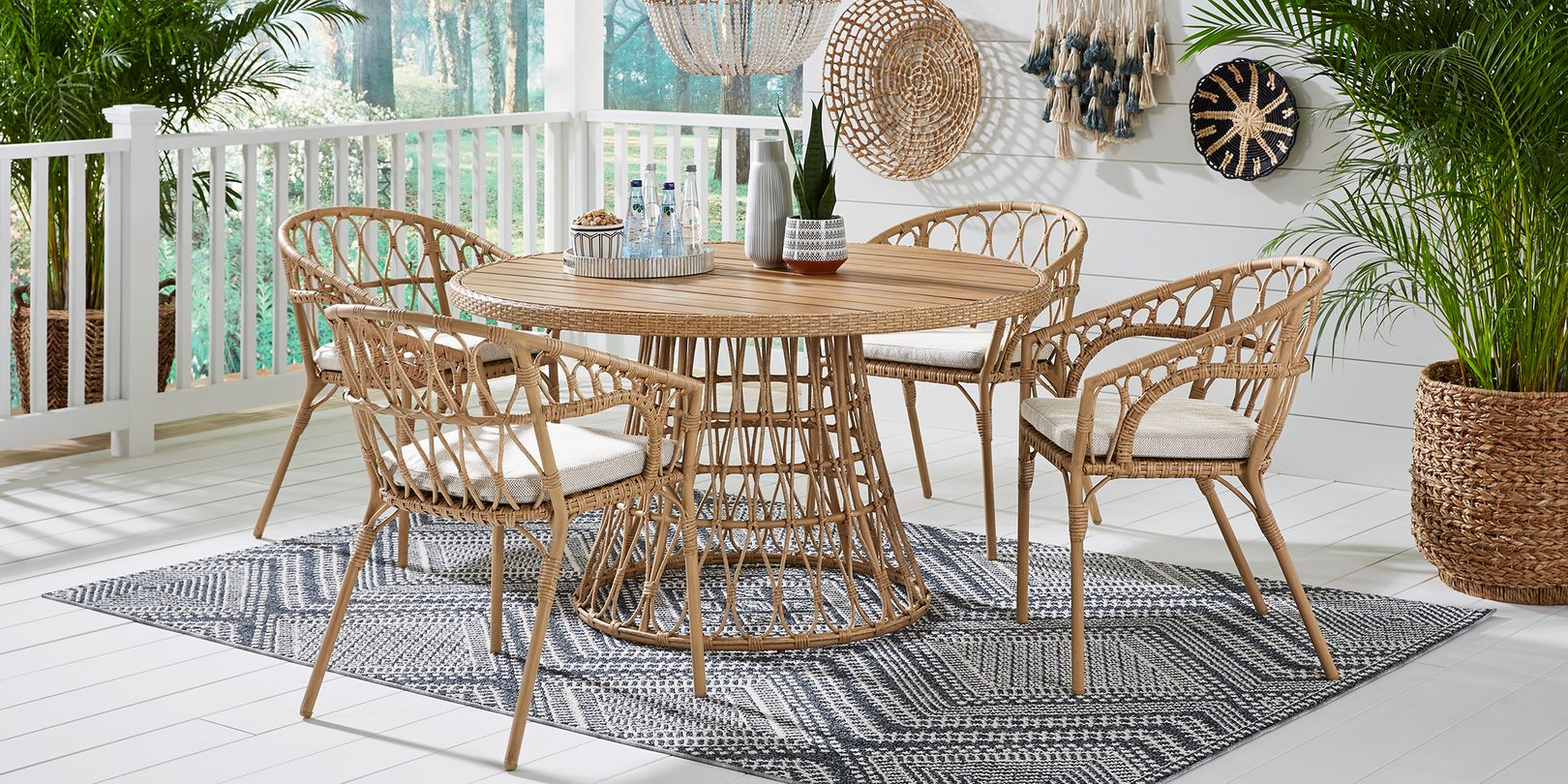 Decorating your patio is a breeze with the right furniture, decor, and plan for laying it all out.
How Do I Plan a Patio Layout?
Size Up Your Space
The first step in designing a patio layout is calculating the exact dimensions of your porch or deck. Whether you have a spacious terrace or a tiny balcony, knowing how much square footage you have to work with ensures your patio can accommodate your design without overcrowding.
Begin by grabbing a pencil and paper and sketching the space you want to decorate. Use a tape measure and map out your yard, including all borders, fences, trees and landscaping, as well as structures like utility poles, sheds, ponds, pools and pergolas, to determine exactly how much room you have for furnishings.
Patio Purposes
Once you have your measurements, think about how you want to use your outdoor living space. Do you want to host barbecues for family and friends? Looking for a place to unwind? Want to invite colleagues over for chic dinner parties under the stars? Keep your aspirations in mind as you shop for furniture.
Optimizing your space is the key to creating a patio layout that best suits your goals. If you enjoy throwing parties, make sure to account for extra seating as well as open paths for guests to move and mingle. If spending lazy afternoons lounging or reading appeals to you, consider incorporating a porch swing or hammock into your design.
Zone Out
To create a multipurpose patio layout, create separate zones in your yard or on the terrace. For example, you can use a sectional set as a border by centering it on the deck and arranging a dining table and chairs behind it. Think practically when creating each zone, too. Keeping dining sets a safe, short distance from the barbeque and close to your door makes carrying plates and drink trays easier.
Create separate zones for comfort, dining and fun when planning your patio furniture layout.
How Do You Layout a Patio?
Your lifestyle, location and deck or balcony size should all play a part when brainstorming different patio furniture arrangement ideas. You'll need to create a layout that fits the proportions of your space while accommodating your goals for outdoor relaxation or entertaining.
Outdoor Patio Layouts: Small & Large
Wherever you live, there are plenty of patio furniture layout ideas to make your outdoor space cozier. From large wrap-around porches to high-rise balconies, any space can become an outdoor retreat where you can unwind, entertain and have fun. Though plotting out a large backyard with a roomy patio may be easier, smaller outdoor balconies and decks encourage creative solutions.
Live in the city with a tiny, fenced-in yard? Small patio furniture works best in compact spaces. When facing limited square footage, focus on small deck furniture ideas, like a loveseat instead of a sofa or a bistro set vs. a standard table and chairs. Find furniture that fits the scale of your space and your goals, and then boost your design with accent pillows or a chic storage ottoman.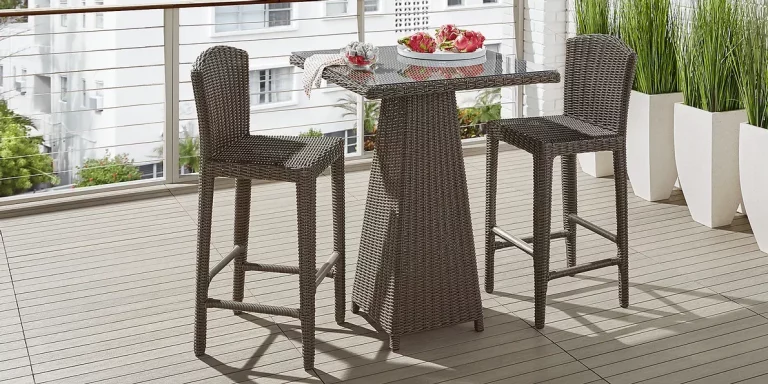 Optimize your layout by using compact furniture sets to decorate a balcony or small deck.
To tackle a larger patio layout, it's a good idea to prep beforehand. In addition to creating different zones for dining and entertaining, consider how larger furniture items or full collections can enhance the look and feel of your space. Choose a 9-piece dining set if you expect extended family during the holidays, or add a daybed to your poolside seating for ultimate relaxation.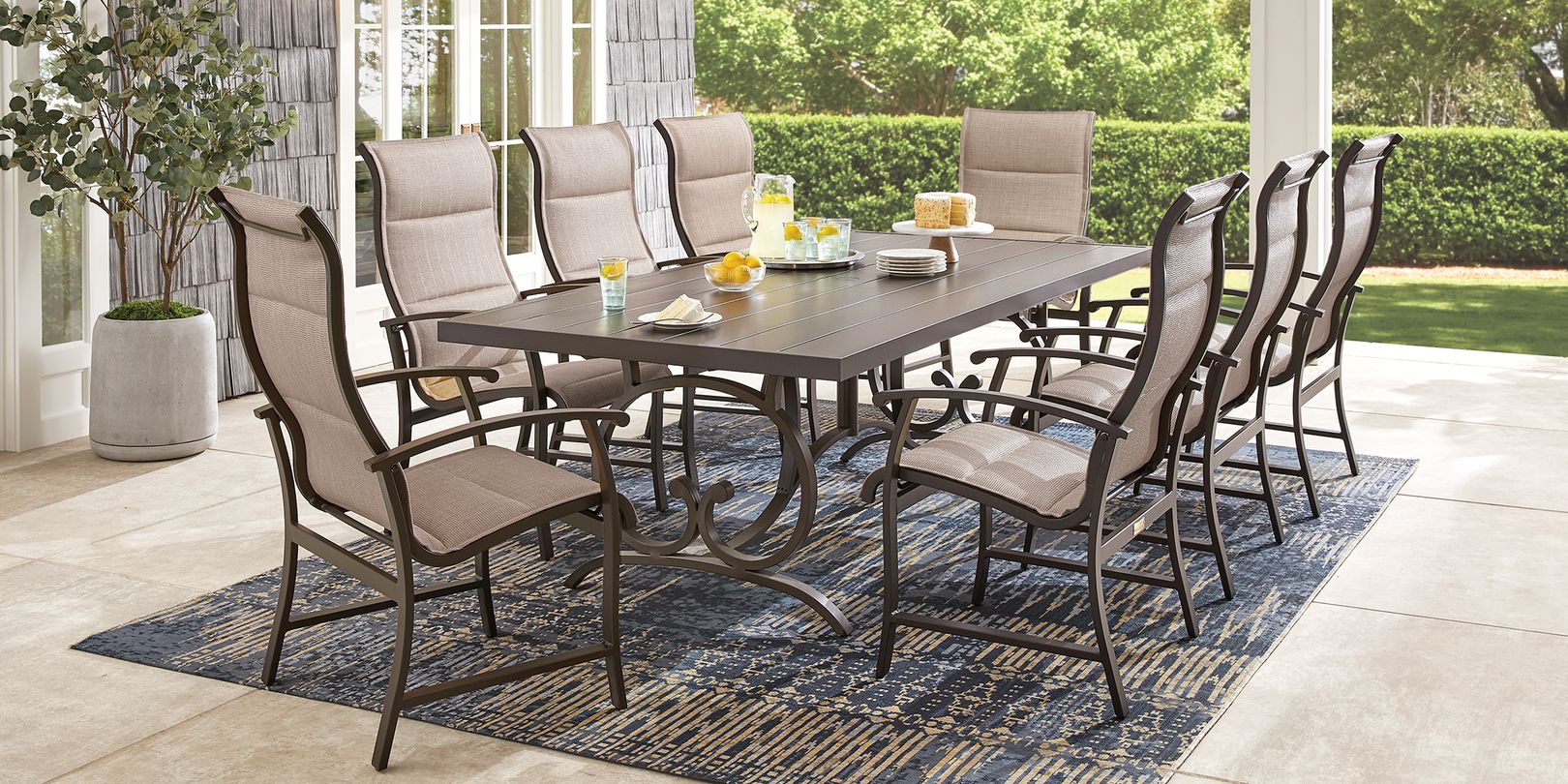 Fill up a larger space by incorporating enough seating, decor and other furnishings for a design that feels cohesive and complete.
How Much Space Should Be Between Patio Furniture?
Comfortable patio furniture placement prevents layouts from feeling cramped or crowded. Guests should be able to lounge and relax and move around freely from one zone to another. The following patio layout ideas can help you find the proper spatial distance among furniture and accents:
Foot Traffic: If you or your kids have friends over often, consider how much traffic you expect in your yard and between different areas of the patio. Leave at least three feet of clearance between furniture and other structures to provide open pathways. A five-foot-wide walking area around a swimming pool can help keep you safe from slippery surfaces, too.
Indoors vs. Outdoors: How you design your living room can inspire your outdoor patio layout. If your living room furniture is closer together for comfort and intimate conversations, you may want to do the same with your outdoor furnishings.
Room for Dining: In all dining setups, guests should be able to seat themselves easily and avoid bumping elbows. Leave about three feet of space behind each chair with around six inches of room between them.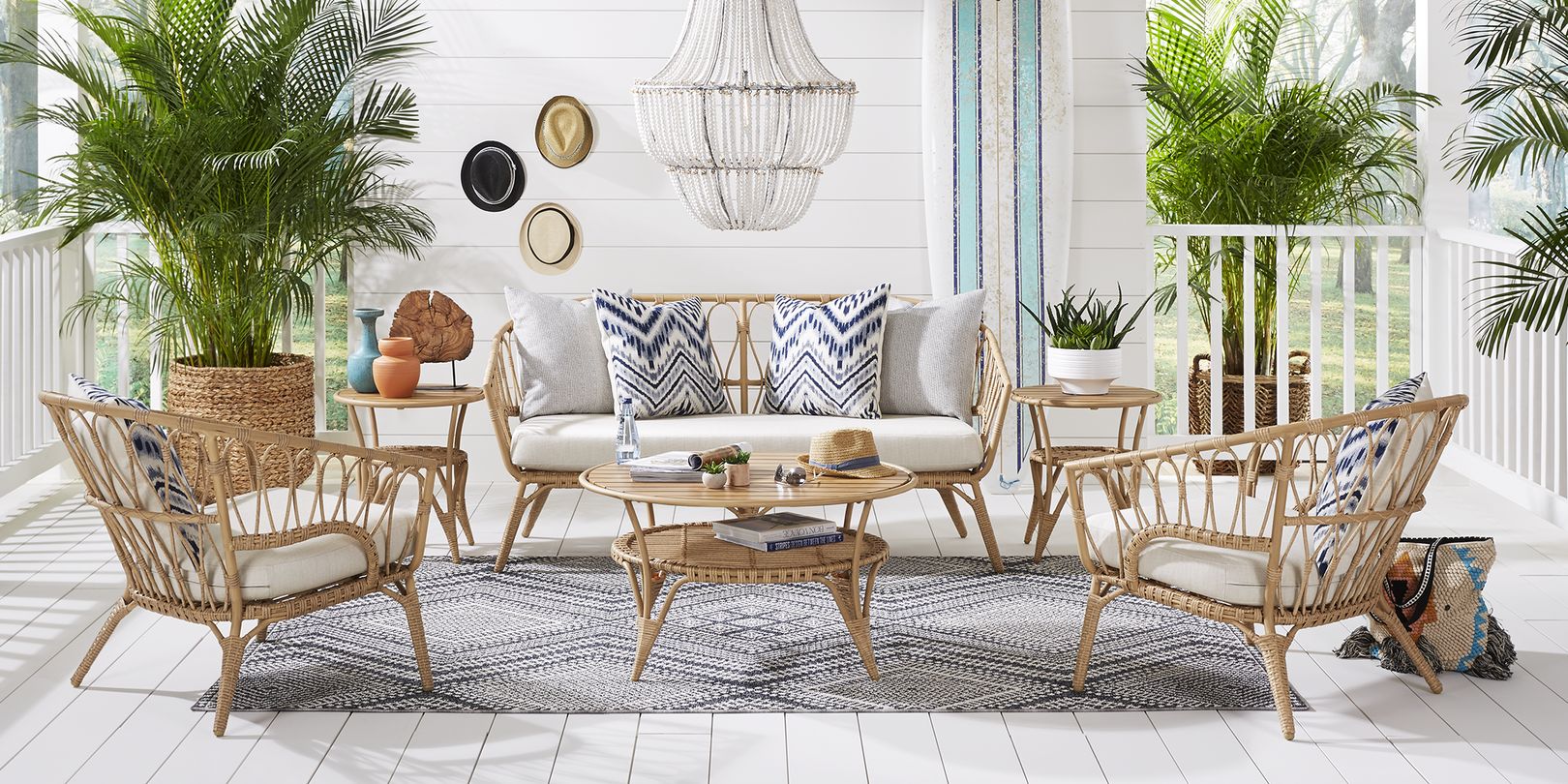 Arrange your patio furniture similar to your living room layout, with the right seating and space.
How Can I Design My Own Patio?
Once you know how your patio layout should function, choose items that meet the needs of your space and plot out where each one will go. Here are a few examples of how you can design a patio layout that fits your style and needs.
Enjoy Some R&R
When you're looking for a zen-like haven from the world, you can find solace in your backyard. Choose a quiet spot that you can fill with comfortable pieces to create your ultimate tranquil outdoor space.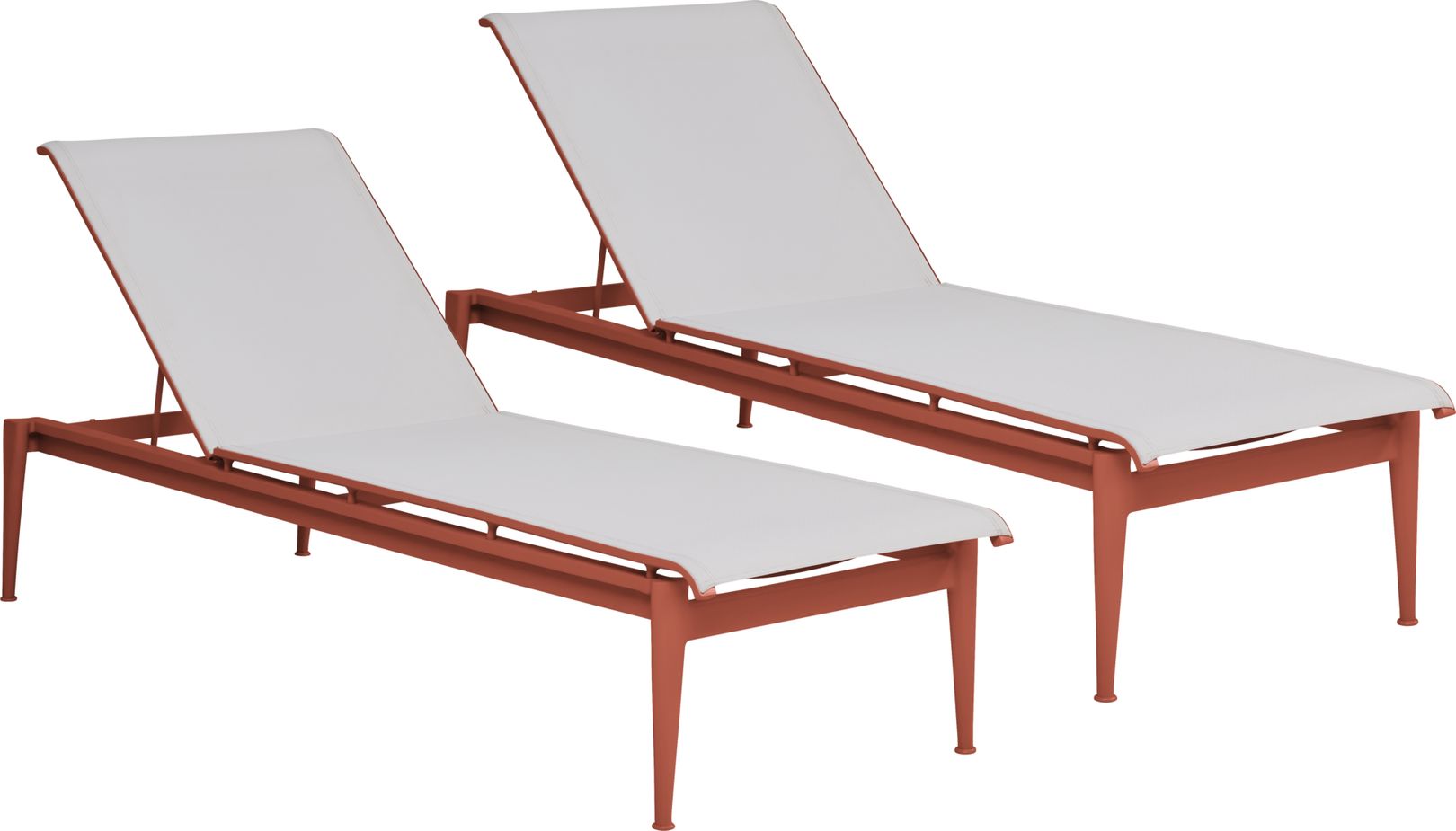 Enjoy poolside lounging or sunbathing with chaises and a table for drinks.
Host with the Most
If you love to gather friends and family for food, drinks and fun, you may want to consider a different setup. Your outdoor patio layout can make all the difference in the success of your next backyard soiree.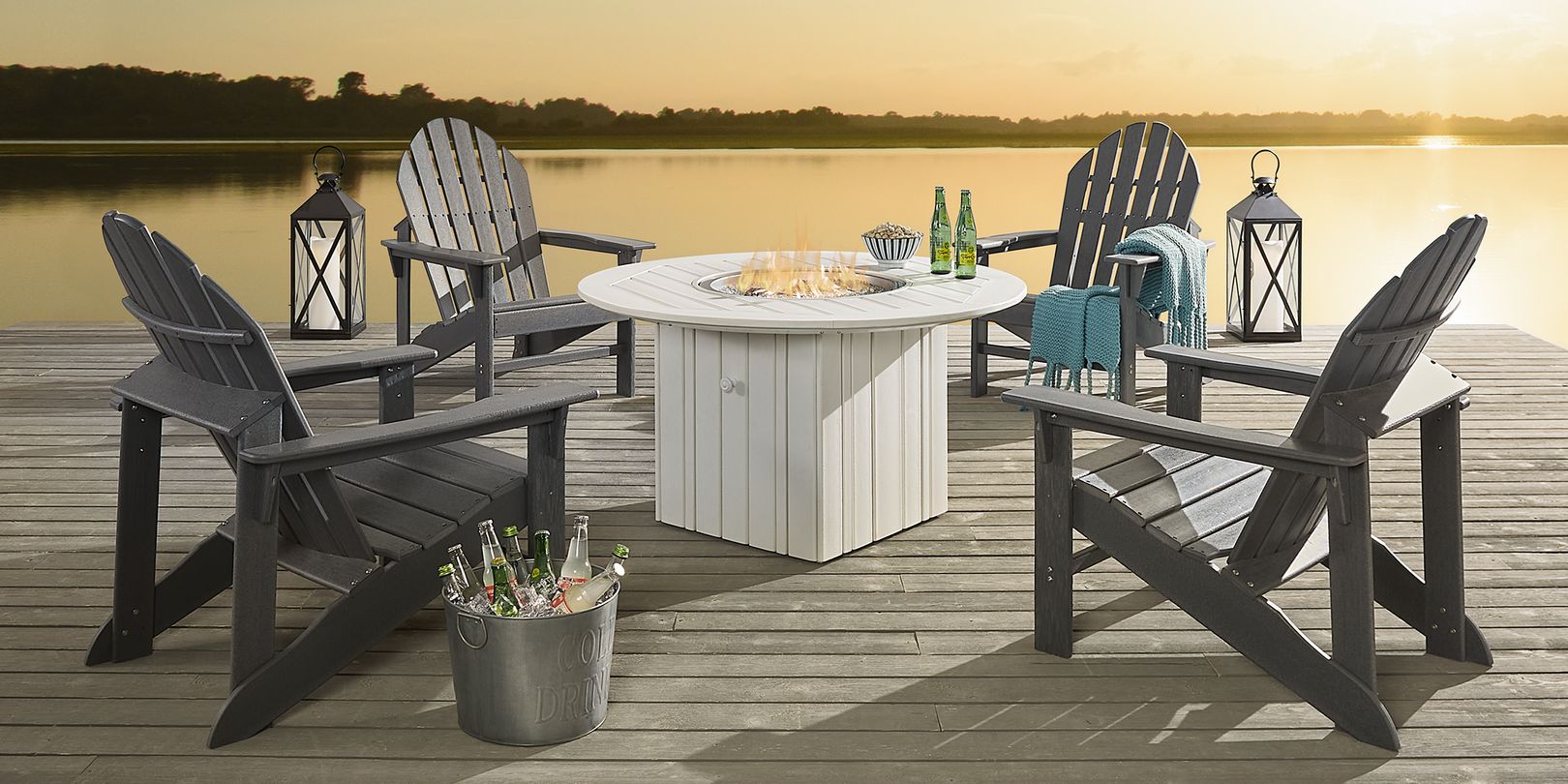 Entertain guests in style with ambient lighting and comfortable seating.
Family Fun Time
When you have children, there are some important things to consider while designing a patio layout. You need a place for little ones to play safely, as well as a comfy spot to dine and hang out. Check out these pointers to make your backyard kid-friendly.
Dining: Dining sets are always versatile, allowing you to seat as many or as few people as necessary. Another fun alternative is a picnic table where you can eat, put out a buffet or do messy activities with the kids.
Poolside If you have a pool, odds are you'll be spending lots of sunny days splashing and soaking up the sun. Place a conversation set in your patio layout so everybody can relax before diving back in. Add a cantilever umbrella for some cool shade where you need it the most and consider additional storage for pool toys.
Fire Pit Create memories of roasting marshmallows and telling stories with a fire pit. Choose a propane model for a quick and convenient flame, or select a traditional wood-burning option for that campfire ambiance.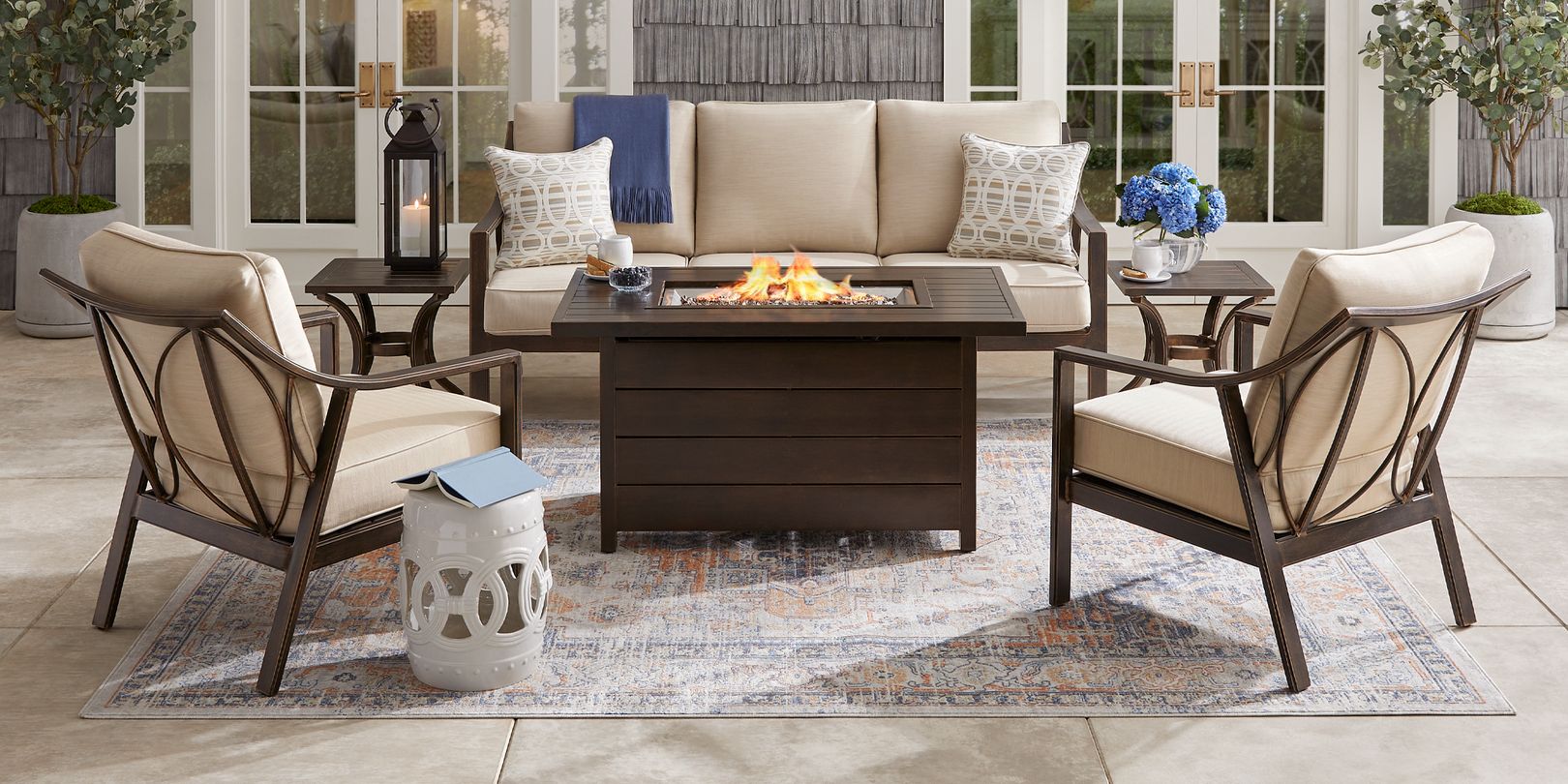 Make smart use of your outdoor space for the kids with a cozy fire pit, cushioned seating, and a soft outdoor rug.
Making it Work
Customizing your outdoor living space may seem daunting, but these helpful hints can steer you in the right direction. When in doubt, remember that you can always rearrange your design to reflect a new goal or a change in your style.