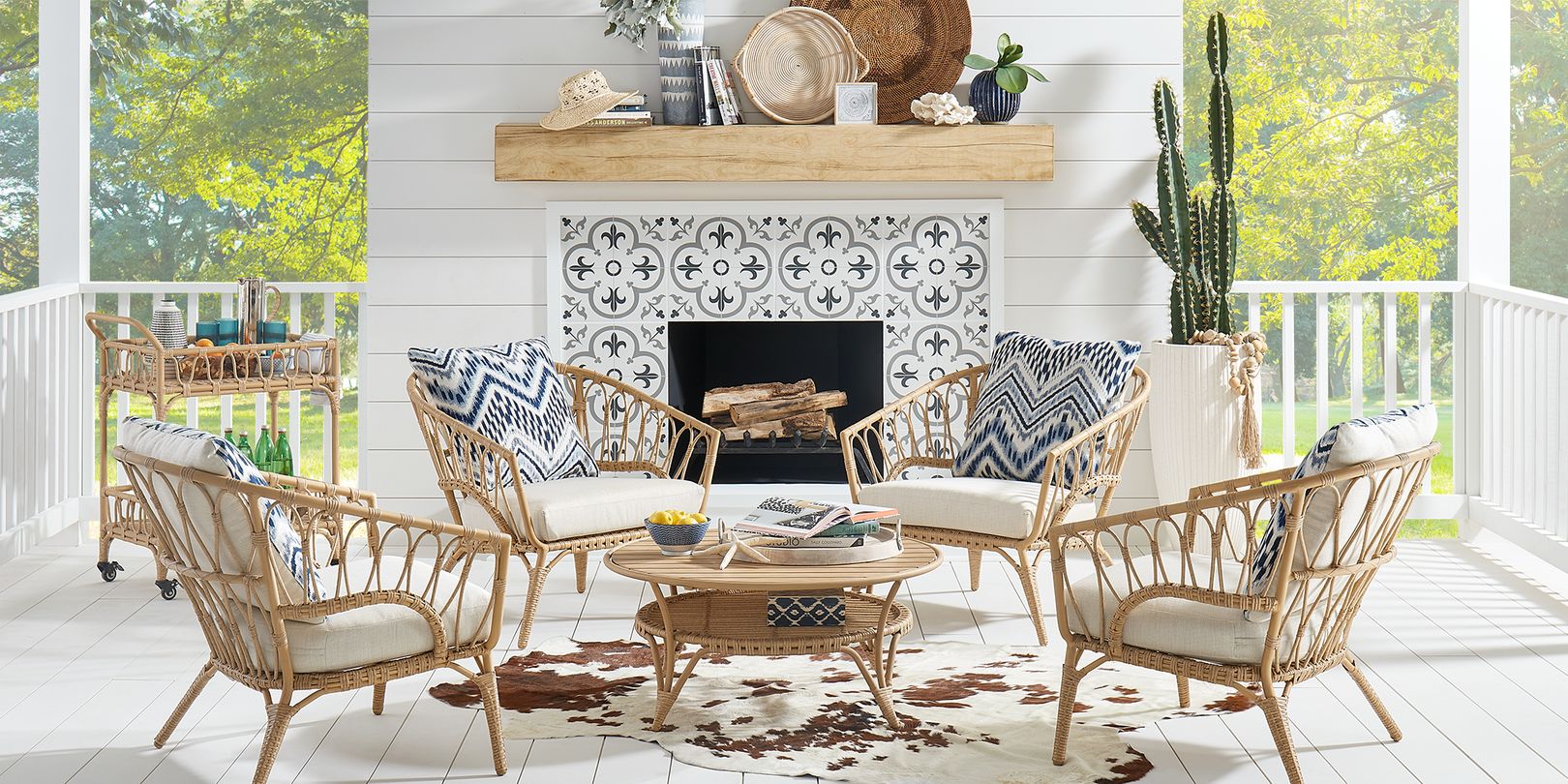 How Do I Choose a Porch Swing?
When decorating your backyard, patio or deck, comfortable seating is a must. However, one piece of furniture that sometimes gets overlooked is the porch swing. By using this convenient guide, you can find ideas on porch swings that complement your style and color palette, as well as different ways you can use them to relax or entertain.
Overview
Porch Swing Styles to Suit Your Home
Much like other outdoor furniture, porch swings come in a variety of styles and designs. Whether you want a sleek, modern swing for a minimalist home or one that features warm woodgrain for a rustic space, porch swings offer a wide range of looks. Think about which designs complement your existing furniture and decor as you consider your options.
Porch swings come in various styles to complement your existing decor and furniture.
Modern
This style typically features sleek silhouettes, clean lines and earth-tone colors. When decking out your seating area, introduce a modern porch swing with a streamlined design for a cozy place to sit by yourself or with friends. Consider a modern outdoor sofa and area rug to complete the look.
Classic
Many traditional porch swings feature warm wood tones, metal hardware and curved accents for timeless appeal. As you build out your patio or deck, consider other classic furniture to liven up your look, such as a comfortable garden bench. You may also want to try adding a few coordinating patio chairs to finish your layout.
Coastal
Want to create a cool, breezy vibe in your backyard? Try using a coastal porch swing as the centerpiece of your seating area. These spaces often feature light wood or driftwood furniture, ocean-inspired colors and seaside accents. Shop items like coastal Adirondack chairs or patio benches to get the desired look.
Rustic
Ideal for those who want a more rural aesthetic, rustic porch swings add a down-to-earth touch to your decor. Need something with plenty of countryside charm? Opt for a dark wood or teak porch swing with a charming patterned cushion to give guests a comfy place to chat and unwind.
Coordinating Porch Swing Finishes with Your Layout
A brightly colored porch swing can change the look of your porch, patio or deck.
As you shop hanging porch swings for the front or back yard, think about color choice, too. Picking the right shade or hue, whether you want a swing that complements your decor or creates stunning contrast, makes a big difference in your layout's overall look and feel. Some popular porch swing colors you'll likely come across are:
Blue: Blue porch swings are a welcome addition in a variety of palettes. If your space features neutral colors like gray or off-white, a navy blue swing can completely transform your color scheme. Meanwhile, sapphire porch swings bring balance to spaces that include sienna and scarlet hues.
Red: For a bold look in your backyard, red porch swings can give you the look you're after. A high back porch swing in crimson turns heads on a light wood porch. On the other hand, a scarlet swing provides a monochromatic vibe when paired with other shades of red.
Green: A green porch swing is a vibrant, creative choice for patio seating areas. Darker shades like forest green create a stunning contrast on porches or decks with lighter hues. For those after just a touch of green, mint swings offer the perfect amount of color.
Orange: An orange porch swing is an easy way to introduce a warm, vibrant color on decks that feature navy decor or earth-tone seating with brown, beige or sage upholstery.
White: Want a crisp, clean vibe for your patio? Think about getting a white porch swing. Bright, pearl-white swings liven up wooden porches and work wonderfully against indigo, charcoal or hunter green home exteriors.
Brown: Brown porch swings can warm up nearly any outdoor layout. If you have beige or khaki decor, a chestnut brown swing can completely change the mood of your space. On porches and decks decorated in blue tones, warm walnut porch swings bring a sense of balance.
Pink: Great for those who prefer bold or casual designs, a pink porch swing comes in shades to suit your seating area. For neutral porches, hot pink and magenta swings provide eye-catching appeal. Need a subtle hue for your layout? Shop pink porch swings with soft rose or blush finishes.
Using Your Porch Swing
After you've decided on color and style, you'll soon find that a porch swing is a versatile piece of furniture. During quiet evenings at home, an Adirondack porch swing makes the perfect spot to curl up with a good book and a glass of wine. You can also add a few Sunbrella throw pillows when you want to take a cozy afternoon nap.
For those who enjoy entertaining, your porch swing can be a central gathering point in your seating area. Consider a porch swing with a cupholder so guests can have a cold drink nearby. Or, shop glider porch swings so old friends can enjoy the gentle swaying motion as you chat and catch up.
For those who enjoy entertaining, spacious porch swings are a great place to chat with friends and family after a meal.
With so many styles and colors available, choosing the right porch swing for your home may seem overwhelming. However, knowing the kind of space you want to create and how you want your porch swing to function takes the guesswork out of selecting the perfect design.