Modern Bedroom Ideas
Get Modern Furniture & Accent Piece Tips
Modern Primary Bedroom & Small Bedroom Ideas
Want a bedroom look that offers timeless appeal and vintage charm? A modern design may be the perfect choice for you. To design a modern bedroom, establish a cohesive color palette and select furnishings with clean lines, simple silhouettes and low-profile construction. From there, complete the look with accents featuring chic, retro touches that suit your unique tastes.
Modern design emphasizes simple lines, geometric shapes and low-profile silhouettes in either industrial or organic neutral tones.
Overview
This post offers suggestions and tips on the following topics:
What is Modern Design?
Modern design is a stylistic movement that began with the early 20th-century architecture of figures like Frank Lloyd Wright and Miles van der Rohe. Simple, refined construction, industrial materials and a minimalist aesthetic sets modernism apart from other common styles like contemporary and transitional design.
Despite its straightforward elements, this decor style is surprisingly versatile. Whether you prefer the gold and glamor of Art Deco pomp or an industrial glass and metal design, modern layouts can incorporate a wide range of colors, moods and features. Decide what stylish spin you want your space to have, then use these tips to create the modern bedroom of your dreams.
Choosing Colors
Neutral and earth-toned color schemes are a popular choice for modern bedroom designs. Soothing shades of white, gray, brown, black and beige suit the straightforward look of modern style. However, the stripped-down nature of this design makes it easy to add other hues for contrast and complexity. Check out these modern bedroom color combinations that you could apply to your design.
Modern Metallics
For an updated, decadent look, integrate pieces with metallic finishes into your space. A silver mirrored vanity set makes a glamorous accent in a sleek gray and white modern bedroom. On the other hand, copper wire baskets provide dazzling storage and stunning contrasts to a cool teal and gray modern bedroom theme.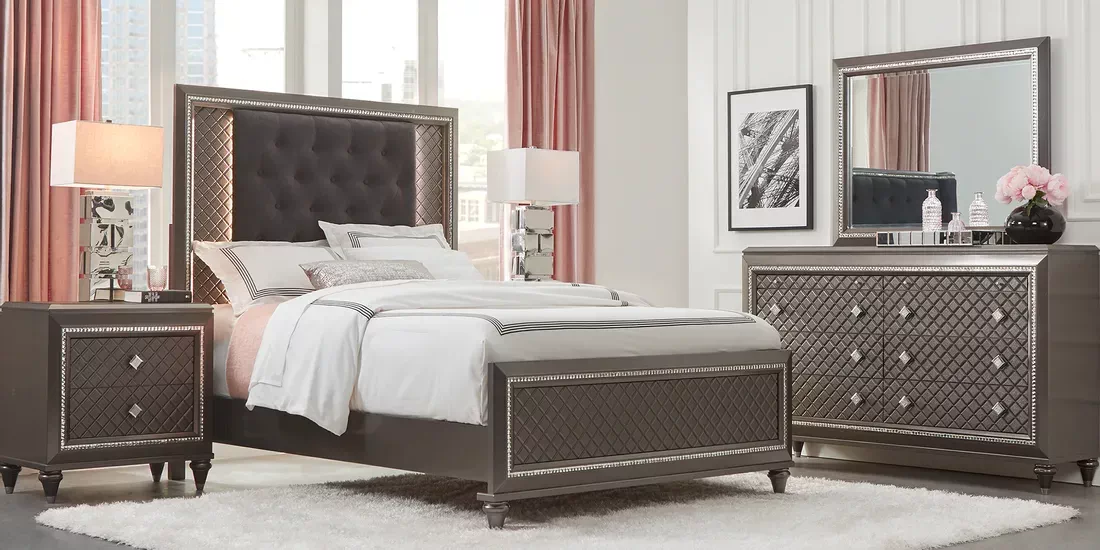 Muted Hues
Desaturated tones like teal, olive and rust are popular options for modern bedrooms. Put a mid-century twist on your design and evoke a kitschy 1950s vibe by adding a sky-blue bench to your dark green modern bedroom. Or, opt for 1960s sophistication with a muted, wasabi-green rug in a gray and yellow modern bedroom.
Using retro-tinged colors like burnt orange and olive green creates a classic look that evokes a vintage, mid-century modern aesthetic.
Jewel Tones
Pops of vivid color add intrigue to muted modern bedrooms. Since emerald, amethyst, sapphire and ruby shades are so intense and concentrated, you only need a few jewel-toned accent pieces to liven up a neutral black and white modern bedroom palette. For example, a colorful patterned rug brings depth and richness to a pristine white modern bedroom with light wood floors and ivory walls.
Modern Bedroom Furniture
Modern bedrooms celebrate the beauty of practical pieces, so functional furniture staples are a great place to start. Efficiency should be your main focus when choosing items for your space. Look for simple bedroom essentials like beds, dressers and nightstands before filling your layout with additional accents and accessories.
One way to simplify the furniture buying process and establish a cohesive look throughout the entire space is to choose a modern bedroom set. Complete sets are especially helpful for modern bedrooms, which need to project a unified and polished appearance. Furniture in coordinating shapes and colors anchors the whole space for a design that's well-put-together and easy on the eyes.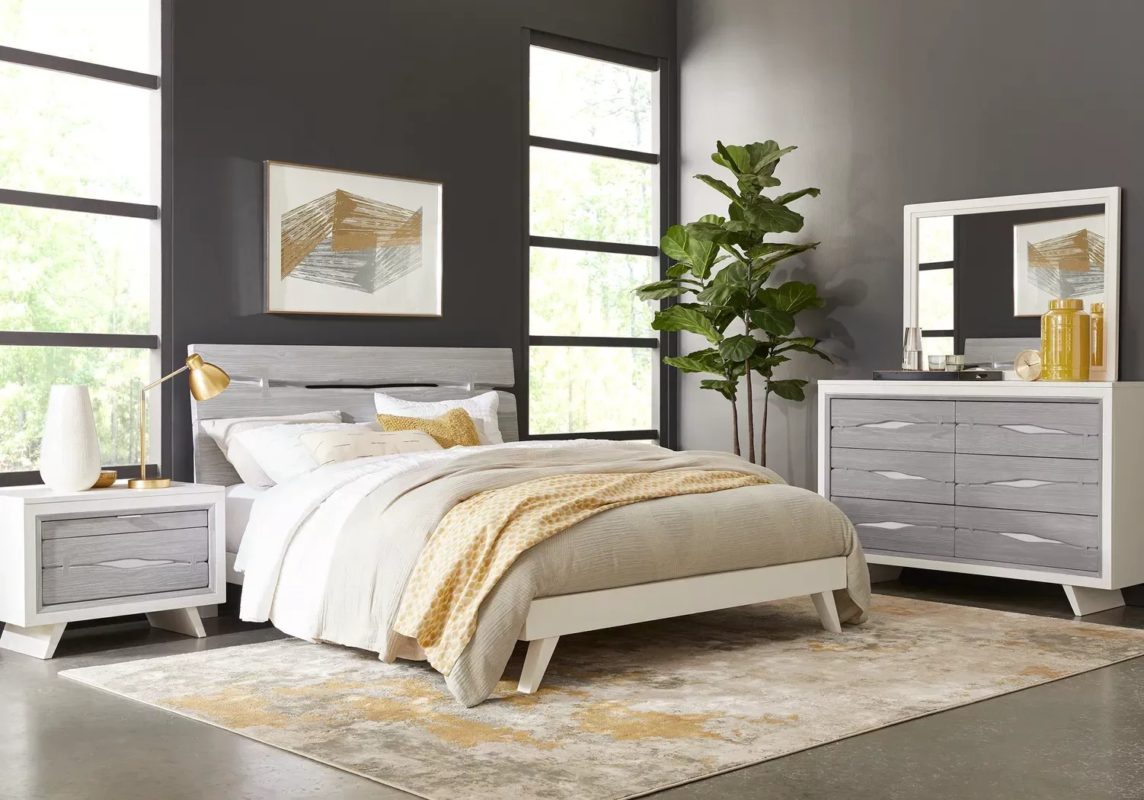 Modern Beds
Available in platform, panel, poster and even canopy frames, a modern king bed makes a stunning centerpiece for your primary bedroom. Features like geometric modern headboards are a perfect complement to modern design principles. Additionally, slimmer modern queen beds are a smart modern small bedroom idea for single sleepers in tiny spaces.
Perfect for building kid-friendly rooms, modern beds give your child the creative freedom to design a space that feels unique to their tastes and interests. Consider a colorful boys' or girls' modern bed in your kid's favorite shade. Or, outfit their entire room with a modern twin bed set. Modern daybeds are another space-saving, multipurpose option that's ideal for compact kids' rooms.
Modern Dressers
Dressers provide valuable storage, organization and display options for your bedroom. Choose a wood-paneled modern dresser to keep clothes and linens stowed away, or opt for the vintage style of a modern chest of drawers to save on floor space and accommodate your extensive wardrobe.
Modern Nightstands
Nightstands are an essential piece of bedroom furniture, keeping lights, books, electronics and other important items close by throughout the night. A modern nightstand with a dark or light wood finish gives your bedroom that sleek and simple look while keeping the space clean and functional.