How to Decorate a TV Stand
Although TV consoles are often the main centerpiece of entertainment rooms, family rooms, living rooms and dens, they can sometimes be an afterthought during the home decorating process. To transform this simple, practical furnishing into a grand, statement-making focal point, introduce accents in complementary sizes, colors, and styles.
TV Stand Decor Ideas
Of course, you'll need to reserve a spot on your TV stand for a television and at least one media console. But what should you do with the rest of the space? One of the easiest ways to approach this task is to consider how much room you have for decorative accents, then pick items that suit your style and color scheme.
Your console's design also plays an important role in how you decorate your TV stand. If your unit has extra shelves and cabinets, you'll likely have more room to get creative with the accents you select. On the other hand, you may need to choose decor sparingly if you have a smaller unit. Use the following tips for inspiration and guidance to help you decorate your unique TV console.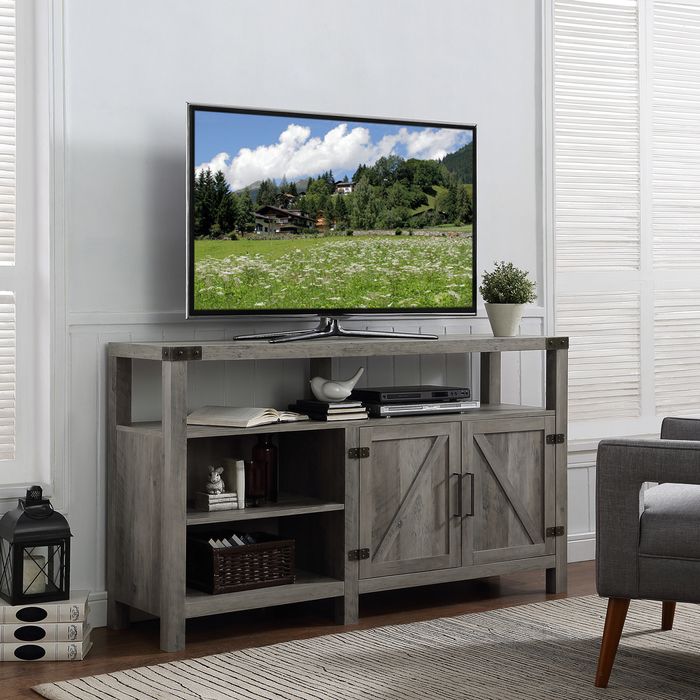 Decorating TV Stands of Different Sizes
Measuring your media console's surface, shelves and cubbies lets you know how much space you have for decoration. Once you know its dimensions, you can fill in the remaining nooks and crannies with items that fit nicely next to your television, Blu-ray player and video game consoles.
Large TV Consoles
Many large TV stands measure between 70 and 89 inches long, giving you plenty of room to work with. Depending on the size of your TV, you might have extra space for a miniature statue or sculpture, decorative trays for your remotes and video game controllers and maybe a tabletop charging station for your other electronics.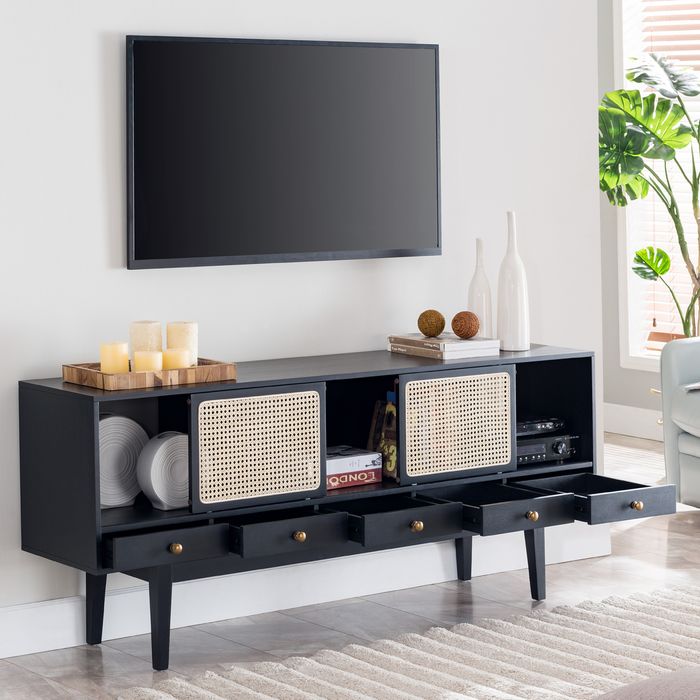 Average-Sized TV Stands
TV consoles typically range from 60 to 69 inches in length. Though shorter than some larger models, these units still provide ample space for a small potted plant, a tabletop organizer and a few family photos. If you mount your television on the wall above the console rather than sitting it on the surface, you'll have even more room for beautiful and chic figurines.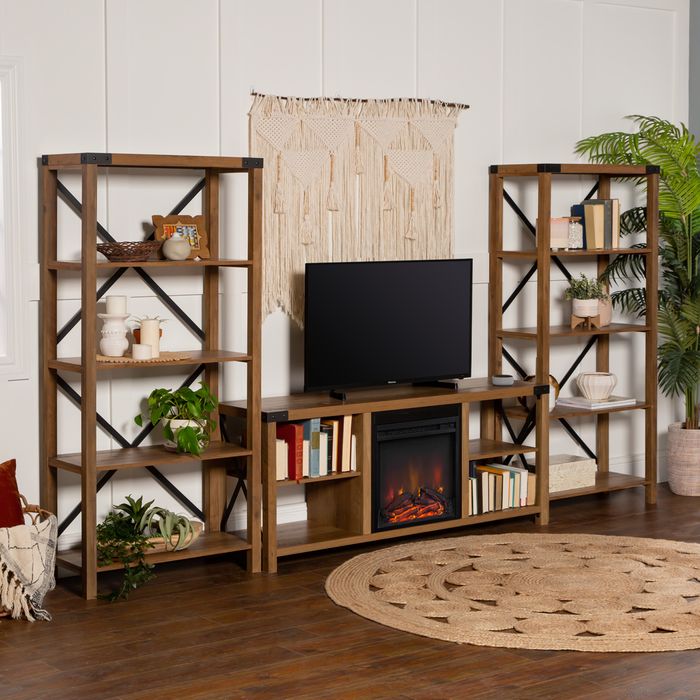 Small TV Consoles
Wondering how to decorate a small tv stand with dimensions between 42 and 59 inches? The key is to select petite knick-knacks. For instance, you could line up a few books between two long, slender candlesticks. Or, you can place a slim vase and a tiny trinket or two beside the television.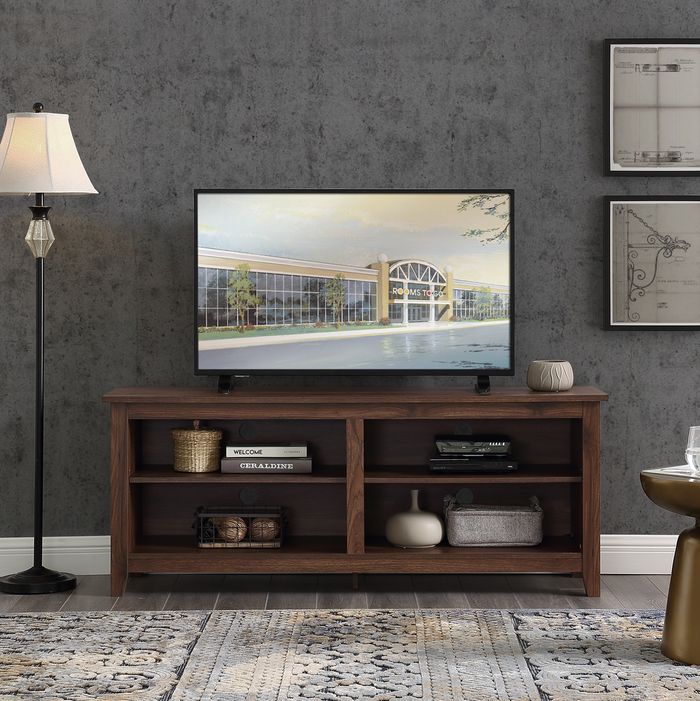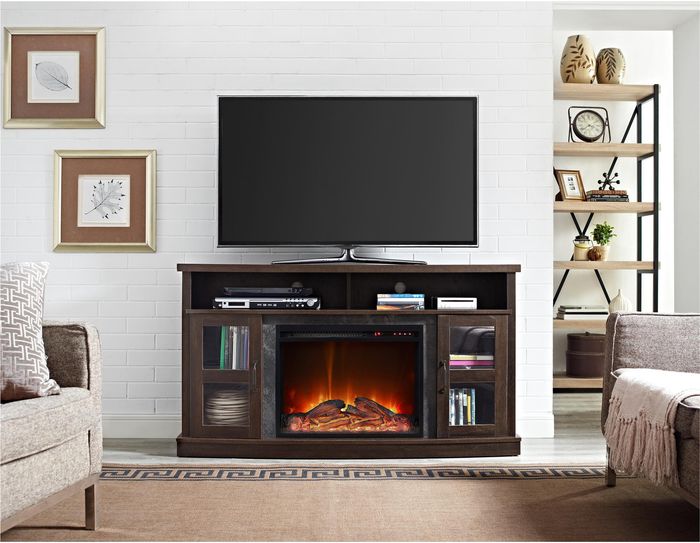 Decorating TV Stands of Different Colors
TV consoles come in a wide range of colors and finishes, so selecting decor that complements your palette could be the way to go. Mixing and matching various colorful accents with your media stand is a great way to create bold contrast or achieve the coordinated look you're going for.
How to Decorate a Black TV Stand
Whether you choose a model in soft charcoal or a deeper jet-black, a black TV console can complement almost any colorful accent. You can establish a chic, monochromatic look by adding some sable sculptures or matte-black decor. On the other hand, you can add pops of eye-catching color using bright crimson, aqua or canary yellow accents atop your TV stand.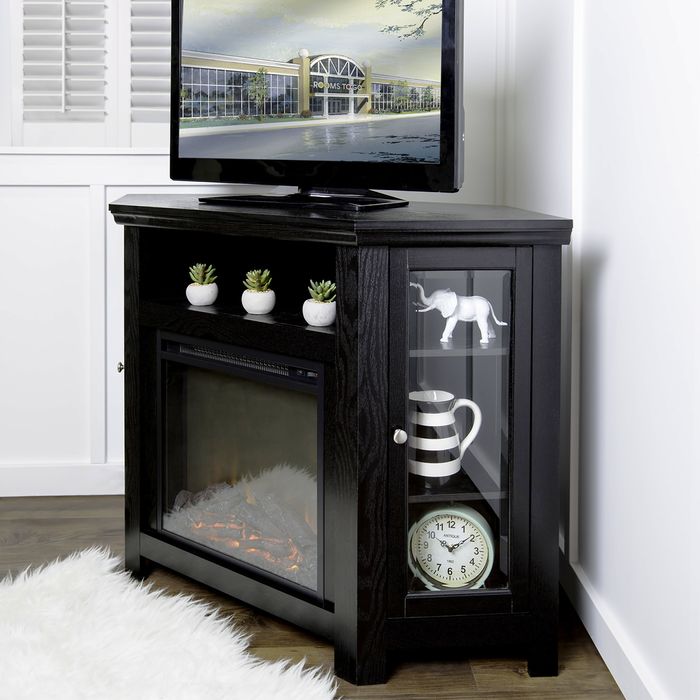 White TV Console Decor
Another popular choice that works with most other colors, white TV stands bring a crisp, bright appearance to your entertainment area. While you can add black accents to establish a sophisticated black and white design, you could also use decor with soft beige, gray and brown finishes to warm up and tone down TV consoles in this striking shade.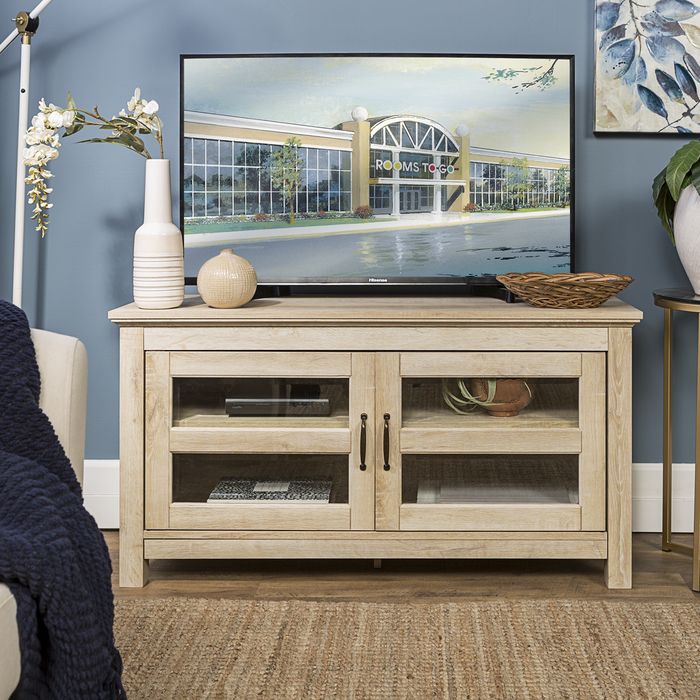 TV Stand Decor Ideas for Blue Consoles
A dark navy blue TV stand makes a stunning backdrop for vivid orange, snowy white or bright scarlet knick-knacks. If you have a console in a lighter sky-blue shade, consider using refreshing green or deep purple to create a balance while maintaining a cool color palette.
Finishing Touches
Once you've decided on the decorative items you want to place on top of your TV console, you can round out the overall design by hanging some chic living room wall decor above it and a soft patterned rug below it. Then, step back and admire the stunning presentation of your entertainment center design.
In This Guide:
How to Decorate a TV Stand